BioSig Has Acquired An Antiviral Drug Which Is Likely Worth The Little Amount They Paid For It – $1 Price Target
BioSig (BSGM) is a struggling medical device company turned recent stock promote that acquired an antiviral drug less than 30 days ago to capitalize on the coronavirus pandemic. This caused the stock to rally 100%+ off lows.
BSGM had only discussed acquiring Vicromax on 3/12/20, after the coronavirus was in full swing, and it was likely owned by BSGM's CEO, Ken Londoner, and Director, Dr. Jerome Zeldis.
After acquiring Vicromax, BSGM has engaged in an aggressive stock promotion campaign, not to sell any products, but to sell their stock.
Recent investors seem to not realize that in buying BSGM stock, they are mainly investing in BSGM's flagship product, the PURE EP device, which has nothing to do with treating or protecting people from the coronavirus.
BSGM and PURE EP sales have always been zero, and will likely continue to be zero for at least the rest of the year.
BSGM is almost out of cash and will have to raise money soon, insiders have exercised their options and we believe will be selling soon.
Vicromax, also named Merimepodid ("MMPD"), is a well-known antiviral but before BSGM, it hasn't attracted any interest for coronavirus studies. It hasn't been used for any other viruses either, such as Zika and Ebola.
Vicromax already failed to successfully treat hepatitis C and Zika.
Vicromax has nasty side effects, and BSGM's own published report says animal and safety studies should be done.
Management acknowledged it will change the formulation of Vicromax, which we believe suggests there is something wrong with it in its current form.
Vicromax is likely worth whatever BSGM paid for it, which isn't disclosed and likely wasn't much.
BSGM's management receives excessive compensation and is "double dipping" with its NeruoClear subsidiary for additional compensation.
BioSig (BSGM) is a struggling medtech company with a device called the PURE EP. The PURE EP is an add-on to cardiac mapping systems, and is supposed to identify cardiac signals that are otherwise undetectable.  This article, from 4/3/19, describes the first in-human use of the PURE EP used alongside Abbott's EnSite Precision cardiac mapping system. The following is an image of the PURE EP:
BSGM is getting ready to commercialize its PURE EP this year, even though it got FDA Clearance almost two years ago. In Q419, BSGM lost $15M, considerably more than previous quarters, as it is spending more money as it approaches commercialization.
BSGM has never made any revenues despite promoting the PURE EP for over 10 years, and has been continually raising money since 2013 with its investment banker Laidlaw. Looking at the recent price action, it seems that investors are pessimistic about future PURE EP sales as BSGM traded as low as $2.36 on 3/18/20.
BSGM more than doubled off of its March lows, by announcing on 3/25/20 that it has acquired an antiviral drug it calls "Vicromax" to study for coronavirus treatments.  As we show in this report, this drug has a history of failure and is likely worthless.
The stock seems to be moving a lot based on the drug Vicromax. But it's pretty simple to figure out what Vicromax is worth. It's likely worth whatever BSGM paid for it, but the company doesn't disclose what that was.
BSGM's subsidiary, NeuroClear, now has its own subsidiary, ViralClear, which is a biotech company BSGM created to study Vicromax and potentially other drugs. BSGM is a medtech company and has no infrastructure for a biotech. It has no labs, no staff, no equipment, etc. BSGM will incur many added expenses and likely a greater net loss with the addition of ViralClear. As they stated in a conference call on 4/7/20, BSGM plans to spin-off ViralClear into its own publicly listed company, but that likely won't happen until the end of 2020, and BSGM plans to sell ViralClear shares in the meantime to partially fund BSGM's operations for the PURE EP.
BioSig Has Engaged In An Aggressive Stock Promotion Campaign Since Acquiring Vicromax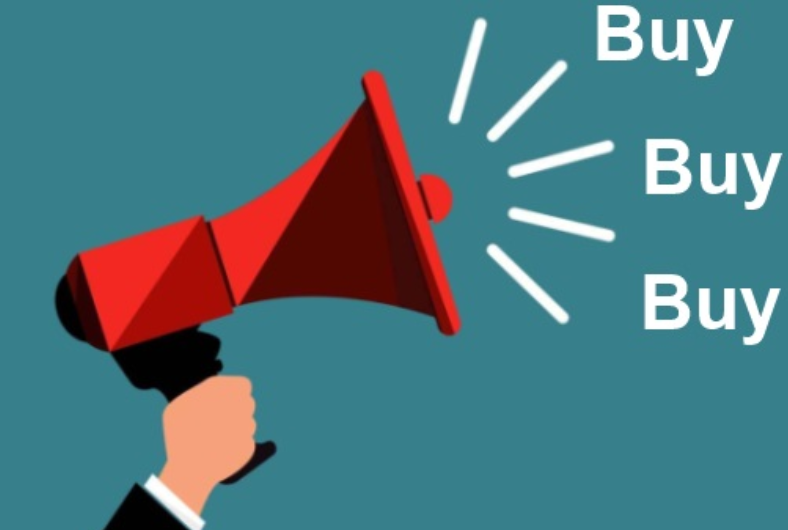 Source: promotionstocksecrets.com
BSGM announced the acquisition of the license for Vicromax on 3/25/20. The PR states:
"In a preliminary internal review, the orally administered, broad-spectrum anti-viral agent Vicromax(tm) demonstrated strong activity against COVID-19 in cell cultures in laboratory testing. In this analysis, Vicromax(tm) was added to a tissue culture assay for SARS-CO-2 coronavirus (the causative agent for COVID-19) and an anti-viral effect was observed, which led to a reduction of over 90% of infectious viruses."
Since then, BSGM has embarked on an aggressive stock promotion campaign telling investors about Vicromax. This campaign isn't to sell any of BSGM's products, but to sell the stock and get the stock price higher. To date the company has been successful in this promotional campaign.
The following have been a part of BSGM's campaign to promote the stock.
On 3/25/20, The Hour published an article on BSGM's Vicromax acquisition.
On 3/26/20, Fox News published an article on BSGM's Vicromax acquisition. BSGM's CEO, Ken Londoner, is quoted as saying:
"This very promising anti-viral is the result of tireless efforts by an accomplished group of pharmaceutical industry veterans, and we are doing everything in our power to ensure it gets tested and brought to market as soon as possible."
As we show later in this report, Vicromax has had many trials treating other viruses and has never been good enough to reach the market. Therefore, we believe Londoner's confidence that it will be good enough to treat COVID-19 is misplaced.
BSGM's Twitter account tweeted this Fox News article twice.
On 4/7/20, BSGM had a telebriefing call which discussed BSGM's new subsidiary ViralClear, the call was represented by ViralClear executives Nick Spring, CEO, Steven King, COO and Jerome Zeldis, M.D., Ph.D, Executive Chair. BioSig was represented by Kenneth L. Londoner, MBA, Chairman and CEO of BioSig Technologies, Inc. We quote this call later in this report.
On 4/7/20, MedCityNews published an article about ViralClear and Vicromax.
On 4/12/20, SmallCapTraders.com, a stock promotion newsletter service, started promoting BSGM and ViralClear. As shown below: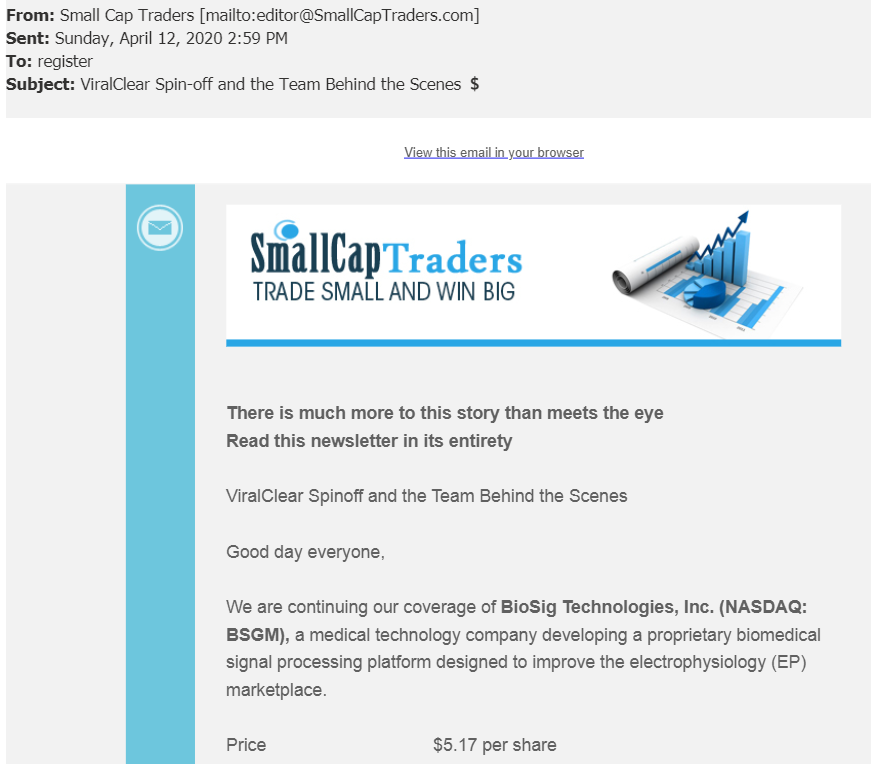 Source: Email Promotion
At the end of the email, it shows that SmallCapTraders got compensated a total $19K to promote BSGM from Venado Media. $12K of it was on February 19, right before BSGM did a secondary offering:

Source: Email Promotion
BSGM was promoted by a Traders News Source email newsletter on 2/19/20. It's the same company that puts out Small Cap Traders email newsletters. Promotion shown below: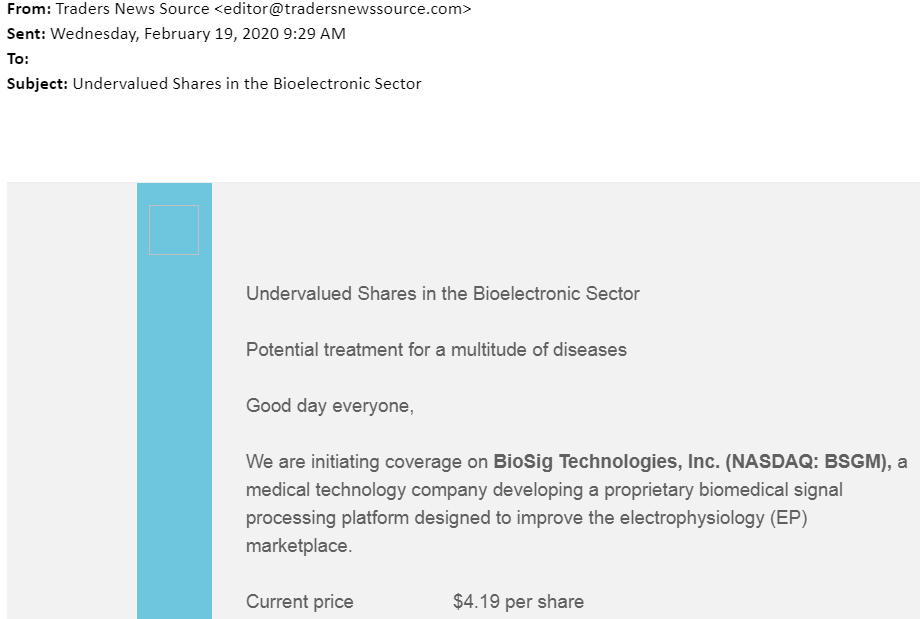 Source: Email Promotion
On 4/20/20, BSGM put an ad in the middle of Times Square in New York City with the words:
"Our hearts beat as one to protect patients, physicians, to protect the world. Ready to fight #COVID-19."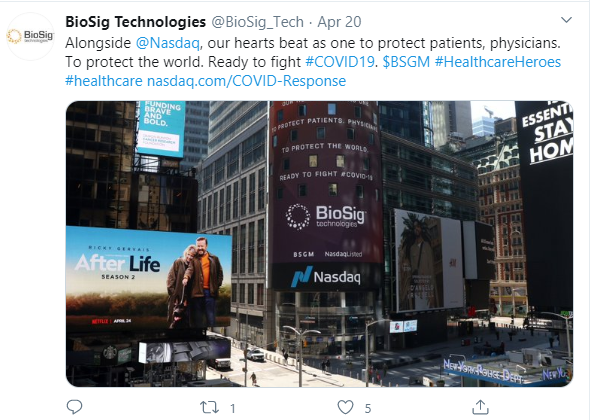 Source: BioSig Twitter Account
This ad is very misleading because BSGM isn't protecting any COVID-19 patients or physicians. It's just looking to study an experimental drug that has a history of failure and is very unlikely to be a COVID-19 treatment.
Then the PRs keep on coming. On 4/21/20, BSGM announced:
"BioSig Technologies announced that on April 16, 2020 its subsidiary ViralClear Pharmaceuticals, Inc. submitted an application for Vicromax (merimepodib, or MMPD) through the FDA's Coronavirus Treatment Acceleration Program (CTAP) to administer the drug to hospitalized patients with COVID-19."
One has to wonder why did BSGM report this application in a PR on 4/21/20 when it has already filed an 8-K about it on 4/16/20? And why announce the submission at all, why not just wait until it's approved to announce it.
Investors Seem To Confuse BioSig With Its Subsidiary ViralClear
BSGM keeps putting out more news about its subsidiary, ViralClear and the Vicromax drug, and it's enticing investors to buy BSGM stock. But BSGM's main business is its PURE EP device. ViralClear is going to be spun-off to become another company. Investors should realize that in buying BSGM stock they are mainly investing in the PURE EP, which does nothing to help COVID-19 patients.
If investors are interested in the Vicromax drug, and not the PURE EP, then they shouldn't invest in BSGM, but invest in its biotech subsidiary, ViralClear. As stated in this article from 4/7/20, BSGM is looking to raise $25M in financing for ViralClear. BSGM isn't clear how much will go to BSGM and how much will go to fund ViralClear. They don't state how much of ViralClear will BSGM own, will it be closer to 1% or 50%?
It's also possible that BSGM won't be able to raise the funds for ViralClear. The CEO of ViralClear, Nick Spring, is quoted in the article as saying the funding is "well underway", but that was over 2 weeks ago and they haven't reported receiving any funds yet. Investors in ViralClear are taking a risk that the drug will fail long before the planned spin-off happens. The spin-off likely wouldn't happen until November or December of this year.
BSGM lost a lot of money in Q419 – $15M. Quite a bit more than the previous quarters. And they didn't even have an earnings call explaining it and reporting commercial developments, they just quietly filed their 10-K on 3/13/20.
The following are BSGM's recent quarterly income statements:
As shown above, BSGM still reported $0 in revenues in Q419 yet had a net loss of 2-3 times the previous three quarters. This was mainly due to a sharp increase in SG&A expense. BSGM hasn't said if it has laid off any employees since the coronavirus pandemic.
We've published many reports on other medtech companies such as TTOO, TRXC, and VIVE who consistently lose over $10M per quarter, and they have diluted their stock down to pennies and had to do reverse splits.
BSGM reported about $12M in cash for quarter ended 12/31/19. Plus about $10M from their equity raise in February, totals a $22M cash balance. If BSGM continues to lose $10M-$15M in Q120 and Q220, then it will be out of cash by the end of Q220 if they don't receive more funding.
How Much Is Vicromax Worth? Probably Whatever BioSig Paid For It
BioSig's CEO Ken Londoner and Director Dr. Zeldis appear to be the previous owners of Vicromax and the price paid was not disclosed. We have no doubt that this is a related party transaction and to date disclosure has been di minimus.
BSGM's CEO Ken Londoner said in the telebriefing call:
"The BioSig board voted several weeks ago, and Jerry and I weren't included in this vote, to purchase the assets from Trek into a subsidiary to help fund and rapidly launch ViralClear as a company, and Vicromax as a course of treatment for the novel coronavirus COVID-19."
Notice the above statement says "Jerry and I weren't included in this vote". By "Jerry", Londoner is referring to Dr. Zeldis. It wasn't stated by the company, but since they weren't part of the vote, this suggests that Londoner and Zeldis were the owners of Vicromax.  The company has not disclosed any details on the upfront price paid for the drug.
The only information we got as far as the price paid for Vicromax was from an 8-K filing on 3/25/20, the same day that the acquisition was announced, it states:
"Neuroclear has agreed to pay Trek in upfront and milestone payments a combination of cash, shares of Trek's common stock, which may equal up to 10% of NeuroClear's outstanding equity."
The company didn't disclose exactly what the upfront and milestone payments are.
Dr. Zeldis stated in the call:
"Based on our tissue culture results, we believe that the drug exposure obtained with the old formulation will be significant enough to affect viral production. Our initial findings will be published in the next day or two online on the bioRxiv website, and we will give the link to that article once it becomes available. We are in parallel changing the formulation so we can deliver more drugs."
For Dr. Zeldis to already be talking about ViralClear changing the formulation of Vicromax is premature in our opinion. It suggests there is something wrong with the current formulation. If Vicromax does indeed work and becomes a treatment for the coronavirus, then ViralClear will have enough on its plate marketing and testing the drug. But since the company is already working on changing the formulation, we believe that's a sign that the company itself isn't confident that the drug will work.
If Vicromax Had Any Potential To Fight The Coronavirus, Experts Would Have Already Been Testing it
MMPD is a well-known drug. It was tested for Hepatitis C treatments by Vertex in 2004 before they passed it to Trek Pharmaceuticals in 2016. As COVID-19 has been a pandemic crisis over the past three months, virology experts and large pharmaceutical companies all over the world have been eager to find potential treatments and test them. But they haven't tested MMPD yet. We can conclude that experts believe there isn't any potential with the drug to fight COVID-19.
An article published on 2/13/20 regarding the Shanghai Institute of Materia Medica states:
"The institute has also miniaturized in vitro evaluation model of the virus, completed the preliminary screening of 40,000 samples, and released a list of 30 potential anti-novel coronavirus compounds, which will effectively stimulate the development of cures."
Since this list wasn't mentioned by BSGM, we can assume that MMPD wasn't one of the above mentioned "30 potential anti-novel coronavirus compounds".
On 4/9/20, Pfizer (PFE) announced doing pre-clinical trials on all fronts from inhibitors of the SARS-COV-1 to potential vaccine in collaboration with other pharmaceutical companies plus testing existing drugs in their pipeline. Of course, MMPD isn't mentioned in the announcement, but many other antivirals are.
In BSGM's conference call regarding the drug purchase, Dr. Andrew Badly, a physician at the Mayo Clinic who has run an immune-virology lab there for 25 years, stated: "I'm quite familiar with MMPD". That's one virology expert that has known MMPD well, yet his fellow virologists aren't testing it for COVID-19. BSGM has been collaborating with the Mayo Clinic for many years with their PURE EP device. Therefore, the Mayo Clinic is a related party since it receives research and know-how payments from BSGM.
In the conference call, Dr. Zeldis stated:
"I'd like to take one quick moment to thank BioSig and Ken Londoner in particular, for creating a mechanism for ViralClear to rapidly develop MMPD so that it can get into patients and hopefully show that it could be a welcome adjunct to therapy."
The above statement suggests that if it weren't for BSGM, then MMPD would not be tested against the coronavirus. We agree with Dr. Zeldis. The most intelligent virologists in the world don't appear to have any interest in testing it.
Trek Therapeutics And Its Vicromax Drug Have A History Of Failure
BSGM filed an 8-K on 3/25/20 stating that its subsidiary, NeuroClear, has purchased the assets from Trek Therapeutics ("Trek"). Trek was launched in 2014 by a team of virology veterans to find a treatment for hepatitis C. Trek's co-founder was Jerry Zeldis, MD, PHD. Dr. Zeldis is a board member for BSGM, as well as a bunch of other small healthcare companies. Vicromax was owned by Trek before BSGM acquired it.
According to this article from 4/16/20, Vicromax was introduced to BSGM on 3/12/20. In our opinion, that tells a lot right there. COVID-19 had already been wrecking havoc on the world. Yet no one had showed any interest in Vicromax as a weapon against the disease. But it was the perfect additional asset to give BSGM's stock a boost after it had just reached lows and PURE EP commercialization efforts were dead in the water.
Vicromax, also called Merimepodid (MMPD), is a small molecule that if orally administered inhibits enzyme inosine monophosphate dehydrogenase (IMPDH) which leads to a reduction in intracellular guanosine triphosphate (GTP), a molecule required for DNA and RNA synthesis, therefore stopping viral cells from further proliferating.
BSGM states that Vicromax had already completed a Phase I and three Phase II trials in other indications, and underwent extensive animal testing and human clinical experience. However, it doesn't go into detail on these trials, and doesn't report the results. Vicromax doesn't show up on clinicaltrials.gov. Since it was acquired from Trek Therapeutics, we found that a search for "Trek Therapeutics" on clinicaltrials.gov shows two results.
Vicromax previous name shown on clinicaltrials.gov was TD-6450 in the two studies. Both studies were phase II using TD-6450 in combination with another antiviral to treat different types of Hepatitis C. It shows the studies were completed in 2017 but the results aren't shown. Trek hasn't done any studies since then, and the company appears to have shut down in 2018. In 2017, Trek attempted a blockchain partnership. Trek company's last tweet was on 6/3/18.
The following are from TD-6450 studies on clinicaltrials.gov with no results shown:
From 2016:

From 2017:

BSGM took this drug which had discontinued studies, dusted it off, renamed it, and are now promoting it to investors as a possible treatment for the coronavirus.
In this article from a business magazine called "The Hour" on 3/25/20, BSGM's CEO, Ken Londoner, is quoted:
"Trek did not have the breadth of infrastructure that could help scale the effort. Time to market and speed was paramount."
This statement is misleading in a couple of ways in our opinion. First, Trek has been out of business for years, so it's not that they don't have the infrastructure, the company doesn't even exist anymore. Second, BSGM is a struggling medtech company that also doesn't have the infrastructure or funding to quickly develop Vicromax.
In 2016, Trek acquired MMPD from Vertex Pharmaceuticals. Before dumping MMPD off to Trek, Vertex completed a Phase II (b) trial with MMPD in combination with pegylated interferon alfa 2a and ribavirin shown on clinicaltrials.gov here. Vertex was unable to prove the drug's usefulness for infectious disease suppression. Vertex dropped MMPD and developed a hepatitis C drug with another inhibitor called telaprevir (Incivek), which received FDA approval in 2011.
Indeed, MMPD has a history of failure. First, Vertex failed with it in trials to treat hepatitis C in 2006. Then, Trek failed to run a successful hepatitis C trial with it in 2017.
A PubMed article from 6/29/19 discusses antiviral agents in development for Zika virus infections. It states:
"Recent studies have shown that merimepodib (MMPD or VX-497) and mycophenolic acid (MPA), two IMPDH inhibitors, also inhibit ZIKV-RNA replication in different cell types, including Huh-7 cells, human cervical placental cells, and neural stem and primary amniotic cells"
But further MMPD studies have not been pursued to treat Zika. This tells us that it isn't a worthwhile treatment for Zika. It hasn't been used for any viruses, not Ebola, MERS, SARS, etc.
A Study On Merimepodid Showed A Failure To Reach The Primary Endpoint And Has More Adverse-Events
A study reported on PubMed in 2009 showed the results of a study comparing a treatment of combining MMPD with pegylated interferon alfa 2a and ribavirin versus pegylated interferon and ribavirin alone to treat non-responders with chronic hepatitis C. The full report can be found here. The addition of MMPD failed to reach its primary efficacy endpoint of sustained virological response (SVR). Additionally, the study states:
"Nausea, arthralgia, cough, dyspnea, neutropenia, and anemia were more common in patients taking MMPD."
This study showed that adding MMPD often made the patients worse with the adverse events. Therefore, MMPD's safety is not confirmed, and phase I trials will likely need to be done to confirm safety in coronavirus patients.
In fact, BSGM's own pre-clinical report on MMPD, posted 4/9/20 on biorxiv.rog, suggests more preclinical studies are needed. It states:
"Further work is needed to characterize the full mechanism behind MMPD inhibition of SARS-CoV-2 as well as its efficacy in animal models of corona virus infections."
The need to do animal studies will delay the time to clinical studies on humans with the coronavirus. This will require more expense and put the company further behind other biotech companies that are already in clinical trials with their coronavirus drug.
In BSGM's conference call on 4/7/20 discussing BSGM's acquisition of Vicromax, ViralClear's new CEO Nick Spring said:
"We expect to file the IND round in the next few weeks, this means that we should be in human trials by May."
May seems like an unrealistic timeline. Especially if the company still needs to do animal studies, it will likely be several months before it will be able to start clinical trials, if it does at all.
Other Companies Are Already Far Along In Their Coronavirus Drug Studies
The World Health Organization (WHO) is conducting an international clinical trial called "Solidarity" to help find an effective treatment for the coronavirus. It selected the following treatments:
Remdesivir, Lopinavir/Ritonavir, Lopinavir/Ritonavir with Interferon beta-1ª, and Chloroquine or Hydroxychloroquine.
A scientist leading one of Britain's most advanced teams working on a coronavirus vaccine, Sarah Gilbert, professor of vaccinology at Oxford University, said a vaccine could be ready in six months. Gilbert said human trials are due to start in the next two weeks.
On 3/30/20, Johnson & Johnson announced it is developing a vaccine for the coronavirus.
Gilead Sciences is already in a clinical trial with Remdesivir.
This article from Genetic Engineering & Biotechnology News, published on 3/18/20, shows a whopping 60 COVID-19 treatments currently in development. Of course, MMPD isn't one of the treatments listed.
Given the lack of funding, institutional knowledge, necessary infrastructure and a possible reformulation of the compound, it is a reasonable assessment that Vicromax is months if not years behind in the race to find an antiviral for Covid-19.
Excessive Executive Compensation – Management Is Double-Dipping
BSGM's top two executives got paid a lot in 2018. From the company's Schedule 14A filing filed on 10/7/19:

As shown above, Londoner's 2018 compensation was $2.2M and the CFO, Steve Chaussy, received $856K.
And as if that wasn't enough compensation, management is also "double dipping". Further in the Schedule 14A filing it states:

So even though nothing is currently happening at NeuroClear, the CEO and CFO are still receiving an extra six-figure salary from the subsidiary.
BioSig's Investment Banker Is Laidlaw, A Wall Street Firm With A Questionable Past
BSGM has been using Laidlaw for equity raises for many years. This post from Investor Village lists many BSGM private placements to sell stock and warrants as far back as 2013 all underwritten by Laidlaw. Patrick J. Gallagher, one of BSGM's directors, is a Senior Managing Director and head of healthcare sales at Laidlaw. Laidlaw has a questionable track record, as shown here, 39.2% of Laidlaw's brokers have FINRA flags.
Disgraced financier Barry Honig was a client of Laidlaw. In 2018, FINRA began an investigation into Laidlaw for their role in executing stock manipulation schemes that left main street retail investors with millions in losses.
The Mayo Clinic Has Made A Lot Of Money Off BioSig Since 2017, And Will Continue To Do So
BSGM has been a profit center for the Mayo Clinic over the years. That's why it continues to work with them. It's not because the Mayo believes in or invests in BSGM or its products. The Mayo clinic has been compensated with dollars and BSGM shares, and has not taken on any risk.
An agreement BSGM made with Mayo on 3/15/17 was for a ten year know-how agreement with the PURE EP. As stated in BSGM's 2017 10-K:
"In consideration, we issued 630,000 warrants to acquire the Company's common stock at an exercise price of $1.50, expiring on March 15, 2020.  The estimated fair value of $543,927 was charged to operations as acquired research and development."
On 11/20/19, BSGM entered in another License Agreement with them for issuing 284,455 warrants to be exercised at $6.16 and paid Mayo $100,000 in upfront considerations. The same date NeuroClear entered into a license agreement with Mayo as well and issued them 473,772 warrants exercisable at $5 and paid $50,000 in upfront consideration. This is stated in BSGM's 2019 10-K.
On 4/13/20, BSGM filed an 8-K stating that it has entered into another know-how license agreement with Mayo, and issued to Mayo 259,959 shares of ViralClear's common stock. ViralClear will also make earned royalty payments to Mayo.
On 4/16/20, BSGM announced that the Mayo clinic will be conducting phase II trials on Vicromax. Of course, BSGM or its subsidiaries will have to pay for the expenses of the trials, and Mayo will further profit.
PURE EP Sales Are Moving At A Snail's Pace, And Likely Won't Increase Much After COVID-19
In our opinion, BSGM is using the Viromax Covid-19 promotion as a way to deflect the current commercial failure of its main product PURE EP.
BSGM's main product, its PURE EP System, received FDA 510(k) clearance on 8/14/18. This was almost two years ago, and BSGM still hasn't made a single sale. We've never seen a medtech company move at a slower pace to sell its product after FDA clearance. If there really was a pressing need for this device, then we believe it would've had sales by now or at the very least meaningful clinical data.
BSGM's 2019 10-K states:
"We have begun implementing a market development program and plan to commercially launch our PURE EP System in 2020. Our goal is to install PURE EP Systems at several medical centers of excellence (COEs) throughout the U.S. during the first half of 2020 – whereby these systems would be installed on a trial basis for system evaluations, data collection for posters and presentations at cardiology conferences, submissions to peer-reviewed journals, and for potential demonstrations to other physicians to observe the technology."
Even after BSGM introduced Vicromax, on 3/30/20, Roth Capital initiated a Buy on BSGM with a $9 price target. The justification for that rating was the prediction that its PURE EP system launch will be successful. Vicromax wasn't even mentioned in the analyst note. We find that the coronavirus pandemic will make it even harder for BSGM to sell its PURE EP system, as elective surgeries, including cardiac ablations, have been halted and it is unlikely BSGM sales people would be able to enter hospital EP labs during the Covid-19 lockdown. Furthermore, hospital revenues are declining, their budgets are being squeezed, and as such they would be less likely to buy an unnecessary, expensive, add-on device like the PURE EP system.
With cash burn accelerating, cash reserves low and a pessimistic future where PURE EP commercialization continues to fail, the Vicromax distraction could not have come at a better time for BSGM management.