Presto Automation (PRST) went up 36% on Friday, 4/21/23. Then, over the weekend, it removed the McDonald's logo from the customer section of its website!
PRST, which recently went public as a SPAC, is a labor automation provider in the hospitality industry. It develops the Presto Smart Dining System (Presto Touch), which is a touch screen tabletop tablet. Below is an image of its product used at Applebees: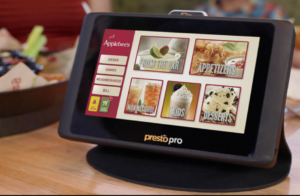 PRST closed at $1.39 on 4/14/23, it didn't go up at all during the AI craze where most stocks related to AI went nuts on 4/13/23 and 4/14/23. However, it had a late AI-craze move, as PRST rallied hard on 4/17/23, closing at $3.62 for a more than 100% gain from the previous day. It didn't go up on any particular news of a new business contract, but only from an empty AI pump.
This pump was orchestrated by various twitter pumpers, including the company's interim CEO, Krishna Gupta, see his Twitter account here. Gupta has been talking on numerous news outlets after the pump, and in particular has been tweeting about the company's AI voice recognition technology to be used at fast food restaurant drive-thrus.
However, this AI product has made almost zero revenue for PRST so far. As stated in its most recent 10-Q for quarter ended 12/31/22:
"Revenue generated from the AI Platform (previously Voice and Vision) was not material for the three and six months ended December 31, 2022, and 2021."
Company-Spread Rumors That Presto Has A Deal With McDonalds Appears False
There have been rumors that Presto has a deal with McDonalds. That is a big deal because McDonalds has been in the news lately for being the first fast food restaurant with a fully automated drive-thru. Articles about McDonald's new, "futuristic" restaurant in Texas are here, here, and here.
The company even showed McDonald's as a "customer" on its website, as recently as 4/21/23 as shown from Wayback Machine, screen shot below:

Source: Wayback Machine
However, if you go to presto.com now, the McDonald's logo has been removed, as shown below: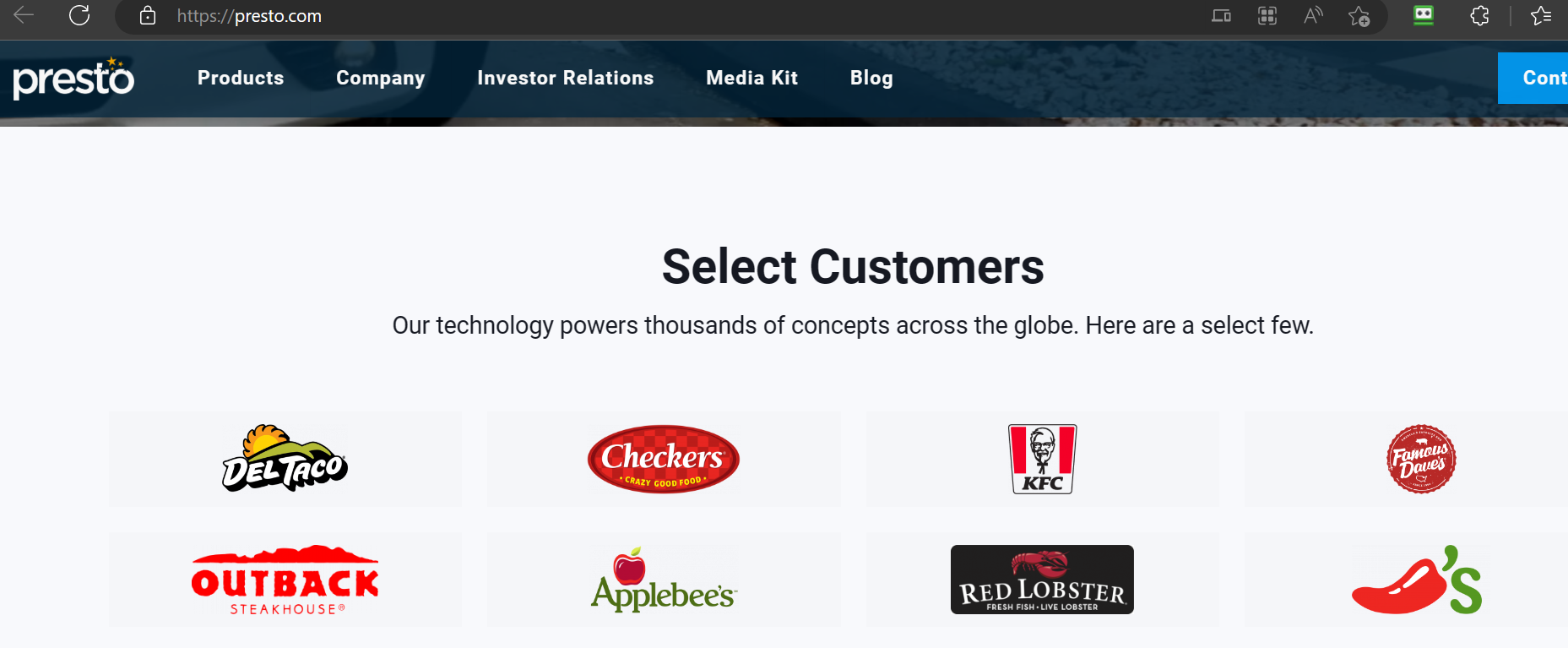 Source: presto.com
We believe the logo got removed because the reality is McDonald's isn't a customer of PRST in any way, and now that attention is on PRST, they don't want to get sued by investors for false information, or even sued by McDonalds!
Note that the Long John Silver's logo has also been removed.
We expect the stock to plummet to previous levels of around $1.50 once word gets out that it isn't associated with McDonald's after all. That was a major driver of the stock's recent rally, as evidenced by the following Twitter and Stocktwits posts: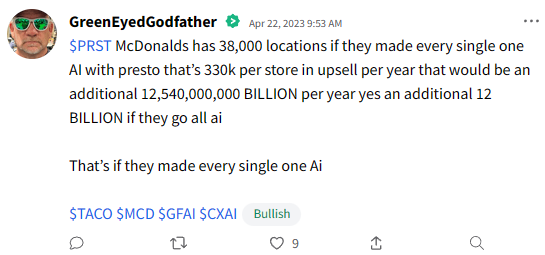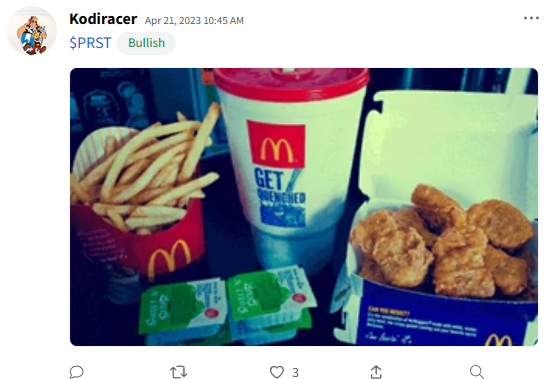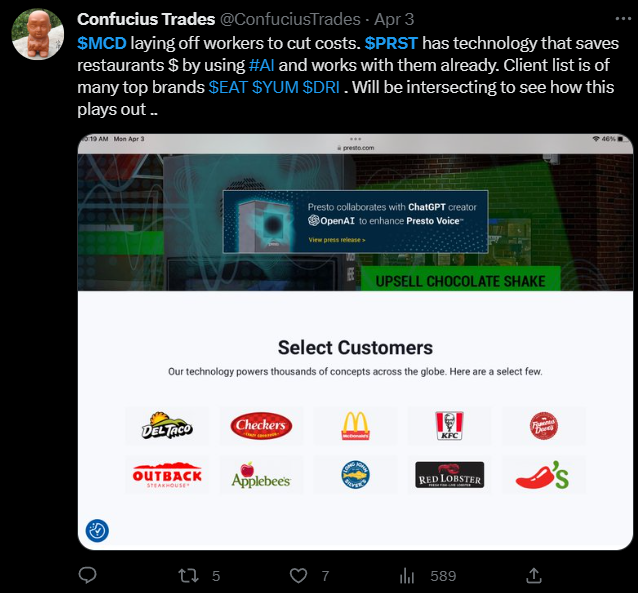 Source: Stocktwits and Twitter $PRST Chat
Closing Bearish Points
This report, by Guasty Winds Investment Ideas, published on 3/24/23, points out a lot of bearish aspects of PRST, suggesting it will go bankrupt within a year. It's AI voice-recognition product isn't PRST's, it's only a reseller. It burns $15M of cash per quarter. It reported $38.2M in cash for quarter ended on 12/31/22, and $59.5M in debt. $52M of that debt is term loans, with an interest rate of 15%.
On 4/6/23, PRST filed that it had granted 400,000 warrants at a $0.01 exercise price. The warrants were granted to Metropolitan Group, the lenders of the term loans, as payment for an amendment of the loans.
Furthermore, is drive through going to be like calling your bank now? No human interaction? We agree with this stocktwit posted today: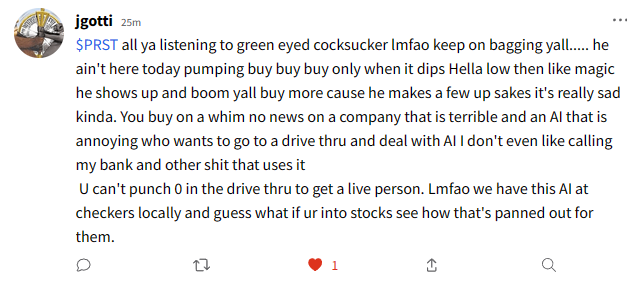 https://whitediamondresearch.com/wp-content/uploads/2019/08/final_1logo.png
0
0
cake gary
https://whitediamondresearch.com/wp-content/uploads/2019/08/final_1logo.png
cake gary
2023-04-24 09:33:47
2023-04-24 19:28:00
BREAKING NEWS - Presto Automation Removed The McDonald's Logo From The Customer Section of Its Website Over The Weekend!