VAPO Likely Facing Imminent Bankruptcy
Unable To Raise Funds And With Low Cash Breaking Its Debt Covenant, Vapotherm Is Likely On The Verge of Bankruptcy
Vapotherm's (VAPO) main product, the HVT 2.0, isn't better than standard of care, oxygen masks, but is more expensive.
VAPO has done insufficient clinical studies, one observational study in Argentina, and another one that only proves non-inferiority to standard of care, but not superiority.
VAPO's disposable revenue has declined by over 50% year over year, despite an increase in capital equipment sold.
VAPO's products have very low gross margin, around 20-30%.
VAPO loses $20M+ per quarter, and the stock doesn't have the trading volume to cover a fraction of its losses with its ATM.
Vapotherm (VAPO) decided to take on more debt when the stock was high during the Covid pandemic instead of selling stock – this will prove to be a fatal mistake.
Before Q322, VAPO has historically had a healthy cash balance, but now its cash balance is likely around $5M today, suggesting it has been unable to raise funds.
VAPO's interest rate on its debt has risen from 9.5% in early 2022 to 12.5% today.
Vapotherm (VAPO) sells medical devices that try to replace the inexpensive and commonly used oxygen masks for patients who have acute breathing problems. Their product is not a replacement for the ventilator, which is used for tough cases. It seems that VAPO's product has some success with Covid patients, but now revenues are declining fast. They have multiple product issues. First, their technology tries to replace the inexpensive and well adopted Standard of Care (oxygen masks), but it doesn't have enough clinical validation. They have a study that indicates non-inferiority vs oxygen mask, or marginal benefits but not enough to cause natural adoption of the technology. Perhaps with strong marketing and sales VAPO could have made a dent in the market, but that time has gone. Now they have no resources to put more in commercial efforts and to further improve product performance.
Another issue is low gross margin on their products: 20-30%. With the products current performance and weak clinical studies, they can not claim a significant price premium over masks. Low utilization is an additional problem that results in low gross margin.
Managements inability to raise capital over the past month suggests it is a sinking ship and bankruptcy is imminent.
Management Has Consistently Reported Missed Guidance
Reflecting Covid dynamics, Q421 earnings was the beginning of the end for VAPO. But management was still overly optimistic, with guidance they missed by a wide margin. The following is from VAPO's Q421 earnings call transcript on 2/26/22:
Joe Army, VAPO CEO
The fourth quarter of 2021 was another strong quarter for Vapotherm. We booked $22.2 million in revenue, bringing full year 2021 revenue to $113.3 million. These results reflect 2-year compounded annual growth rates of 31% and 53%, respectively. Our worldwide installed base now stands at 35,200 units or more than double the installed base at the end of 2019. Over the past 2 years, we also doubled the number of our Emergency Department Gold and Silver accounts and exited 2021 with 528 Gold and Silver ED accounts which are the top 2,000 ED hospitals in the U.S. as measured by respiratory discharges.
We think all these factors leave us exceptionally well positioned to execute on our fundamental strategy to become the complex lung disease patient management company. Our strategy combines digital, clinical and device solutions to create a health care ecosystem focused on improving the lives of complex lung disease sufferers while reducing the cost of their care. We've been making steady progress towards our goal.
Regarding the launch of HVT 2.0, we successfully obtained FDA 510(k) clearance for this next-generation product, which does not require a source of wall air and will be central to our ability to treat patients anywhere in the hospital as well as in the home and during emergency transport.
Regarding expansion of our digital presence, we launched Vapotherm Access 365 and Vapotherm Access Post Care in 2021. 
In addition to HVT 2.0, we made significant progress expanding our digital footprint, building on our acquisition of HGE Medical in late 2020 and putting additional pieces in place for a complete health care ecosystem focused on complex lung disease patients. We rebranded all of this as Vapotherm Access and midyear launched Vapotherm Access Post Care to hospitals, a program dedicated to reducing 30-day readmissions of recently discharged COPD patients. 
Second, we will introduce new products such as the HVT 2.0 platform and Oxygen Assist Module or OAM, which will result in higher clinical and economic value for our customers, which we expect will translate into higher recurring revenue per installed capital unit.
John Landry, CFO
Based on our expectation that some level of COVID-19-related hospitalizations will continue worldwide, we expect net revenue of between $104 million and $108 million in 2022.
VAPO's Q322 earnings call sang a different tune from their optimistic Q421 call:
Q322 Earnings Call on 11/5/22
Joe Army
Another driver of gross margin improvement is our exit from our Vapotherm Access and RespirCare operations, both of which negatively impacted gross margin. We made the tough decision to exit these businesses as it was a necessary step on our path to profitability which is presently a primary focus. 
We signed a letter of offer to lease R&D space in Singapore and hired 9 engineers, led by a senior engineer who has worked with our Chief Technology Officer in the past. Our challenge is to aggressively remove expenses while continuing to invest in future growth drivers. This is a delicate balance and we are pleased with our progress to date.
Notes on the above earnings call quotes:
VAPO reported $28.7M in cash on 9/30/22. Historically, the company has lost a minimum of $20M per quarter. That would leave it with only about $10M at quarter end, even with successful cost-cutting measures.
If VAPO's primary focus is to "reach profitability", why not end all R&D testing? Since it started the lab in Singapore, that suggests that company management believes it still has to create new products in order to reach profitability, and its current products are insufficient.
Vapotherm's Weak Clinical Data
The fact that there's no link to any clinical studies on VAPO's website says a lot. It suggests that there's no convincing data that shows its HVT (High Velocity Therapy) device performs better than oxygen masks, the standard of care. The studies that have been done for the HVT barely cover the minimum evidence for non-inferiority vs Standard Of Care. With such weak clinical data, a path to a better HVT reimbursement is non-existent.
In its February 2022 Investor presentation, VAPO has a page reporting an "observational study" on 5 ICUs in Argentina. This is totally insufficient of a study for FDA standards.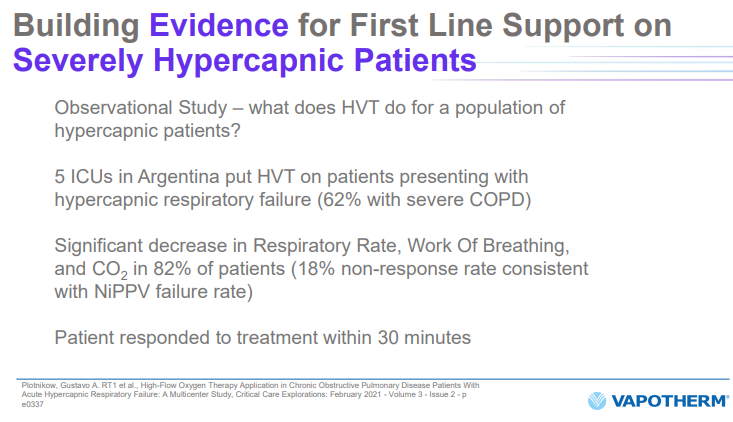 Source: Feb 2022 Investor Presentation
Their one US study published in February 2021 was a multi-center, randomized trial of adults presenting to the emergency department (ED) with respiratory failure requiring noninvasive positive-pressure ventilation.
It had 204 patients and concluded that High-velocity nasal insufflation (VAPO's HVT) is noninferior to noninvasive positive-pressure ventilation. Notice that it didn't say that HVT is a superior treatment, only "noninferior" or at least equal.
"Noninferior" isn't evidence for an insurance company to pay more for the HVT than standard of care. And that is the reason why VAPO has low gross margins of around 20%-30%. VAPO's gross margin was especially low in Q322, only 13.8%, and the CFO, John Landry, stated in the earnings call:
"Excluding higher-than-normal inventory reserves and write-offs, our gross margin would have been 29.5% and while it will take a few more quarters to begin seeing meaningful gross margin improvement in the quarterly income statement, our plan remains on track."
A Look At Vapotherm's Debt
VAPO stock was trading above $20 for most of 2020-2021, as shown in the 5-year chart below: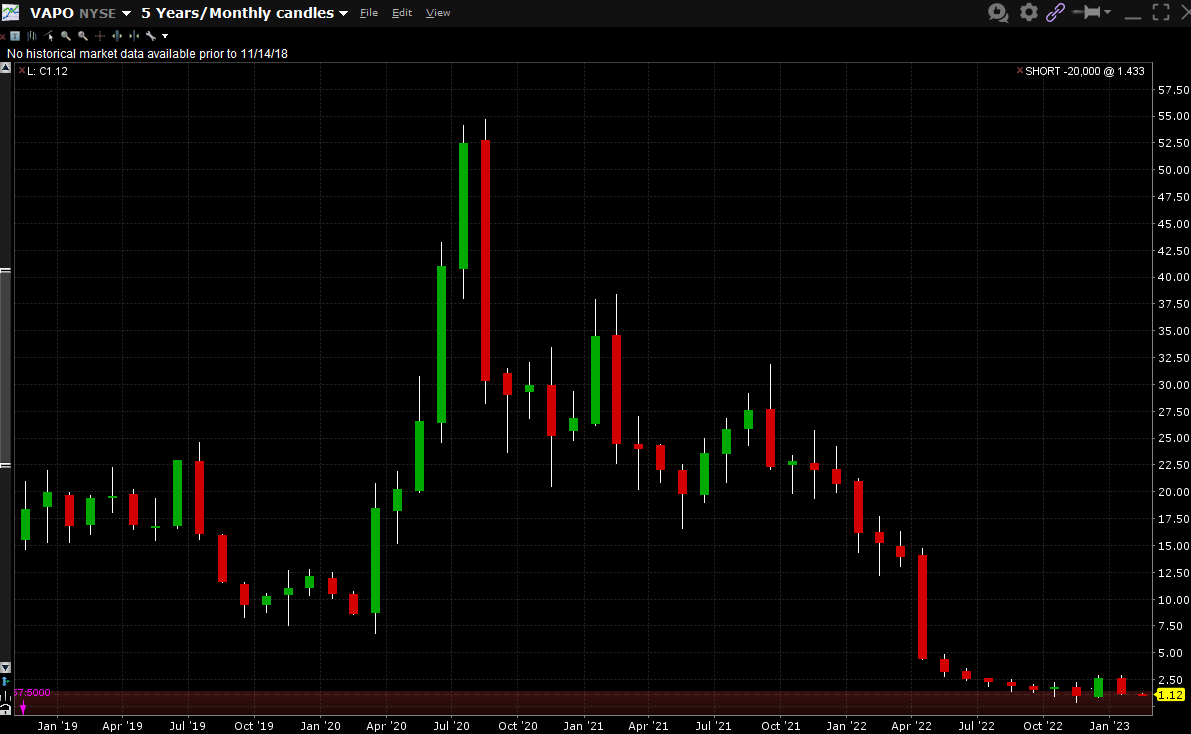 Yet instead of selling shares at any time during that period, the company chose to take on a lot of debt. A big mistake that no doubt management is regretting now.
The following is VAPO's long term debt over the past four quarters:

Source: Yahoo Finance (In $'000s)
Notice that VAPO's long term debt was only about $40M in quarter ending 12/31/21, then it shot up another $56M in Q122. This happened because the company was running low on cash in Q421, closed the quarter with about a $57M balance, and decided to take on debt instead of selling shares, using $47.4M of it to cover a previous debt. As stated in the Q322 10-Q, this new debt has an interest rate of one-month SOFR plus 8.3%, which totals about 12.5% right now. It was only about 9.5% at the beginning of 2022. The share count only increased by about 100-200K shares per quarter to end with 26.7M shares in quarter-ended 9/30/22.
We can assume the lender was willing to loan that amount in the beginning of 2022 largely because the stock was trading at a little over $20 per share, putting VAPO's market cap at around $500M. Normally, a company with a market cap that large would be able to handle $100M of debt. However, after the first quarter, when the company started badly missing guidance, the stock got slammed, and lenders weren't willing to loan the company more money. As shown above, the company's debt has stayed at about $96M for the whole year of 2022.
Even though the company had 2 quarters of cash available at the end of 2021, it still borrowed an extra 2 quarters worth. That shows that it's a management that likes to have ample cash around. The fact that its cash balance must be below $10M by now, suggests that they aren't able to raise capital, but they are trying.
Vapotherm's Products
The Company's main capital equipment products are the High Velocity Therapy systems and the Vapotherm Transfer Unit 2.0. The Company's main disposable products are single-use disposables and nasal interfaces, or cannulas, and adaptors.
On October 31, 2022, the Company substantially completed the abandonment of its Vapotherm Access standalone remote patient monitoring business.
The following is the breakdown of VAPO's capital equipment and disposable revenue over the past two years in periods ending on September 30:

As shown above, despite having a larger base of Capital Equipment held at hospitals, disposable revenue has declined dramatically, by over 50%. That means that hospitals are using the capital equipment much less now that Covid patients have dramatically decreased.
Vapotherm's Main Restructuring Actions
In Q322, VAPO established a subsidiary in Singapore, a research and development lab with 9 scientists. As stated earlier, we believe this is one sign that the products that VAPO currently has aren't sufficient for the company to reach profitability. R&D efforts are expensive (especially in Singapore)  and lengthy. How is VAPO planning to fund these projects? We think Singapore R&D is a bad idea, consistent with prior management mistakes, such as the debt increase.
Also in mid-2022, VAPO began moving its manufacturing to Mexico from the US. While this may cut costs in the long run, it will require significant short-term investment to transfer manufacturing, train labor and set up proper quality control systems. Where will the required money will come from? Another peculiar story by management.
Vapotherm got FDA Clearance In October and December 2022

Source: Oct 2022 FDA 510(K) Clearances

Source: Dec 2022 FDA 510(K) Clearances
The first one from October is just an adapter, so it's insignificant.
The second one, in December, is the clearance of VAPO's HVT 2.0 device to take the place of VAPO's HVNI device. The HVT 2.0 is a replacement for oxygen masks, but not a replacement for a ventilator.
On 2/12/21, the HVT 2.0 received Emergency Use Authorization (EUA) as it was labeled a "ventilator accessory". VAPO announced the HVT 2.0 received FDA 510(k) Clearance on 8/30/21. Clearly, getting clearance didn't improve sales, sales got worse as Covid patients decreased.
Conclusion
VAPO's product has failed to bring the company any meaningful profits. This was apparent during Covid times, when despite a large increase in revenue, its losses continued to be over $20M per quarter. Now that Covid is no longer a pandemic, VAPO is in a much worse position. On top of that, its debt load has more than doubled, and its interest rate has increased. Restructuring actions like moving its manufacturing to Mexico and discontinuing its failed business segments doesn't solve the underlying issues facing the company. Its product isn't needed and isn't proven to be a significant improvement over cheap oxygen masks. The company has been an inevitable failure from day one. Now that the company has been unable to raise capital and its market cap is below $50M, it's only a matter of waiting for about a month for the company to run out of cash and either do a huge, dilutive equity raise or file for bankruptcy.
https://whitediamondresearch.com/wp-content/uploads/2019/08/final_1logo.png
0
0
cake gary
https://whitediamondresearch.com/wp-content/uploads/2019/08/final_1logo.png
cake gary
2023-02-06 07:08:44
2023-02-06 11:51:18
VAPO Likely Facing Imminent Bankruptcy