authID.ai – Masquerading As A SaaS Company With No SaaS Revenue and Tiny Legacy Revenue – $1.50 Price Target
authID.ai (AUID) has appreciated 300% over the last year after its Nasdaq uplisting due to hype regarding its "selfie" identity verification program.
Management misleads investors claiming that AUID is a pure-play SaaS business. None of its revenues have been from its SaaS product (Identity as a Service – IDaaS) and 70% are from low tech, legacy businesses.
The only IDaaS customer that AUID has mentioned appears to be one that will lead to little or no revenue or, at worst, could be a fake customer.
Sanjay Puri, who was the COO of the fraud MoviePass (owned by publicly traded Helios and Matheson) from 2016 to 2019, helped create AUID's identity verification program. MoviePass wiped out investors and settled fraud claims with the SEC.
AUID's revenues from software are small on a percentage basis (27% of total), and negligible in dollar terms ($600K annually). We find these revenues aren't from its identity verification application, but from a single contract for a legacy, backend fingerprint matching algorithm sold to one government entity.
Despite being on the market for years, its SaaS product has failed to generate any revenues, and we doubt it will ever generate anything significant.
There are plenty of other "selfie" identification apps out there. Our research found that we could likely create an identical product for less than $15,000.
The AUID story is similar to that of cybersecurity company Intrusion, Inc (INTZ), one of our most successful short ideas.
authID.ai (AUID), fka Ipsidy, was incorporated in 2011 and has been in the business of biometric identification since 2015. They got into this business from acquiring ID Solutions, a related party, in 2015 as stated in AUID's 2015 10-K.
Hype behind their biometric identification product is what has been fueling AUID's share price appreciation over the past year. However, the company is misleading investors. AUID's REAL businesses are of selling plastic cards in South Africa and leasing bus ticket kiosks in Colombia. These are AUID's legacy businesses, however they are so insignificant that they weren't even mentioned in its Q321 earnings call.
We hired an investigator in Bogota to video record the bus kiosks. However, she couldn't find any of AUID's bus kiosks after going to 3 bus terminals in Bogota. See the researcher's video of the kiosks here. It shows one brand name, RB (Recaudo Bogota), which isn't a brand name of AUID's.
AUID describes itself to investors as: ""a leading provider of secure, mobile, biometric identity proofing and authentication solutions delivered by an easy to integrate Identity as a Service (IDaaS) platform". From https://authid.ai/about-us
AUID's strategy is to use a cloud-based biometric authentication to replace one-time passwords and security questions by replacing it with a picture identification, like taking a "selfie". This product hasn't generated any revenue for AUID, despite being on the market since 2015. As stated in the Q321 earnings call:
"Quarterly revenue was flat as our new marketing initiatives only began in the third quarter and the focused product offering was introduced at the end of October at Money 20/20."
However, the company did announce a new customer, Hamilton Reserve Bank, in the middle of Q321, so it's interesting that that customer didn't generate any new revenue that quarter.
The authID.ai Story Is Similar To That Of Cybersecurity Scam Intrusion, Inc
On 4/14/21, we published a bearish report on Intrusion (INTZ), which closed at $28.25 the previous day. INTZ now trades at about $4.
The AUID story is similar to INTZ, in that they both:
Have a new cybersecurity product that they are promoting.
Got uplisted from the OTC exchange to the Nasdaq.
Have a promotional CEO who talks a big game, hiring new employees and forecasting strong sales after previously having almost zero revenue.
Fail to give any revenue guidance for upcoming quarters.
Use buzzwords like "artificial intelligence."
Have consistent miniscule revenue from legacy businesses, about $2M per quarter.
Since our INTZ report, the former CEO got fired after telling numerous lies including having many paying customers. INTZ had to lay off a bunch of its employees when the promised sales growth didn't happen. They now have a pending SEC investigation, along with shareholder lawsuits, and its revenue has stayed miniscule at below $2M per quarter.
We foresee a similar path for AUID. Our research shows that AUID has nothing going for it with its IDaaS platform, and a $1.50 price target is appropriate.
Sanjay Puri, the Former COO of the MoviePass Fraud, Is A Hired Consultant and Is On The Board of authID.ai
Sanjay Puri is the former COO of publicly traded fraud MoviePass (fka Helios and Mathieson) from 2016 to 2019. MoviePass wiped out investors and settled fraud claims with the FTC.  As told by the following articles:



Source: Gizmodo.com
Source: Vox.com
Source: Forbes.com
Puri joined AUID as a board director in June 2021, one month before the most recent rebranding into a "IDaaS company" and serves as a strategic advisor to AUID through his boutique investment bank Progress Partners. AUID paid Progress Partners $465,000 in Q3 2021 for unspecified business development activities and consulting services. (From AUID's Q321 quarterly report)
Like MoviePass, and freshly rebranded with a name that signals both "ID" and "artificial intelligence", AUID has not held back in marketing itself. On the company's Q3 2021 earnings call, CEO Tom Thimot declared to investors:
"Becoming a Nasdaq listed company establishes authID in the premier rank of identity providers in our industry."
As we show in this report, "premier rank" is quite an embellishment and the company's IDaaS is likely just vaporware.
authID.ai's Dilution
Part of the reason why now is a good time to sell AUID, is not only is it at a high level, but it will likely do a dilutive raise soon. On 8/24/21, AUID uplisted from the OTC exchange to the Nasdaq and did a 1.85M share offering at only $7 per share. The following is the 3-year chart for AUID when it was listed on the OTC and now the Nasdaq:

Source: Bloomberg
AUID filed a $200M mixed securities shelf on 11/1/21. That was filed EFFECTIVE on 11/12/21 so the company can do an equity raise at any time now. We believe with more dilution, the stock won't be able to maintain its $400M+ fully diluted market cap with such a low amount of revenue.
AUID reported just $9.2M in cash for the quarter ended 9/30/21. It had a loss of $5.2M and cash burn of $3.2M. Therefore, at this point the company is running on fumes and will likely be out of cash by the end of next quarter if they don't do a raise.
Even before the company's upcoming equity raise, the fully diluted shares outstanding is currently 22M shares. That's not including the potentially dilutive securities of stock options and warrants, which equal an additional 10.8M shares. This totals about 32M shares, times a share price of $14, equals a total market cap of: 32M x $14 = $448M. A very high market cap considering the company's miniscule amount of revenues and continued expected losses in the near term.
Insider Selling
AUID's CFO, Stuart Stoller, filled a Form 4 on 12/15/21 stating that he has sold 95K shares of AUID this week. That's 25% of his holdings, as it states in AUID's Def 14A filing on 11/19/21 that he had 371,529 shares. More selling by insiders will notably increase AUID's already sizable float of 17.5M shares.
Breaking Down authID.ai's True Businesses: Plastic Gift Cards and Bus Tickets
AUID's financials have been miniscule over the years it has marketed its identity verification product – but hasn't received revenues from it. As shown below: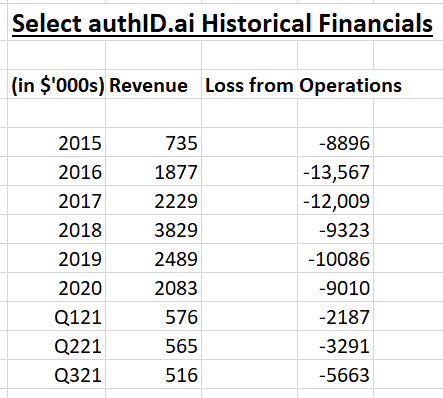 Source: AUID SEC filings
As shown above, AUID revenue has consistently been weak since 2015, never going above $4M for a year. That's despite attempting to promote its identity verification software since then. It has never taken off.
AUID's SEC filings break down the company's financial performance by geography and segment. Below are as reported financials for the nine months ended September 30, 2021: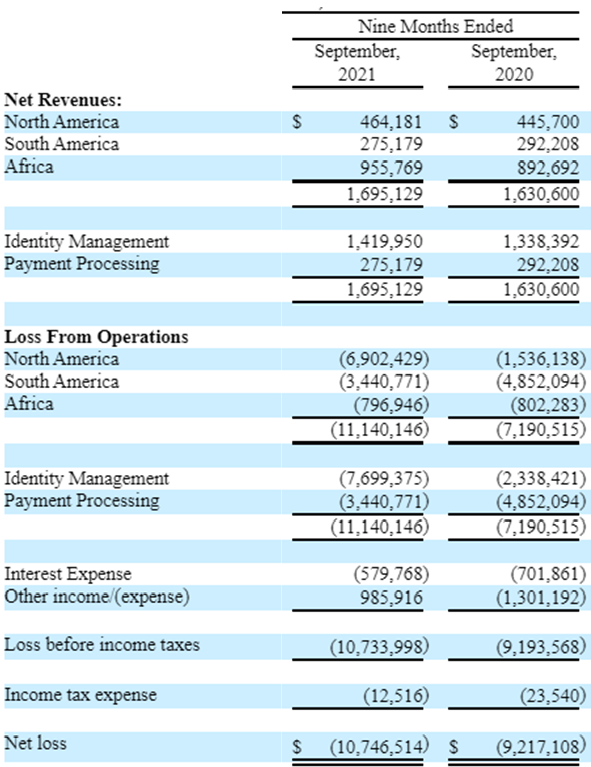 Source: 10-Q filed 11/8/21
Africa is AUID's largest geographic segment and makes up 56% of total revenue year-to-date. Sales are generated by the company's sole subsidiary in Africa: CardsPlus Pty Ltd.
CardsPlus is a South African company that prints PVC cards (gift cards, library cards, business cards and more!). For a more accurate depiction of AUID's core business than that provided by management, we encourage AUID investors to visit the CardsPlus website cardsplus.co.za.
Doing the math, the Identity Management segment is made up of the South African plastic card printing business ($956k year-to-date) and North America ($464k year-to-date).
North American revenues are from a single customer, as made clear by the footnotes to the financial statements:
"2020 Revenues and accounts receivable: For the year ended December 31, 2020, 27% of consolidated revenues were derived from one customer who is a US customer and is substantially all of the US based income."
Source: 2020 10-K
"Revenues and accounts receivable: For the year ended December 31, 2016 23% of consolidated revenues were derived from one customer who is a United States ("US") customer and is substantially all of the US based income"
Source: 2016 10-K
As shown in the historical financials above, revenues declined sharply in 2019 from a high of $3.8M in 2018. It has stayed at around $2M-$2.5M annually since then. The increase in 2018 was from a one-time contract to provide fingerprint matching software to the Zimbabwe Election Commission. The following is AUID's revenue solely from its identity management business, not including CardsPlus:

Source: AUID SEC filings
As shown above, its identity management business has remained around $500-600K per year, with only one customer. In 2018, they had 2 customers, adding an additional customer for the Zimbabwe elections in 2018.
What's especially shocking is AUID's Q321 identity management revenues didn't increase. If this is such a great product, why haven't they received more business?
The payment processing division shown in the financials, represents AUID's bus kiosk business. Notice that both its payment processing and identity management businesses generate large operating losses.
Furthermore, AUID didn't give any revenue guidance in its Q321 earnings call. That's a bad sign. If revenues were going to be pleasing to investors, then it's likely they would give guidance. As stated by AUID's CFO in the Q321 earnings call:
"As you can understand at this early stage in our product launch and sales and marketing activities, we will not be giving any guidance of the future results at this time."
The Only Identity Verification Customer That authID.ai Has Mentioned Appears To Not Generate Any Revenue
On 10/26/21, AUID announced in a PR that Hamilton Reserve Bank has deployed its Identity as a Service (IDaaS) platform. As shown in the Q321 earnings call slide presentation, AUID lists Hamilton Reserve Bank and CUNextGen on a slide, shown below. CUNextGen is a distributor for AUID's IDaaS platform, not a customer.

Source: AUID Q321 Earnings Call Presentation
The CEO of the bank, Prabhakar Kaza, is quoted in the PR. This is the only IDaaS customer that AUID has mentioned by name. Our research shows that this relationship will likely lead to little to no revenue. And at worst, Kaza could have just helped AUID make a fake PR, and has no plans in using the technology.
First, we found that Hamilton Reserve Bank's relationship with AUID was first announced in August, not October. Since AUID didn't attribute any revenue from its IDaaS platform in Q321, that means it hasn't received anything from this customer for at least a month after first deploying the service.
On 8/24/21, it was announced in a PR that "Hamilton Reserve Bank Completes Temenos End-to-End Digital Transformation". In that PR, it states:
"With Temenos, pre-integrated with Temenos MarketPlace provider authID.ai (authid.ai, NASDAQ: AUID), Hamilton Reserve Bank anticipates significant growth of its deposit base and wealth management services."
However, AUID didn't announce this relationship in August, the company waited until October to announce it.
Second, Kaza doesn't live where the bank is located. The bank is located in St. Kitts and Nevis, and Kaza lives in Borehamwood, England, as shown on his LinkedIn page, screenshot below.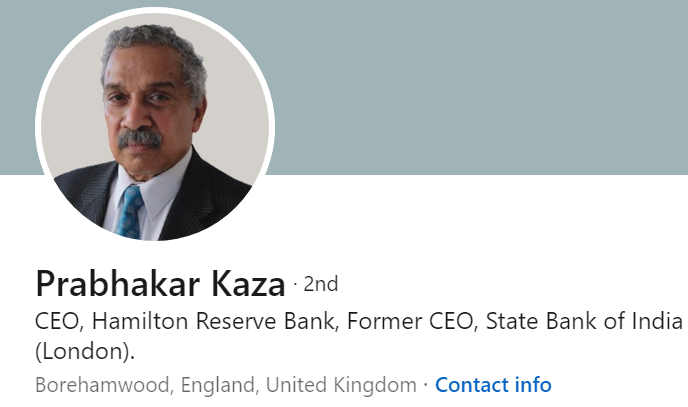 If this was a significant bank, then the CEO would likely be living and working where it is located.
Looking at his resume, which is shown on his LinkedIn profile, he has contact details consisting of a "gmail" email address, and England phone numbers, as shown below: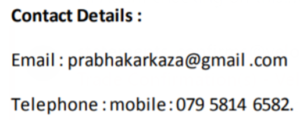 His business, Kaza Business Consultants, address is 26 Stretton Way, Borehamwood, England, which is also his residential address.
On 8/25/21, AUID announced that its Identity as a Service (IDaaS) platform was integrated with CU NextGen. One would assume that CU NextGen would be able to generate revenues for the company over the following month, to increase revenues for the third quarter. It even says in the PR:
"Through this new partnership, CU NextGen has begun roll-out of authID's identity services with its first credit union with plans for further expansion to additional credit unions across the United States."
So where's the initial revenue from this roll-out? Nowhere.
authID.ai's Identity Authorization Software
Hype and interest of AUID boosted the stock price to where it is today, but there doesn't appear to be enough interest to create a cult of retail shareholders. The following is a bullish tweet on stocktwits from 12/9/21, that received 7 likes: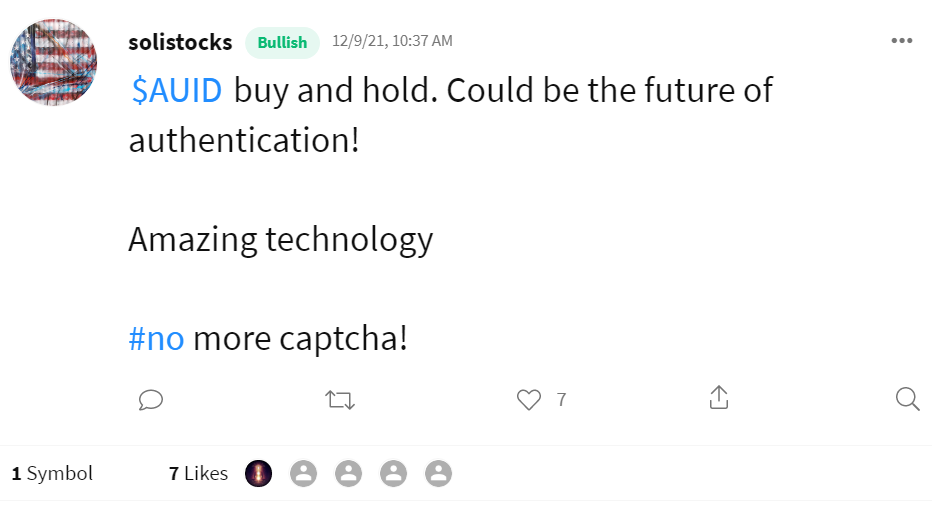 However, our research has found that the technology is far from amazing. AUID isn't the only company out there that sells a "selfie" identity verification program. And because AUID's revenues have remained stagnant and tiny, that tells us that there is likely no differentiating factor that AUID has to attract customers away from the competition.
AUID's CEO, Thomas Thimot, stated in the Q321 earnings call:
"With one selfie verified delivers increased accuracy far beyond the legacy authentication solutions since it ties who you are, your face to an account, not just a device or code, not an answer to a question that can be sold in the dark web, verified upper secure self-service, account recovery, and reduces enterprise password reset costs with a simple turn of the risk and healthy verified authenticate a user with no friction, no struggle to find the pin code or remember the place where you met your best friend, quite simply verified delight customers."
He also said:
"At Money 20/20, it became clear that we were the only provider of portable biometric authentication in the cloud rather than something that's chain to the device, such as a pin code sent over SMS to a device they may not have in their possession or authenticator app that you have to open on your mobile phone, our in-line web browser based product means we are device agnostic."
The CEO states the above quotes as if AUID is the only company that has the "selfie" identity authorization technology.
The truth is, many companies have this technology, it's a program that's easy to make.
AUID's home page also highlights this technology, as the company's ability to maintain its current market cap depends on its success. The following is a screenshot of AUID's home page:
Source: authID.ai Home Page
On this page on their website, AUID shows a video (without sound) demonstrating how their technology works. It shows an example of if someone wants to make a change to their account, they just have to verify with a "selfie" identity verification. As shown in the video: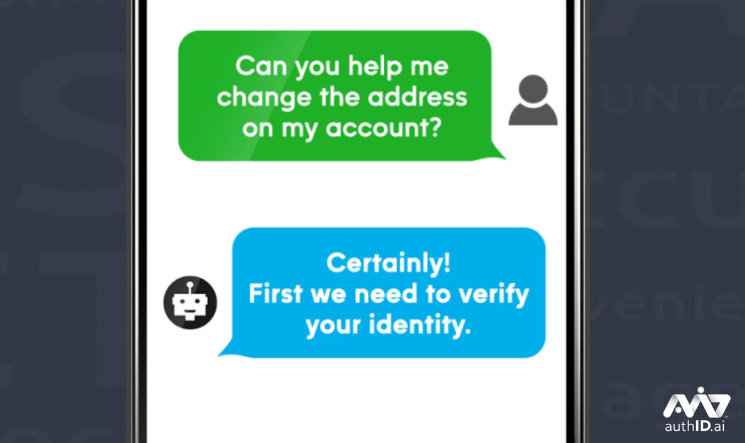 Source: authid.ai
In order to make the address change, the user only needs to verify her identity with a selfie, as shown below from the video:
Source: authid.ai
And that's it. That's the entire technology from AUID that has given it a $400M+ fully diluted market cap.
We Can Create authID.ai's Simple Identity Verification Technology For Below $15K
To research what AUID's technology is worth, we went on international freelancer job listing website Upwork to see how much it would cost to pay a programmer to create this facial recognition technology.
We put up the following job listing: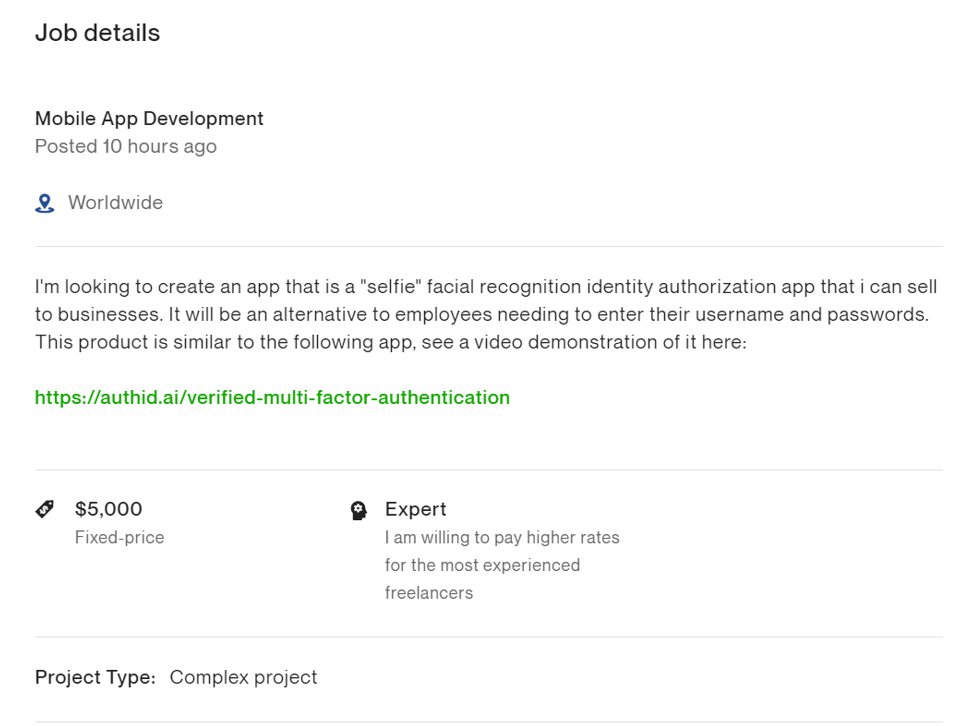 Source: upwork.com Job Listing
As shown in our job posting above, we put a link to AUID's demonstration video, showing what type of app we are looking to create. We mentioned that it's a complex project and we are looking for an expert programmer. We offered a fixed price of $5,000, which is open to negotiation.
Within a day, we got 39 proposals. Some comments from the applicants were:
"I can make your Facial Recognition App as required. Key Features:- The facial recognition app memorizes faces to recognize it for future references Face recognition software detects 70 unique facial features"
"I have worked on a web app which used the webcam for face identification and verification for students. I built this from scratch by creating a Python API which used the deepfake machine learning model and the web app made requests to the API."
"Hi. I already developed such application. I can show you demo. If you required. Thank you."
The majority of the proposals bid the price we suggested, $5,000. On the low end, one applicant from Pakistan offered to do it for $2,000, as shown below: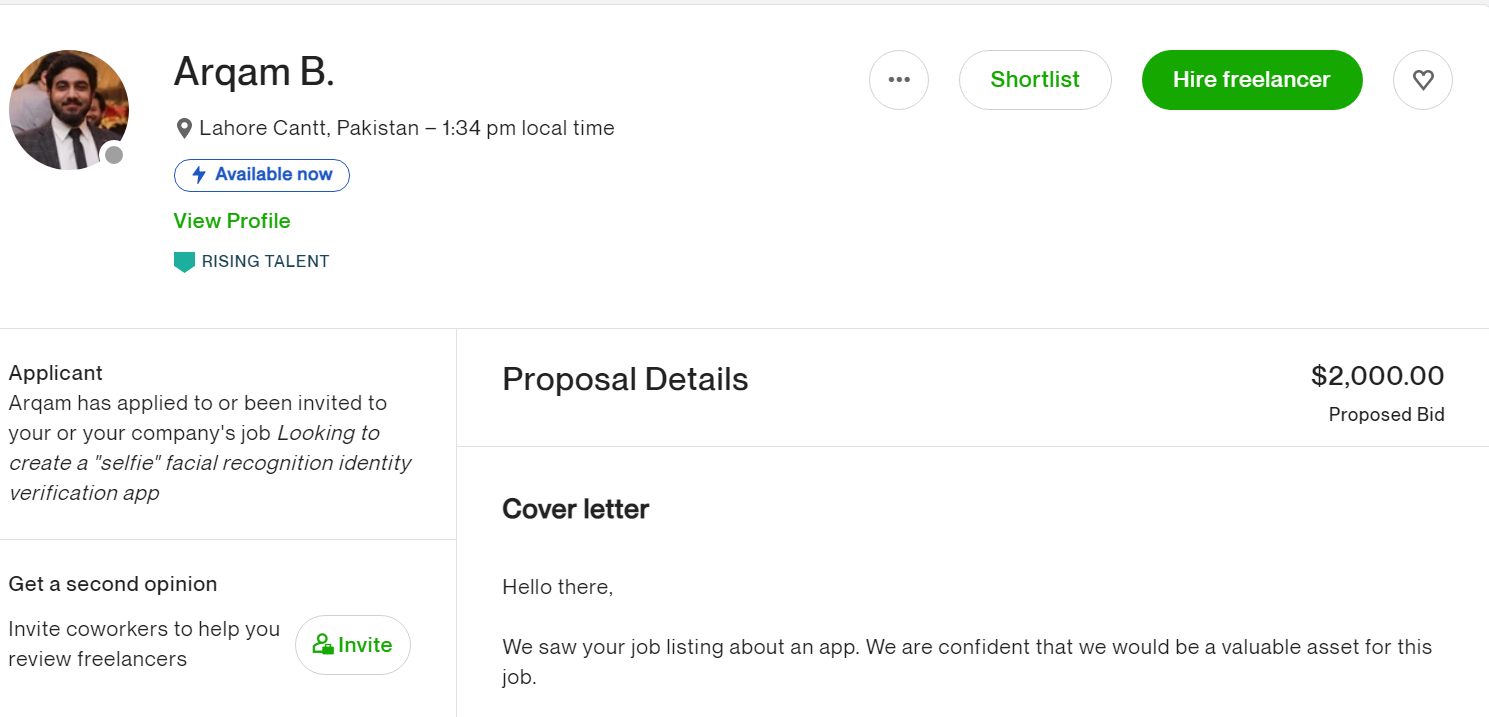 Source: upwork.com
On the higher end, an Indian and Russian programmer each bid around $12,000 for the project. As shown below from the Russian programmer: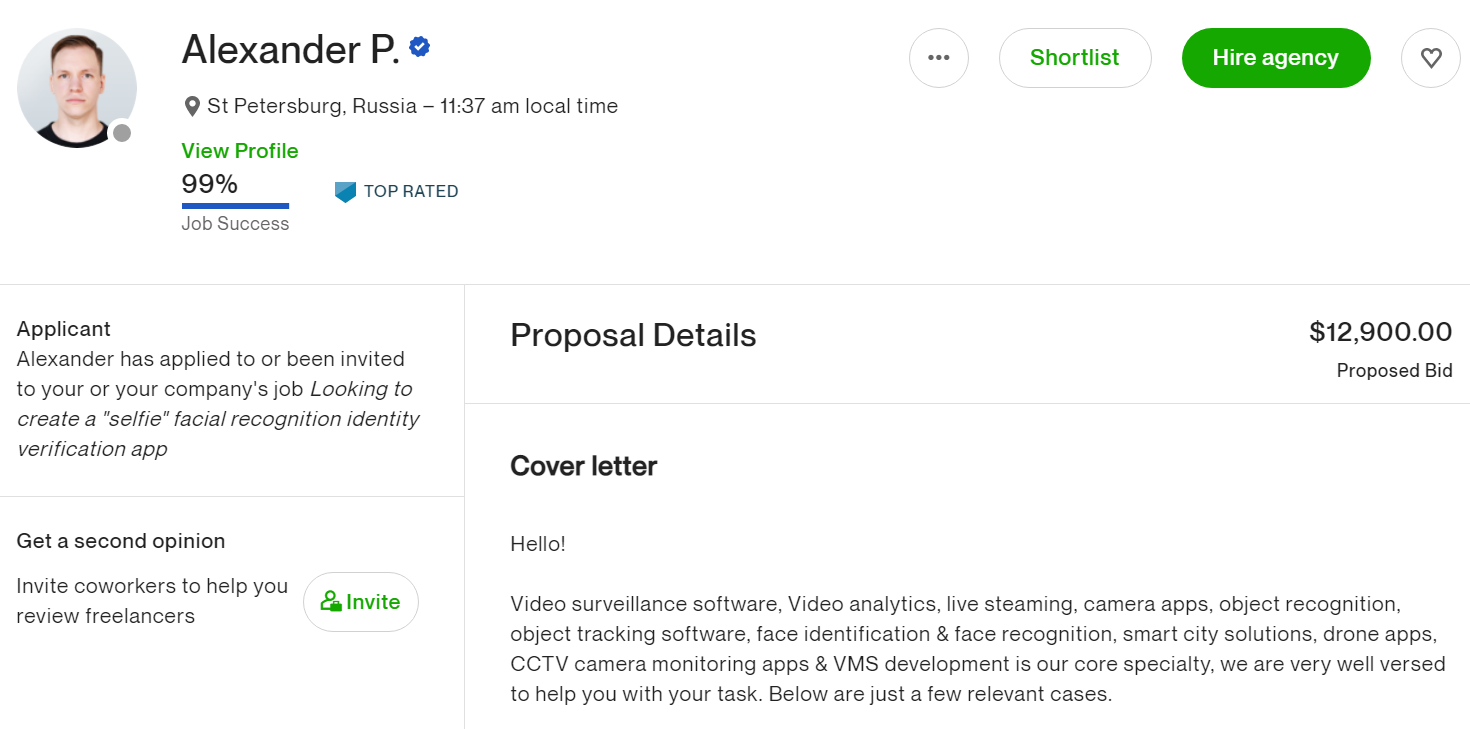 Source: upwork.com
In the cover letter, Alexander describes several similar projects he and his team have done. He stated regarding his bid:
"Approximate estimation
A product that minimally realizes what you described – is 2 months and USD 12 800.
I estimate based on developed products with concepts like yours. This estimation is rough because so are the requirements now."
Therefore, as we found, we would likely be able to create the AUID's same flagship technology for below $15,000. As this is the product that the company's $400M+ market cap is based on, we can conclude that AUID is vastly overvalued.
It is a simple technology, and far from novel. We found many other companies with the same facial recognition identity verification.
For example, if one enters "selfie identification" on Google, many companies and articles will come up with the same product that AUID has. As shown below, it has 86.1M search results:

Source: google.com
One of the first results is an article that shows Instagram is starting to use the selfie identification technology, as shown below:

Another early search result is from the company iproov. From iproov.com, it says that simply having a selfie id isn't enough. It states:

Source: iproov.com
AUID doesn't mention these concerns about selfie identification being insecure. The CEO just seems to congratulate the company for having this technology, as if taking a selfie for an ID is some unique, technological breakthrough.
Other company websites we found from the Google search that have the same technology as AUID does are:
Iproov.com
Help.id.me
Electronicid.eu
Idemia.com
Mantra.com
Trulioo.com
"Selfie Forensic ID" described in this article from May 2018.
Jumio.com
Stripe.com
Miteksystems.com
AUID also mentions many competitors in its sec filings. Its 2020 10-K states:
"To further analyze the competitive landscape, the market must be segmented into authentication solution vendors and biometric identification & verification solution vendors. Major competitors offering solutions in both areas include IDEMIA, Thales, HID Global, and Aware. Major competitors offering only authentication, include Twillio/Authy, HYPR, Datacard, Duo, Daon, Ping Identity, Callsign, and Trusona. Companies offering only biometric identification & verification include NEC, Imageware, Element, and Aware."
Source: AUID Sec Filing
authID.ai's Technology Is Still Patent Pending
In addition to the massive amount of competition AUID faces, AUID's tech is patent-pending and has been for years.
Here is what they said about it in their 10K2016:
"The Ipsidy identity management transaction platform is being developed based on a patent-pending methodology, which integrates digital signature authentication and vetted biometric identity verification delivered through an out-of-band transaction."
And still, in 2020, from the 2020 10K:
"The Ipsidy IDaaS platform is based on a patent-pending methodology, which combines digital signature authentication and biometric identity verification into a single out-of-band transaction."
In addition to not having a patent they depend on third party technology licensing.
From the 2020 10-K:
"We rely in part on software licensed from third parties to develop and offer some of our solutions. Any loss of the right to use any such software or other intellectual property required for the development and maintenance of our solutions"
And they also rely on Amazon and Microsoft for their cloud network systems. In other words, none of their technology on which their biometrics authentication is based on is in their control or is in any way differentiated to compete.
Another risk to their business strategy is the privacy laws currently enacted in California, Illinois, and Maine regarding biometric data collection can hinder their business growth if the consumer decides to sue. From the 2020 10-K:
"In addition, a new privacy law took effect in California at the beginning of 2020, and in Maine in July 2020, and other states are considering additional regulations. Specifically, several states are considering adopting a Biometric Information Privacy Act, or BIPA modelled on the Illinois statute, which governs the collection, processing, storage and distribution of biometric information such as facial biometric templates and fingerprints. Several of these new statutes give individuals rights of action to sue violators, which have resulted in a number of class action lawsuits. These regulations could have a significant impact on our businesses."
 Conclusion
Selfie Identification programs certainly appear to be growing in popularity. As the technology improves, then this form of identification management becomes more secure. However, it is an easy technology to make and replicate.
Even if AUID manages to capture a piece of this market, it will likely be a small percentage as AUID's program doesn't appear to be anything special or better than the many competitors that also created this software. Given the company's tiny and stagnant revenue for its identity management division tells us that its tech isn't being noticed at all by the market. Even if the company hasn't spent much on marketing until now, it has spent a little money on marketing, and one would expect its revenues to increase a little bit if it had a strongly desired product.