Momentus Is The Worst Space-Themed SPAC, Labeled By The SEC As A Fraud
In its Complaint, the SEC used the "F-Word" (fraud) in describing Momentus (MNTS) and its founder, Mikhail Kokorich, who lied his way into a SPAC deal.
MNTS vehicle technology is the Microwave Electrothermal Thruster (MET) water plasma propulsion system. Yes, water.
MNTS MET failed its tests in 2019, which were the only real life tests of the technology so far. The technology is a dud. Yet the company lied and said it worked, thus creating a worthless scam.
Today, MNTS admits that MET doesn't work, as the company says it will be well suited for in-space transportation "when its matured".
Without the MET technology working, MNTS doesn't have anything. Kokorich, the key promoter and founder, laughed all the way to the bank as he was able to cash in his stake and is long gone.
Our MNTS slide presentation from the Contrarian Conference:
Looking back at 2020 and 2021, Momentus (MNTS) should become the poster child of the market exuberance and general craziness of the SPAC market boom. Originally created as a vehicle to acquire a company in the cannabis industry, Stable Road Acquisition Corp ("SRAC") SPAC ultimately bought a space-themed fraud and got sued by the SEC even before the deal came through. While anything goes in this market, such a blatant fraud and mockery of capital markets will end up as a zero.
How The Momentus SPAC Started
Stable Road Acquisition Corp., the SPAC that merged with Momentus, was formed in May 2019 with the idea to do a deal in the cannabis industry. As stated in their Prospectus, filed on 11/8/19:
"While our efforts to identify a target business may span many industries and regions worldwide, we intend to focus our search for prospects within the cannabis industry…"
Key management, led by Brian Kabot and Juan Manuel Quiroga, was also positioned as having extensive expertise and experience in investing in the cannabis space, not in the "space" space. The Prospectus also states:
"Mr. Kabot and Mr. Quiroga have, in the aggregate, executed over 20 transactions within or ancillary to the cannabis sector and have been responsible for investing over $150 million within or ancillary to the cannabis sector since July 2017." 
The SPAC offering was closed in November 2019, raising $150M. Now it was time to find a suitable target. The SPAC had 18 months to do so.
Finding a good target proved to be difficult. However, unsolicited introduction in June 2020 solved this problem (in the middle of the allowed 18 months period to find the deal). SRAC was introduced to the key  MNTS founder (and then current CEO) Mikhail Kokorich.
From the Prospectus:
"On June 26, 2020, Brian Kabot (Chief Executive Officer of SRAC) was introduced to Mikhail Kokorich (then Chief Executive Officer of Momentus) through Pickwick Capital Partners, LLC and JDA Funds Management, Inc. and had a telephone conversation in which they had a preliminary discussion regarding a potential business combination between SRAC and Momentus."
Suddenly, prospects of space exploration trumped the initial intentions to focus on the cannabis industry. On July 29, 2020, Momentus provided SRAC with financial projections and a presentation regarding the proposed business combination, which reflected an enterprise valuation of $1.8 billion for Momentus. On August 19, 2020, SRAC submitted a non-binding letter of intent with the same valuation of Momentus. On September 30, 2020, the valuation was decreased from $1.8 billion to $1.2 billion. During the following week, the valuation was further reduced to $1.13 billion, "to retain a pro forma enterprise value of the combined company of $1.2 billion". On October 7, 2020, SRAC and Momentus executed the merger agreement. Overall, it took SRAC only 3 months from the initial contact to iron out the deal at a $1.12 billion valuation for a pre-revenue concept company relying on imaginary financial projections with zero real due diligence (more on that later). The valuation was further reduced to $567M after the SEC filed a complaint.
Momentus's Technology
Momentus's business model is premised on the development and testing of its Microwave Electrothermal Thruster ("MET") water propulsion thruster technology. This is using WATER as a propellant through space.
To achieve commercial viability, Momentus plans to operate its MET water propulsion thruster reliably in space and provide the necessary thrust and length of operation needed to move customer satellites into specified orbits. At present, Momentus does not have the in-space flight experience to demonstrate commercial viability of its thruster technology.
Momentus's tech doesn't work. Using water as fuel makes the system too complicated. Yet it sounds appealing because there is water in space on other planets and in asteroids to refuel. Also, it says from a Wikipedia article:
"In general, electrothermal thrusters have the lowest efficiency among most other electric propulsion systems."
The SEC Complaint Exposes the Momentus Fraud
The SEC makes the bold statement of calling Momentus a fraud. We usually don't use that word in writing reports because it's so strong. The SEC must believe they have a strong case to justify using the "F word".
From the SEC Complaint filed on 7/13/21:
This case concerns a fraud perpetrated by Defendant Mikhail Kokorich to secure and promote a merger agreement between Momentus Inc. ("Momentus") and Stable Road Acquisition Corp. ("Stable Road"), which, if successful, would effectively take Momentus public and infuse it with nearly $350 million in investor funds.
We will analyze the SEC's case in this report, in addition to information that we have uncovered. Note that Momentus very quickly settled the charges with the SEC and paid over $8M, without admitting or denying guilt. In our opinion, settling the charges suggests guilt more than innocence. The company had their SPAC merger deal only a month after the settlement.
Momentus's Single Real Life Test Failed
From the SEC Complaint:
The El Camino Real mission was a failure. After experiencing significant problems with supporting sub-systems and its propulsion system, Momentus attempted only 23 firings, and data suggests that only three hot firings produced plasma. None of those firings lasted a full minute or generated measurable thrust. Momentus lost contact with the satellite approximately three months into the planned six-month mission and was never able to attempt the remaining 77 firings it had planned much less achieve any of the "100 individual burns of 1 minute or more." Thus, Momentus failed to meet its own criteria for mission success, as set forth in its internal slide presentation.
The MX-1 satellite is still in space, but it is not functional.
As described above, all the firings not only failed, but failed miserably. Only three firings produced plasma, and none lasted a full minute, whereas the company said it would achieve 100 firings of 1 minute or more.
Kokorich was copied on emails in November 2019 between Momentus's Chief Technology Officer and its Chief Engineer discussing creation of a "failure review board" to study the El Camino Real mission, due to the inability to obtain useful data from the mission because of its failure.
Kokorich Publicly Mischaracterized the Results from Momentus's Test
In a September 25, 2019 article in the industry periodical Space News titled, "Momentus reports success in testing water plasma propulsion," Kokorich was quoted:
"Water plasma propulsion is now technologically mature enough to be baselined for operational in-space transportation missions," meaning it could be used commercially.
Momentus's New CEO Stated That its MET Water Plasma Propulsion Technology Doesn't Work
MNTS new CEO, John Rood, stated in a Blog on the company's website on 8/2/21 that "Technology is the Foundation." And that:
Core to our service vehicles is our Microwave Electrothermal Thruster (MET) water plasma propulsion system. MET technology has a history dating back to the 1980s with initial academic research at Penn State University. . We decided to focus on this technology because when it's matured, we believe it will be low-cost, efficient, safe, reusable and scalable – and it will have performance characteristics that make it very well suited for in-space transportation.
Notice the key part of the above statement. "When it's matured". When Kokorich stated in the Space News article, quoted above, that the technology has matured.
From Momentus's Blog
When Kokorich resigned, Dawn Harms took over as interim CEO. From the company's blog post on 1/25/21, Harms is quoted:
We have an extremely talented team, groundbreaking water plasma propulsion technology, and a unique value proposition, all of which we believe have established Momentus as a leader in the in-space infrastructure industry.
However, as we showed earlier, this water plasma propulsion technology doesn't work.
A Look At Momentus's Founder, Mikhail Kokorich
Momentus is a brainchild of a certain Russian individual named Mikhail Kokorich, and Momentus was his third space venture at that time. The first 2 have been failures.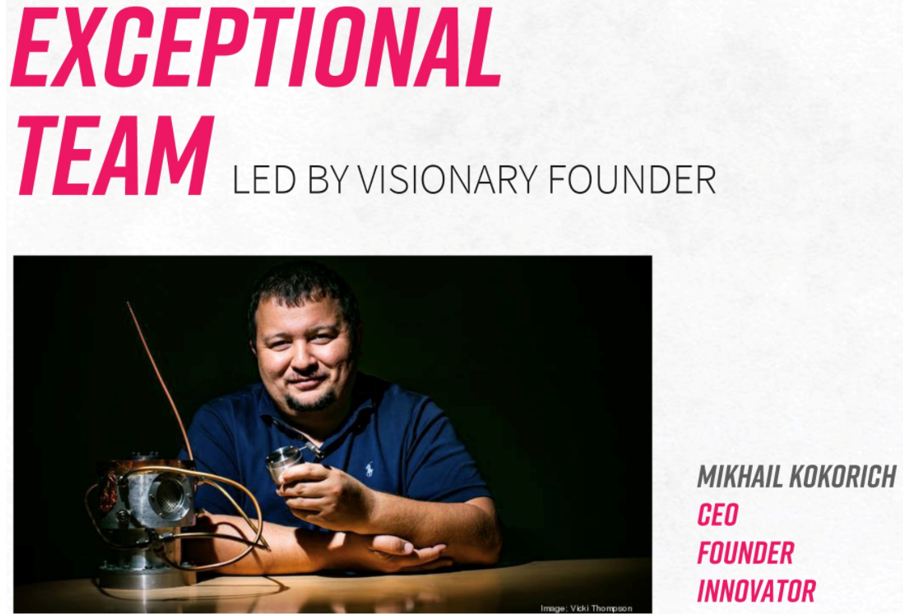 As shown in his LinkedIn Profile, his early career was spent in a leading role in odd industries such as water treatment, chemical wood treatment, and supply of explosive and blasting systems. Then, after spending 10 years in the Russian retail industry (with companies Chudodom, Technosila, and Yuterra), Kokorich decided to move to the space industry, without having any relevant experience or background. Before creating Momentus, he also founded something called Astro Digital (2014-2018) and Dauria Aerospace (2011-2015). Both of these companies failed. Dauria's website, dauriaspace.com, is currently not functioning. Astrodigital.com is up, but its last blog post was on 10/22/19.
From Kokorich's LinkedIn page: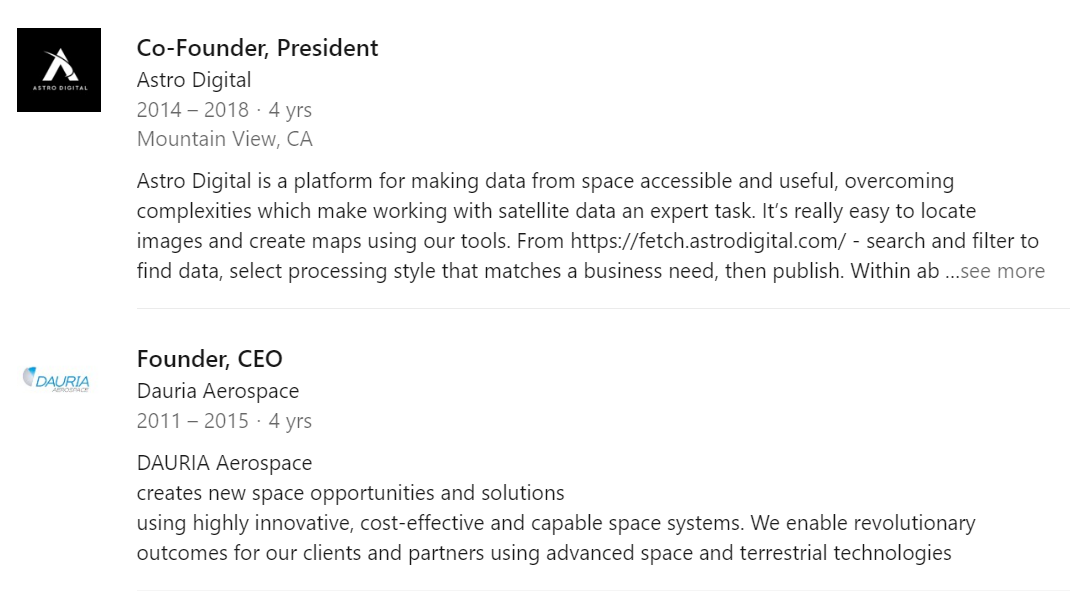 His first space company, Dauria Aerospace, was supposed to become the first Russian producer of satellites. But it ended up in bankruptcy after failing to launch its satellites and being sued by Roskomsos, a state corporation of the Russian Federation responsible for space flights, cosmonautics programs, and aerospace research. Ultimately, after production delays, two Dauria spacecraft were lost during a botched 2017 launch.
Kokorich's next space venture, Astro Digital, also did not end well. In its first iteration, the company was called Canopus. Started in 2012, the company focused on manufacturing small satellites and was able to launch two satellites in 2014. The company had Rusnano Capital, a Russian state-backed investment venture, amongst its backers. Having financial backers connected to the Russian government became a problem. Eventually, relationships between Kokorich and Tomas Svitek, Canopus' CEO, fell apart and Kokorich fired Svitek. Canopus was effectively rebranded to Astro Digital, transferring intellectual property and employees from Canopus to Astro Digital. Then, the Committee for Foreign Investment in the US (CFIUS) held two reviews of Astro Digital, which it failed each time. In 2018, a lawsuit filed by Dmitri Kushaev accused Kokorich of fraudulently redirecting $10 million in investment from its actual venture to Astro Digital. In order to access US technologies (such as microchips that can withstand the space environment, precision engineering and manufacturing, sensors, and software) Kokorich needed either citizenship or gaining an export license. In 2018, the US government forced Kokorich to give up his ownership of Astro Digital, when it failed to pass a foreign influence review. It was time to work on yet another space adventure – Momentus.
But Momentus seemed to be doomed from the start. This article from January 2021 stated:
It's clear that the CFIUS will not let Kokorich access US technology under any circumstances. It also seems clear that he has no chance of either a license or citizenship. As a result, the situation of Momentus in the US does not seem to be a good one.
In the October 2020 presentation describing the deal with SRAC, Momentus was presented as a company that already figured out and proved the technology / product, was ready to scale the business and generate millions in revenue right off the bat. Also note the statement saying that Momentus "successfully tested water based propulsion technology on a demo fight launched mid-2019" which "is still operational today":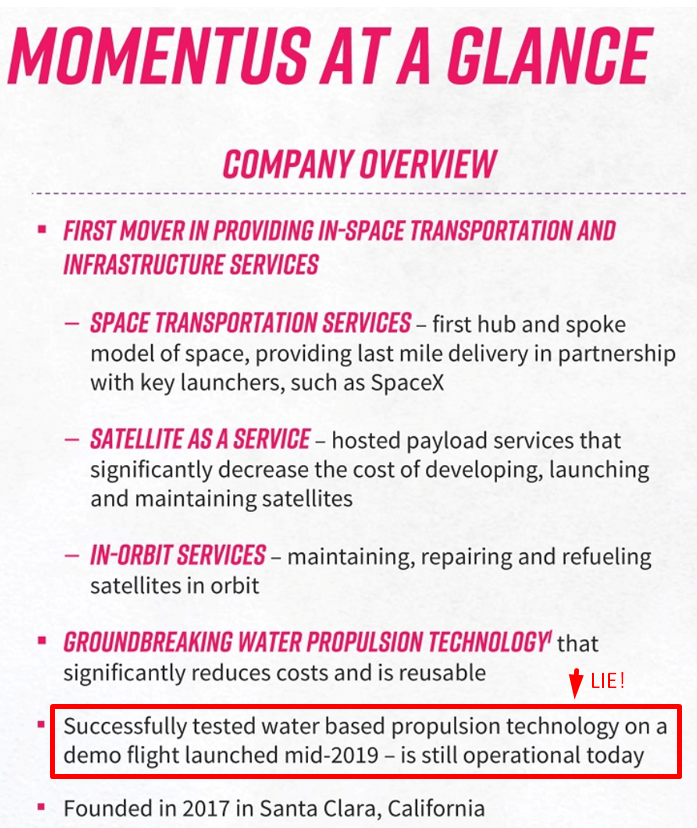 On another slide, the El Camino test flight ("successful" demo flight referred to above) is prominently featured implying again that it was a success. The slide also promised another four launches in late-2020 – 2021. None of these flights happened.
Momentus was promising $19M in revenue in 2021 coming from satellite transportation services. In 2022 revenue was projected to increase to $152M, as shown below:

But the company did not have any flights and zero revenue in 2021 as the technology is simply not working.
So SRAC and Momentus had falsely promoted the company as one that already figured out and proved the technology / product, ready to scale the business and generate millions in revenue right off the bat.
Key Details From The SEC Complaint Against Kokorich and Momentus
Kokorich was the defendant in the SEC Complaint. The Complaint states:
Specifically, Kokorich knowingly or recklessly made misrepresentations of material facts and misleading omissions and deceived both Stable Road and investors regarding: (1) Momentus's key technology which, when tested in space in 2019, failed Momentus's internal criteria for success; and (2) multiple adverse determinations against Kokorich for national security reasons, which materially impaired Momentus's ability to participate in US-based rocket launches so long as he was involved in the company.
To summarize the above quote: Kokorich deceived investors by hiding info that showed their space technology failed the company's internal criteria for success. Also, Kokorich Russia ties prevented MNTS from participating in US-based rocket launches since he was with the company.
The Complaint further states:
Momentus's business plans and revenue projections, as communicated to PIPE investors…were premised on Momentus already having proven technology that it could deploy on US-based launches starting in December 2020. But the technology was unproven.
Momentus's business model is premised on the rapid development and testing of its MET water propulsion thruster technology. As Momentus explained in the registration statements at issue in this case:
The success of our in-space infrastructure services business will depend on our ability to successfully and regularly deploy customer satellites into their custom orbits.
In order to do so, Momentus must operate its MET water propulsion thruster reliably in space and provide the necessary thrust and length of operation needed to move customer satellites into specified orbits. An MET water propulsion thruster has never been commercially used in space.
In July 2019, Momentus launched an MET thruster on the "MX-1" satellite for the purpose of testing its thruster in space and performing maneuvers. Prior to the satellite launch, in an internal slide presentation, Momentus partly defined "mission success" as "100 individual burns of 1 minute or more". A "burn" refers to operating the thruster producing thrust for a period of time.
Before the launch of this test mission, Momentus conditioned the public to believe that the mission would demonstrate the thruster's commercial viability.
For example, in a January 2019 blog post on its website, Momentus stated that the mission, which it named "El Camino Real," would give investors "absolute confidence" that Momentus's service would be "on time, safe and reliable". Momentus went on to say that it would "be able to run the thruster long enough to fully characterize its performance in space with dozens of stop start cycles and to then safely de-orbit the vehicle".
Momentus, through its launch partner, stated in a publicly filed FCC application on 9/12/18, that El Camino Real was "a commercial demonstration" of Momentus's propulsion system that would show its "reliability, longevity, performance, and utility.
Contrary to the claims in Momentus's blog post or in the FCC application, the Momentus MET water propulsion thruster, as integrated into the MX-1 satellite, was not powerful enough or appropriate to provide commercial satellite-placement services. Moreover, the thruster was not powerful enough to provide any measurable or detectible changes in the MX-1 satellite's orbital velocity. As one former Momentus officer stated, the thruster tested in the El Camino Real mission did not have "commercial potential" because it was "too small, too inefficient, too low in total impulse".
Momentus's Settlement With the SEC
The SEC imposed the following sanctions on SRAC and Momentus:
$1M civil money penalty to be paid by SRAC;
$40,000 civil money penalty to be paid by Brian Kabot (SRAC's CEO);
$7m civil penalty to be paid by Momentus;
the SPAC sponsor to relinquish 250,000 founders' shares;
Additionally, on 6/8/21, Kokorich and Khasis entered into agreement with the U.S. government, represented by the U.S. Departments of Defense and the Treasury (the National Security Agreement) to sell their stakes in Momentus back to the company. Amazingly, Kokorich was enabled to cash out his stake in this grift via a deal with the US government!
From an 8-K filed by MNTS on 8/18/21:
"In accordance with the NSA [the National Security Agreement dated June 8, 2021], Mr. Kokorich, Nortrone Finance S.A., Lev Khasis and his wife Olga Khasis, and Brainyspace LLC fully divested all the equity interests in Momentus owned or beneficially owned by them by selling such equity interests to Momentus pursuant to certain Repurchase Agreements entered into with Momentus, effective as of June 8, 2021 (the "Repurchase Agreements"). Under the Repurchase Agreements, each of Mr. Kokorich, Nortrone Finance S.A. and Brainyspace LLC sold 100% of their respective equity interests in Momentus in exchange for the right to receive payments, out of funds legally available therefor, an aggregate of $50,000,000 to Mr. Kokorich, Nortrone Finance S.A. and Brainyspace LLC, on a pro rata basis."
As stated in the 8-K, Notrone Finance S.A. Is an entity controlled by Kokorich. Brainyspace is controlled by Khasis. So they received a total of $50M from selling their stock back to SRAC, and now have nothing to do with MNTS.
"Our enforcement team worked with incredible speed, efficiency, and creativity to file today's actions so that investors will have the benefit of complete and accurate information when voting on the proposed merger," said Melissa R. Hodgman, Acting Director of the SEC's Division of Enforcement. "Today's settlement will deter future misconduct in the SPAC market without inhibiting capital formation, while also allowing for the distribution of monetary relief to harmed investors."
"Momentus's former CEO is alleged to have engaged in fraud by misrepresenting the viability of the company's technology and his status as a national security threat, inducing shareholders to approve a merger in which he stood to obtain shares worth upwards of $200 million," said Anita B. Bandy, Associate Director of the SEC's Division of Enforcement. "Our litigation against Kokorich demonstrates our commitment to holding individuals accountable for their statements to investors, which are of particular concern when they are aimed at improperly capitalizing on public interest in popular investment vehicles such as SPACs."
Despite all these red flags pointing out that this is a fraud, and the SEC's research and warnings, on 8/11/21, SRAC's shareholders approved a business combination with Momentus. That's how frothy and bullish today's market is.
20% of SRAC's shares were redeemed (3.5m shares). MNTS received $247M in gross proceeds ($137M from SRAC, $110M from a PIPE). However, accounting for SEC penalties, the buy-out of Kokorich and Khasis stakes, and transaction fees, net proceeds to Momentus are reduced to approximately $154m:
(in $ millions)
What's Next For Momentus and Upcoming Catalysts
In MNTS August 2021 investor presentation, on page 24 it says it's projected to receive all regulatory approvals and commence its first flight in June 2022. That's in awhile, and the company will burn a lot of cash up to that time. It's also only a projection, and unlikely to happen on time. Given that the company already cancelled all of its expected test flights in 2021.
One significant upcoming catalyst we know about, is insiders have filed to sell a significant amount of stock. On 9/3/21, MNTS filed an S-1 to sell 63.2M shares of stock for shareholders, plus 272,500 warrants. The company wouldn't get any proceeds from the stock sale, but would get proceeds from the warrants if they get exercised. An EFFECT has been filed for this S-1, so the sale can happen anytime.
Conclusion
As of right now, MNTS doesn't appear to have any plans to test their MET water propulsion technology in the near future. We don't see much hope for this company to be able to get the technology to work. But it doesn't matter as far as insiders getting paid. The founder has already sold his shares and is gone, on to his next endeavor. Insiders are already setup to sell their shares at a nice profit. In todays market, a technology doesn't have to work for insiders to get rich, as long as it captures the imagination of investors. Especially in the currently hot space industry, imaginations are running wild. That's what made it possible to make this a publicly traded company, but the stock price will likely fade as investors realize the technology doesn't work.