ClearSign Combustion's Duplex Technology Is A Commercial Failure; The Stock's Downtrend Will Continue
ClearSign Combustion's Duplex Technology Is A Commercial Failure, The Stock's Downtrend Will Continue
ClearSign's green energy Duplex technology has been tested by refineries for many years but has resulted in very few adoptions. This is because oil and gas companies care about profits, not pollution control.
Evidence suggests the Duplex technology sacrifices some production in order to decrease emissions.
We interviewed the inventor of the Dupex Technology and he had some interesting insights about the company.
ClearSign's over 100% rally from Asia and Middle East expansion news is reversing as new locations likely won't bring new success to an already failed technology.
With the Trump administration in power, the anti-pollution technology sector is out of favor.
Read our add-on article published on 1/17/18: An Engineer's Physics report On How ClearSign's Duplex Technology Is Inefficient
ClearSign Combustion Corp (CLIR) is a pollution control company that sells its Duplex Technology to oil and gas refineries. The company says this technology eliminates industrial emissions by 95% and reduces costs while increasing fuel efficiency and profitability for plant operators. Sounds like the perfect system, right? However, ClearSign has been aggressively marketing this technology for over three years and many refineries have tried it out, yet only a couple have adopted it. The company can say whatever it wants about how great its technology is, but if it doesn't sell, it doesn't make "cents."
We at White Diamond Research are technology analysts, and we correctly predicted the decline of other small cap technology companies, such as TransEnterix (TRXC), Everspin (MRAM), and Synthesis Energy Systems (SES). On the bullish side, we correctly predicted the uptrend of cutting edge gambling technology company Scientific Games (SGMS). We are adding ClearSign to our list of decliners.
As the stock has been declining the past couple of weeks, we were hoping the company would put out some kind of news so the stock would bounce and we could short more. But with dud companies like this, they simply don't have any news to put out. If they put out some kind of fake news, investors would be able to see through it. The stock continued downtrending to $3.20 at the submission of this article, and we believe it will continue to decline. The lower it goes, the more unfavorable its upcoming equity raise will be of stocks and warrants as they will have to be offered at a lower price.
We believe that the issue with ClearSign's Duplex Technology is that although it decreases emissions and air pollution, it likely decreases efficiency. Getting in the way of efficiency is a strong drawback and prevents refinery adoption because the most important thing for oil and gas companies is profits and efficiency, not a decrease in pollution. Furthermore, the profit return the company gets for selling its Duplex Technology is not good. The company usually gets a few hundred thousand dollars per sale, but lots of manpower, time, and expense goes into those sales, and there are no recurring revenues post sale.
We believe the stock is up a lot in the past month from its equity raise cancellation and its expansion into Asia and the Middle East. However, as the company is almost out of cash, the equity raise will still happen, it's only being delayed. Energy companies whose technology doesn't sell well in the US and therefore tries to market in China usually don't sell well there either. This has been the case with two similar green-energy technology companies we reported on, check out our Synthesis Energy (SES) report and Capstone Turbine (CPST) report, both stocks are down significantly since we published our articles on them.
ClearSign Stock Had A 50% Downtrend Followed By A 100% Uptrend Within One Month
ClearSign consistently loses $2M-$3M per quarter regardless of whether it makes sales, so it must do equity raises from time to time. On November 9th, CLIR closed at $3.45 when the company filed an S-1 $23M mixed securities shelf. That caused a weeks-long downtrend in the stock to reach a low of $1.75 on 12/5. Discouraged by the rapid decline, the company withdrew its S-1 on 12/6, which kick started a strong 100%+ rally in the stock. This was followed by a downtrend into today. The following is a two month chart of CLIR to show the stock's recent extreme volatility on news.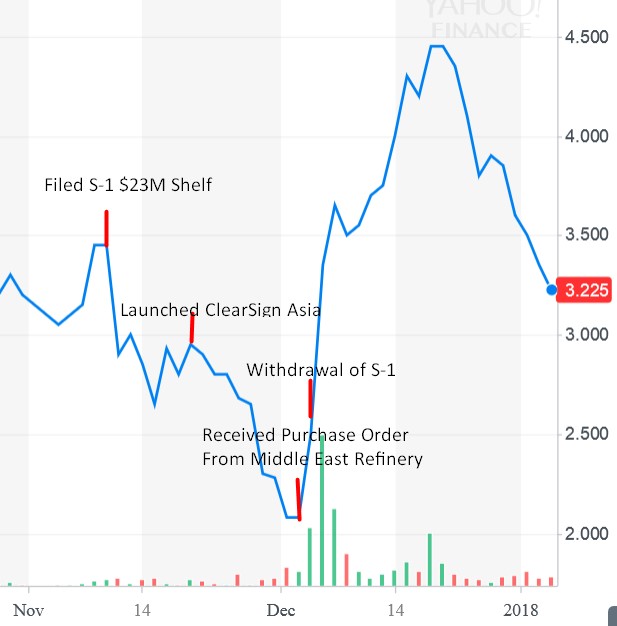 Source: Yahoo Finance
As shown in the above chart, the day that ClearSign filed the S-1, on 11/9, the stock immediately began a several weeks long downtrend.  The launching of its business in Hong Kong on 11/20 didn't stop the fall. Even its news of a Middle East refinery purchase order announced in the premarket on 12/4 didn't move the stock, it closed flat. The next day, on 12/5, rumors of the withdrawal of the S-1 caused the stock to start going back up, and then on 12/6 the actual news of the withdrawal caused a short squeeze and momentum buying to push the stock even higher than before the S-1 was originally filed.
We analyze the company news shown above and other PRs going back to 2013 towards the end of this article. But before that, let's take a look at the company's finances.
The S-1 Withdrawal Is Only Delaying The Inevitable
After ClearSign's withdrawal of its S-1 kick-started its 100%+ rally. The company still needs to raise money bady, and is currently looking for investors. Matthew Selinger, ClearSign's investor relations representative, told us:
"There was a bank engaged, put the S-1 out there, there was marketing going on regarding the deal. Really quickly, the stock went down to sub $2 levels. The company said this has gone wrong, lots of people shorting, and they aren't willing to sell their stock at $2 levels, which would also potentially be with a warrant. Let's say the stock offering was at $1.80, and they put in a warrant, and the warrant itself probably has an inherent value of $1.40. So that means you're selling the stock at about $0.40 ($1.80-$1.40). It got ridiculous. And the company said look we aren't going to do the deal, let's just hold the stock."
In ClearSign's Q317 earnings report, it reported its cash balance at $3.5M on 9/30/17. ClearSign's quarterly losses are consistently between $2M-$3M per quarter, regardless of whether it has revenues or not. The following are a summary of the company's historical income statements over the past eleven quarters. The company's quarterly net losses are enclosed in the red rectangle.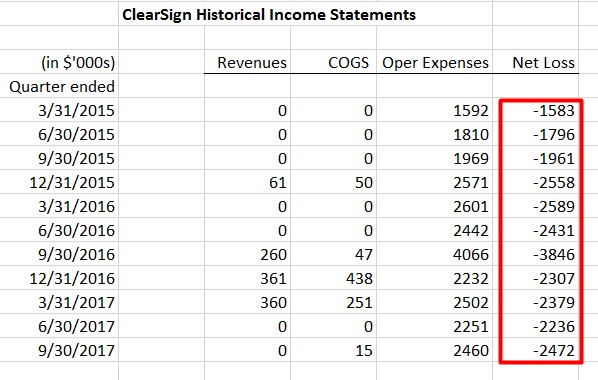 Assuming that ClearSign's quarterly losses will remain consistent, with $3.5M in cash on 9/30, the company will be broke by February, 2018 unless it raises money.
What prudent institutional investor would take part in ClearSign's secondary for shares above $3 when the company was about to do a secondary with shares trading at $2 just one month ago? The offering could come at a steep discount to its current market price.
Our Interview With The Inventor Of ClearSign's Duplex Technology Gave Interesting Insights
We interviewed the inventor of ClearSign's Duplex technology, Igor Krichtafovitch. The transcript of our interview with him, and that of ClearSign's investor relations representative Matt Sellinger, are on the White Diamond Research archives page here.
Although Krichtafovitch defended the technology, he was the inventor after all, he didn't have great things to say about ClearSign's management. He also left the company soon after he invented the Duplex Technology and immediately sold his stock and options. That is an indicator that he probably didn't think he could make millions off it. Igor worked for ClearSign as its Lead Research Scientist from April 2012, until February, 2015.
Said Krichtafovitch:
"Combustion efficiency is a little different because it has theoretical limits. But honestly, I don't know what the fuel efficiency of the Duplex technology really is. In my experience there, they didn't have any valid data on that."
An oil or gas refinery isn't going to adopt a new technology unless it's groundbreaking. Our evidence suggests that the Duplex Technology doesn't increase efficiency or profitability for the refineries, we surmise that is why it is not getting adopted very much. Especially now with the Trump administration in power, profits are what these companies care about, not anti-pollution. President Trump has never said anything about pollution control or adding regulations for cleaner air, he hasn't shown that he cares about that.
Krichtafovitch didn't have great things to say about ClearSign's management. He said:
"So there are 2 facets for technology to be bought. First, there's the technology itself, and then there's the management behind the technology whose job is to convince customers to buy it. But what's important is the relationship between the management and the customer. And I don't think the technology is to blame for that, the technology is great.
2.5 years ago they changed the CEO, and they changed the CTO. Pirnat was brought into the company on the premise that he has great connections in the industry and he'll just call someone on the phone and they'll buy it. But that did not happen for some reason.
Just imagine this startup company with no revenues, and six of them (the top executives) are taking a salary of more than $300K per year. And Steve Pirnat gets paid more than half a million. I don't know how that may happen, when the stock declines, they pay themselves benefits."
It's sad that with these green public companies shareholders don't hold management more accountable for performance, and they allow them to have very high salaries even when the company doesn't sell its technology. With their high salaries, there isn't as much incentive to management for ClearSign to ever become profitable. Management does all they can to keep the ship afloat by selling more equity so they can keep getting paid.
ClearSign's History Suggests Its Duplex Technology Is Not Widely Adoptable
ClearSign's revenue has at best been only a few hundred thousand dollars per quarter, and the past two quarters the company has had zero revenues. However, ClearSign's CEO, Stephen Pirnat, calls the company's technology "transformative to the oil and gas market" and a "game-changer". We believe Mr. Pirnat is incorrect in his assessment, as many refineries have tried and tested the Duplex technology over the past few years but decided against adopting it.
Like we've stated, the most important goals for refineries is efficiency and profitability. In order to install the Duplex, the refinery needs to be temporarily shut down. Said ClearSign's investor relations rep, Matthew Sellinger:
"The way refineries work is they push as much "dinosaur juice" through the metal as they can. So anytime you've got to shut down for any reason, you aren't making money. In order to install our technology, you have to shut things down. Also, because it's a newer technology, they want to make sure it's bomb proof. They don't want to shut down to put the technology in, and then have to shut down again to fix it. Those are some inherent things in the industry that we have to deal with."
An installation of the Duplex technology adds risks to the refinery's system, it's just one more thing that can get in the way of maximum production and efficiency.
What we see from the company news, is ClearSign had a seemingly encouraging 2015 with a handful of sales. The company won several technology awards from Oil & Gas magazines and organizations. The CEO tried to give the impression in 2015 that the company had reached an inflection point and was ramping up sales. Looking at CLIR's five year stock chart, the stock price was slightly higher in 2015. The optimism for CLIR in 2015 had its stock trading higher than it is today, as shown in the following three year chart: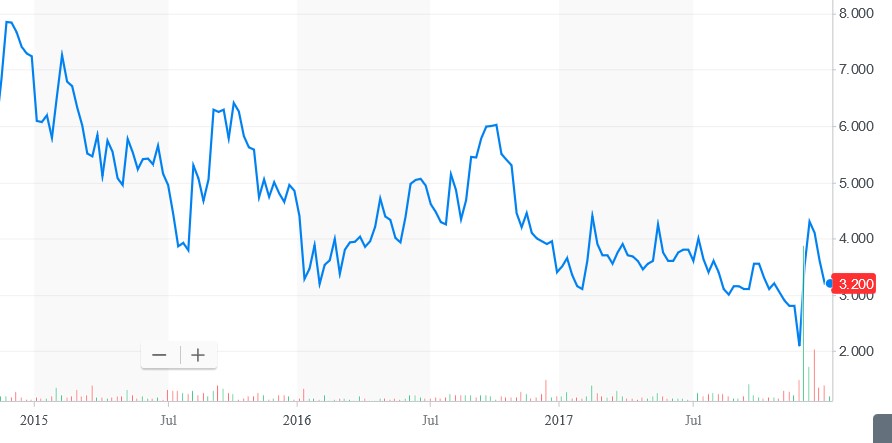 Source: Yahoo finance
As shown in the above chart, during 2015 the stock price mostly stayed above $5 per share. However, in quarter ended 9/30/15, CLIR had 12.8M shares outstanding. In quarter ended 9/30/17, CLIR had 15.6M shares outstanding. $5 per share in 2015 gave the company about an equal market cap as $4 per share today. And optimism was higher then as the technology was new and hadn't been rejected by the refineries yet, so the company should have a significantly lower market cap today. Furthermore, the stock has been trading well below $5 per share the entire 2017 year. It's very unlikely that the stock will go much higher than $4 now, especially after dipping to below a month ago, as you can see in the chart.
What happened after 2015 is momentum stopped and sales decreased in 2016 and 2017. This decrease in sales suggests the Duplex Technology is not commercially viable for refineries to adopt. The industry seems to think so as well since ClearSign didn't win any technology awards in 2016 or 2017. Also, only two sales actually came through for ClearSign in 2015 despite announcing four sales that year, and the revenue didn't get recognized until Q416. These sales were from the Tricor Refining plant in Bakersfield, which sale was announced on 1/20/15, and the Aera Energy sale that was announced on 9/14/15, both of these revenues were recognized in 2016. ClearSign earned only  $61K revenues in full calendar year 2015 from engineering services provided to a prospective refinery. No revenue was reported in 2014.
Furthermore, ClearSign doesn't make any recurring revenues off of its installations. It just installs the Duplex Technology, gets a one-time sale, and that's it. That's why its revenues have been zero the past two quarters despite having installations recently. Without recurring revenues, it's very hard for this company to ever become profitable if it just sells its technology one time to refineries every few quarters. This was confirmed after speaking with ClearSign's IR rep. He said:
"In the model, there isn't a whole lot of maintenance or recurring revenue built into that. There has been some discussion, but the majority of the revenue comes from the duplex, and there is some engineering, pass-through revenue, but it is basically a one-time sale."
The Trump Administration Shows It Does Not Care About Pollution Control
President Trump has always made it clear he is pro-business and lax on regulations. Since becoming President, Trump hasn't voiced support for any new clean-air bill. This article states that:
"The Trump administration, in fact, has promised to roll back or prevent the implementation of clean-air rules that have been responsible for improvements in human and environmental health in Maryland."
This type of administration will likely keep the green, anti-pollution stock sector cold, as it's unlikely there will be any upcoming regulation that will get ClearSign investors excited. A recent Seeking Alpha article on ClearSign made a point which we agree with:
"It appears that the North American business and political climate currently show little incentive for companies to spend significant capital on controlling air pollution."
ClearSign's product and financials would still be poor if a more clean-air President were in power, but we shouldn't count on green sector hype to be a factor to raise its stock price.
ClearSign's Historical Press Releases
Let's look at ClearSign's past press releases ("PRs") to see how the technology has been marketed, tested, and sold over time. On the company's website it lists its Company News that go back as far as April, 2012 when the company had its IPO.
A PR on 5/1/14 is titled:
ClearSign Demonstrates State-of-the-Art Emissions Control Performance at Industrial Scale of 5mmBtu/h
Stated in the PR:
"Since reporting our groundbreaking results over the last several quarters, interest in our technology from prospective partners and customers has grown steadily," Rutkowski said. "This latest achievement sets the stage for us, along with our partners, to pursue these opportunities even more aggressively. I believe that because of the significant advantages that our technology offers in some very large markets, the growth opportunity is compelling."
The words from the CEO: "groundbreaking results" and "interest has grown steadily" and "sets the stage to pursue these opportunities aggressively" didn't lead to any pilot tests or sales that year.
On 12/11/14, ClearSign announced it has a new CEO, Stephen E. Pirnat, the company's current CEO. From the PR:
"I am honored to have been asked by the Board to lead ClearSign into the next phase of its growth," said Pirnat. "The opportunities for ClearSign's game-changing technologies are immense, and I am very excited to be a part of it."
Given that he became CEO three years ago and the company is still making little to no revenues each quarter, it's clear that ClearSign's technologies are really not game-changing.
On 1/20/15, ClearSign announced:
Processing: California Refinery Reopened Thanks to New Emissions Control Technology
From the article:
"Tricor Refining, LLC, has signed an agreement with Clearsign for field validation of its Duplex technology at the Bakersfield plant."
Revenue from this Duplex technology installation did come to the company but wasn't recognized until Q416.
On 5/8/15, ClearSign published a PR titled:
ClearSign Demonstrates Duplex™ Technology to Senior Members of the American Petroleum Institute
From the PR:
Steve Pirnat, ClearSign Chairman and CEO commented, "We were honored that so many leaders in the refining industry chose to visit us to learn more about the benefits of Duplex Technology for their operations. This strong interest reinforces the feedback we have been receiving from industry about the global potential for ClearSign's technology."
That was two and a half years ago. Given the company's lack of revenues, if those leaders had any interest back then in ClearSign's Duplex Technology, they don't have any now.
On 5/13/15, ClearSign announced:
ClearSign Awarded Another Once-Through Steam Generator Project for Enhanced Oil Recovery
From the PR:
"This (Southern California oil producer) customer recognizes Duplex will bring major economic benefits to their operation."
The name of the oil producer wasn't named in the PR. There haven't been any more PRs that say this customer has bought another Duplex system.
On 8/7/15 ClearSign announced:
ClearSign Signs Agreement With Tesoro Refining & Marketing Company, LLC
From the PR:
"ClearSign announced today that it has entered into an agreement with Tesoro Refining & Marketing Company LLC to evaluate the performance of ClearSign's low emissions Duplex™ technology in Tesoro's refinery heaters"
Tesoro tried out the Duplex technology but there have been no subsequent PRs saying that Tesoro has decided to purchase it or revenue recognized.
On 8/11/15, ClearSign announced:
ClearSign Announces Installation And Operation of Duplex Technology at California Refinery
The PR says it's the "initial installation" of its Duplex technology. There have been no subsequent PRs stating that ClearSign has completed the installation at this anonymous refinery. The company also didn't recognize any revenue from this installation.
On 9/14/15 ClearSign announced:
ClearSign Announces Initial Commercial Order with Aera Energy LLC Under Multi-Unit, Multi-Year Purchase Option
From the PR:
"This commercial order marks an inflection point in ClearSign's growth, underscoring the unique environmental and economic benefits of our technology," said ClearSign Chairman and CEO, Steve Pirnat.
This was a good sale for ClearSign, and the revenue was finally recognized in Q416. Mr. Pirnat made that "inflection point" statement in an attempt to create buzz among investors that this "game-changing" technology is now starting to ramp up to mass adoption. We know today that that didn't happen.
On 9/18/15, ClearSign announced:
Petroleum Economist Honors ClearSign With "Technology Company Of The Year" Award
This kind of award would have helped ClearSign's marketing and get noticed by more refineries. ClearSign isn't getting any of those kinds of awards anymore as the Duplex technology hasn't been getting widely adopted. The company didn't announce receiving any awards in 2016 or 2017.
On 9/30/15, ClearSign announced:
ClearSign announced today it will install its Duplex™ technology at a Texas refinery owned by a subsidiary of Delek US Holdings, Inc. This agreement marks ClearSign's entrance into the Texas market and the company's fourth major refinery customer in recent months.
This was ClearSign's fourth major refinery customer in 2015. Although it didn't lead to revenues. It seems that ClearSign was getting more refineries to try out their Duplex technology in 2015 because the company was getting more buzz. Today, refineries have already tried and most rejected the technology so they aren't getting many new customers.
On 10/8/15, ClearSign announced:
ClearSign Named a Finalist for Platts Global Energy "Commercial Application of the Year" Award
Another award in 2015. This year was a hot year for ClearSign because the industry didn't realize how unadoptable its technology is yet. The industry knows that now, which is why the company isn't receiving any more awards.
On 4/4/16, ClearSign announced:
ClearSign Awarded Contract with Major Canadian Oil Producer
The PR states:
"The project is expected to be complete within the next six months. Upon conclusion, the Canadian company will have the option to first field test; and upon validation of the design, to deploy Duplex to all or a portion of their fleet of approximately 40 units in Northern Alberta."
"This agreement is similar to previously announced projects where the operator is seeking to validate ClearSign's technology," said Stephen Pirnat, ClearSign Chairman and CEO."
The above statements imply that this contract wasn't a sale. It was a "field test" for the oil producer. The test must have failed as we know now that the producer didn't become a customer.
On 10/24/16, ClearSign announced:
ClearSign Announces Successful Completion of Tricor Refinery Heater Project
This was one of the two successful Duplex technology installations from 2015, revenue recognized in Q416.
On 11/27/16, ClearSign announced:
ClearSign Successfully Completes Follow On Order for Aera Energy
This was the second of two successful Duplex technology installations from 2015, revenue recognized in Q416.
On 4/18/17, ClearSign announced:
ClearSign Today announced that it has secured a follow-on commercial order from a California-based refinery following Duplex™ technology's successful pilot with the company late last year.
This was a successful commercial order ClearSign received after the refinery's field test. The project was completed and payment of $260K was received and recorded in the quarter ended 9/30/16. The company then agreed to supply this oil producer 5 additional ground flare retrofits for $900K. $360K of that was accounted for in quarter ended 3/31/17. The company was supposed to receive the completed amount, $540K in the next 3-6 months, but hasn't reported receiving that yet. The process is going slower than expected with this order.
On 5/18/17, ClearSign announced:
ClearSign Combustion Corporation to Conduct Pilot Test with Chinese Heating Group
This Chinese company is trying out ClearSign's boilers. But for some reason the name of the Chinese company needs to be kept secret. It has been seven months now, and this Chinese company still hasn't bought the Duplex technology yet. That seems like plenty of time to make a decision, so the pilot test has likely failed.
On 11/20/17, ClearSign announced:
ClearSign Combustion Launches ClearSign Asia
The company launched ClearSign Asia with a TG CITIC Environment Investment Group to market ClearSign in Asia, mainly in China. With the company's lack of success in the US, it's unlikely that its technology will find traction in Asia either. We mentioned a couple examples of companies with a novel energy product fail in the US and then move to China with similar negative results. CLIR continued downtrending on this news.
On 12/4/17, ClearSign announced:
Leading Eastern Mediterranean/Middle East Refiner Purchases 6 Duplex Plug And Play Burners
The terms of this sale were not disclosed, however, we got some info from speaking with ClearSign's IR rep. He said that the sale comes out to around $50K per burner. Plus engineering fees on top of that, the total comes to around $500K in revenues. But the engineering fees are pass-through for ClearSign, and will be a COGS expense.
This news also didn't move the stock the day it was announced. But it was only when the stock started getting pumped and then the S-1 got pulled is when the stock rallied.
In Conclusion, Evidence Suggests ClearSign Is Already A Failed Company
The evidence we show in this report suggests that things are not looking good for ClearSign, and the company has a limited lifespan unless it creates a new technology. Its Duplex Technology doesn't have anywhere close to the widespread adoption needed to become profitable and support its high paid executives. There is currently some optimism among shareholders because the company is now marketing its Duplex Technology in Asia and got a sale in the Middle East. That caused a 100%+ runup in the stock in the past month, followed by its current decline. But energy companies that don't do well in the US usually don't do well in Asian countries, like China, either. We showed examples of other failed green tech companies that also failed in China earlier in this report.
The Duplex technology inventor and former lead scientist, Igor Krichtafovitch, expressed his blame of management for not being able to convince oil and gas companies to adopt the technology. Krichtafovitch also said he hadn't seen any data suggesting that the Duplex Technology increases efficiency. Greater efficiency and profitability is not something that oil and gas companies will sacrifice in order to decrease emission pollution. This is especially true in today's Trump era, where he doesn't care at all about air pollution control and the environment, as he is an all-business President. The company will run out of cash by February without an equity raise. We expect the stock to continue its current downtrend as shareholders sell as they anticipate the equity raise happening. If unfavorable, an offering that includes stock and warrants could cause a further significant drop in share price.