Global Tech Industries: A Company That Publishes Endless PRs of Fake Partnerships, Has Zero Revenues And No Real Business
• Global Tech industries (GTII) has a long history of failed acquisitions of random businesses done for stock promotion, not business.
• GTII has never generated any meaningful revenues or profits with an increasing accumulated deficit.
• Gave a consultant 200K shares (worth over $400K) to find a Picasso print for the company to buy for $32.7K for its "Meta art gallery".
• There is a recent pending lawsuit where GTII's former investor relations firm, International Monetary, retained by GTII in December 2020, is suing GTII for not allowing it to sell its 6M GTII shares that were payment for services rendered.
• Rumors about a short squeeze from the issuance of "art tokens" is going stale as it has been 4 months without SEC approval or any mention of it.
• Excessive executive compensation while making no progress in product development or a clear direction which industry the company is in.
Global Tech industries (GTII) Stats (3/30/22)
Recent Price: $1.54
Shares outstanding: 235M
Market cap: $362M
Float: 41.5M, 16%
Cash (9/31/21): $295K
Revenue (9/31/21): $0
Short Interest: 500K shares
Borrow: HTB
Headquarters: New York, NY
Employees: 2
Global Tech Industries Group, Inc. (GTII), was incorporated in 1980 and was first called Western Exploration and Mining Company. In 1981 it changed its name to Nugget Exploration, Inc; in 1999 it reverse-merged with GoHealth.MD, Inc., At the time of the reverse merger the company had no significant businesses. In 2004 it became Tree Top Industries and subsequently Global Tech Industries Group, Inc. in 2016, as it is called today.
GTII is operating from a mailbox location, there is no physical office according to their most recent 10-Q. According to Google maps, the address, 511 Sixth Ave, Suite 800, New York, NY, 10011 is a restaurant.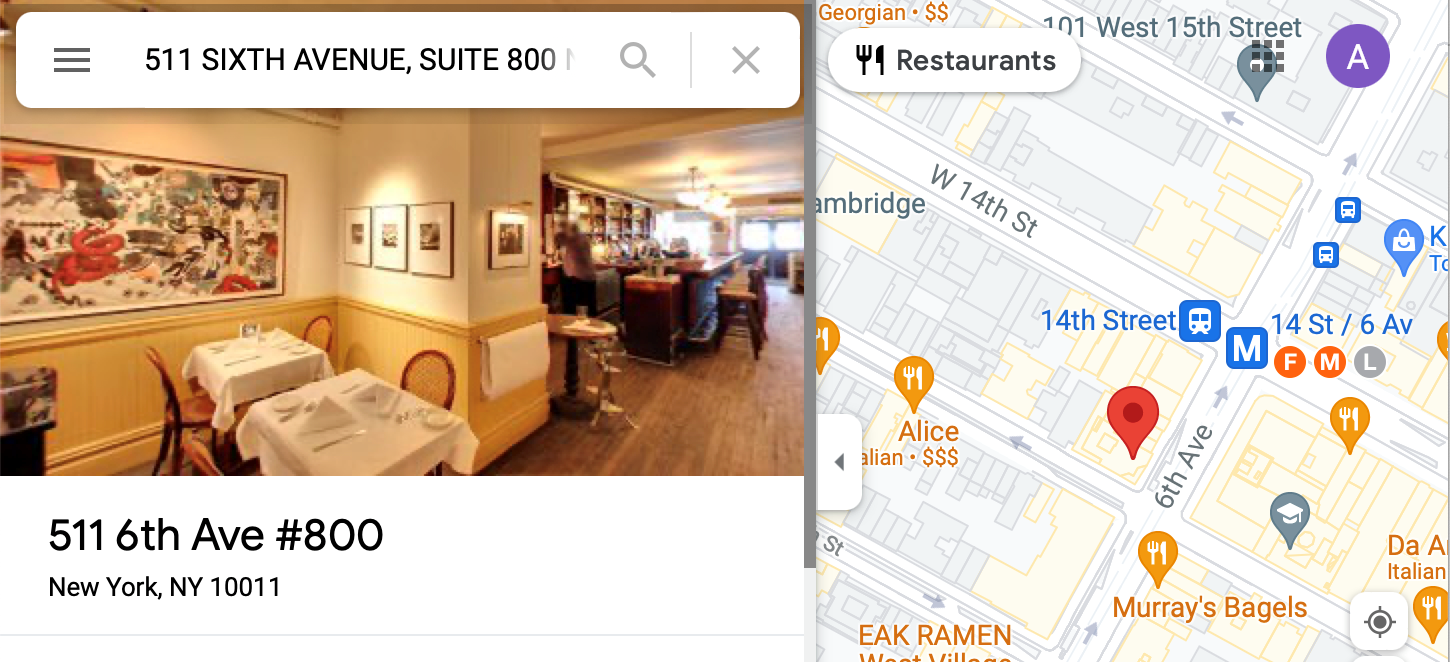 Source: Google Maps
GTIII has an accumulated deficit of $233M and has not generated any significant revenue despite acquiring many businesses over the years with promises of them being the next revenue generating opportunity.
The only two employees of GTII are current CEO David Reichman and President Kathy Griffin. Reichman has been at the company as far back as 2000, first as a consultant, a board member in 2001, and by 2003 he was the CEO. Griffin joined the company later around 2008. Reichman and Griffin don't really do anything, they just put out fake PRs of partnerships that never go anywhere.
Global Tech's Constant Twitter Promotion
A group of people on twitter continually pump GTII. A few these consistent pumpers are @dirtyrandy691, @AlbyBrewster, @Ntbd4A, @bitcoinagile, @chris91480831, and @HAMshortkiller.
A hard at work twitter pumper of GTII goes by the name of Jackass. His previous account got banned. So he started a new one in February 2022. In less than 2-months time, he has already made over 2,000 tweets. 90%+ of those tweets are promoting GTII, and he repeats the same tweets numerous times: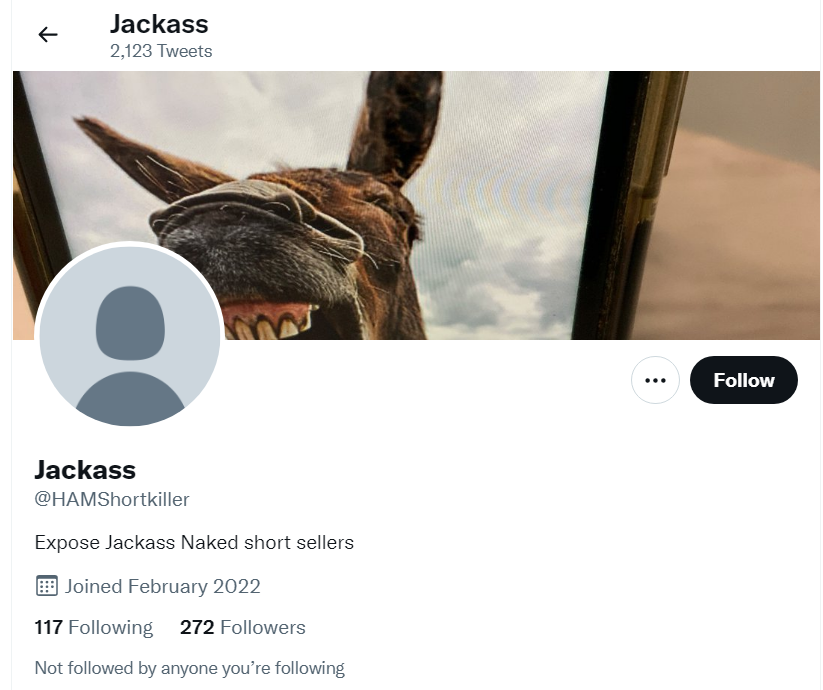 This type of promotion is likely the reason for the recent rally in the stock. It went from around $0.60 on 11/3/21 to closing at $1.72 on 3/30/22, as shown in the 6-month chart below: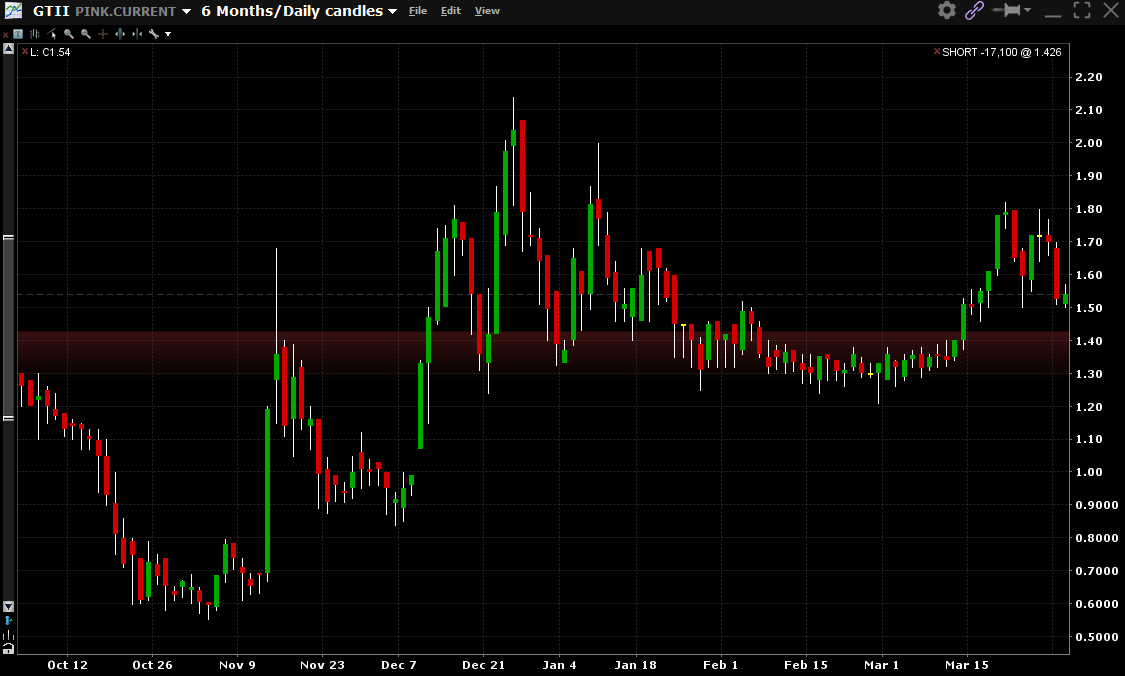 A look back a year earlier in GTII's history. It was trading at around 12c per share as recently as 2/1/21, and even traded for as low as $0.01 per share in 2020 and earlier. This is shown in the 5-year chart below: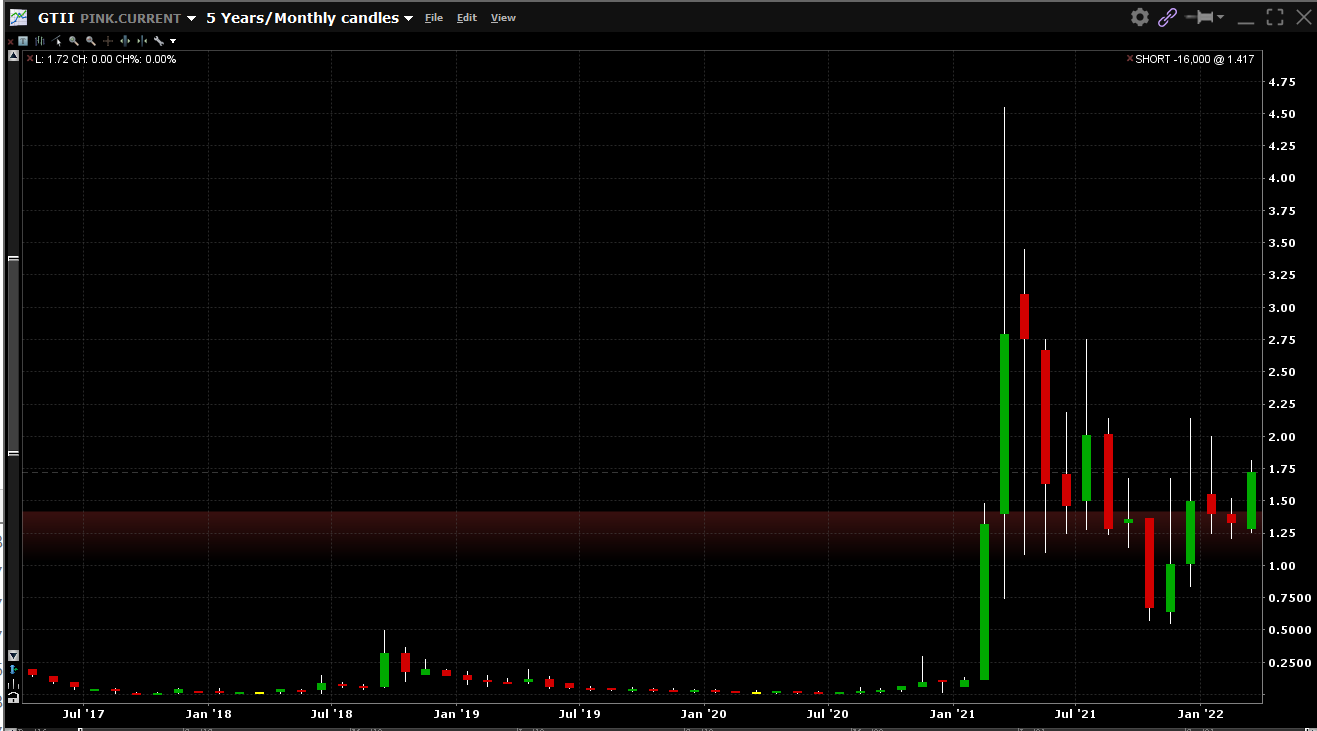 On top of the higher share price, the company's share count has also risen significantly over the years. In the company's latest 10-Q, on 9/30/21 it states that GTII had 235M shares outstanding. In the 2018 Annual report, it states that GTII had 159M shares on 12/31/18, and only 128M shares on 12/31/17. The share count has almost doubled between 2017 and 2021, as shown below:

Source: GTII SEC filings
GTII is now trading at over 100x its 2020 lows of $0.01. Yet the company still hasn't reported any revenues from its operations over the last 4 quarters. As shown on Yahoo Finance:

A Pending Lawsuit By Global Tech Industries Former Investor Relations Firm To Be Able To Sell 6 Million GTII Shares
On 12/21/20, GTII announced that it retained International Monetary for investor relations and strategic services. It appears that GTII didn't pay International Monetary for its services as there is an active lawsuit by International Monetary making that claim.
The following are key pages of the lawsuit court document, we underlined some important statements:
"Notably, GTII does not even bother to cite the portion of the contract that Plaintiff allegedly breached."
"GTII seeks to enjoin Plaintiff from removing a restrictive legend from 6,000,000 shares of GTII common stock"
"GTII is effectively seeking to enjoin Plaintiff from receiving compensation for its services, and thus, any burden would be borne by plaintiff. GTII vaguely asserts that Plaintiff's 6,000,000 shares, if liquidated, might negatively impact GTII's overall market value."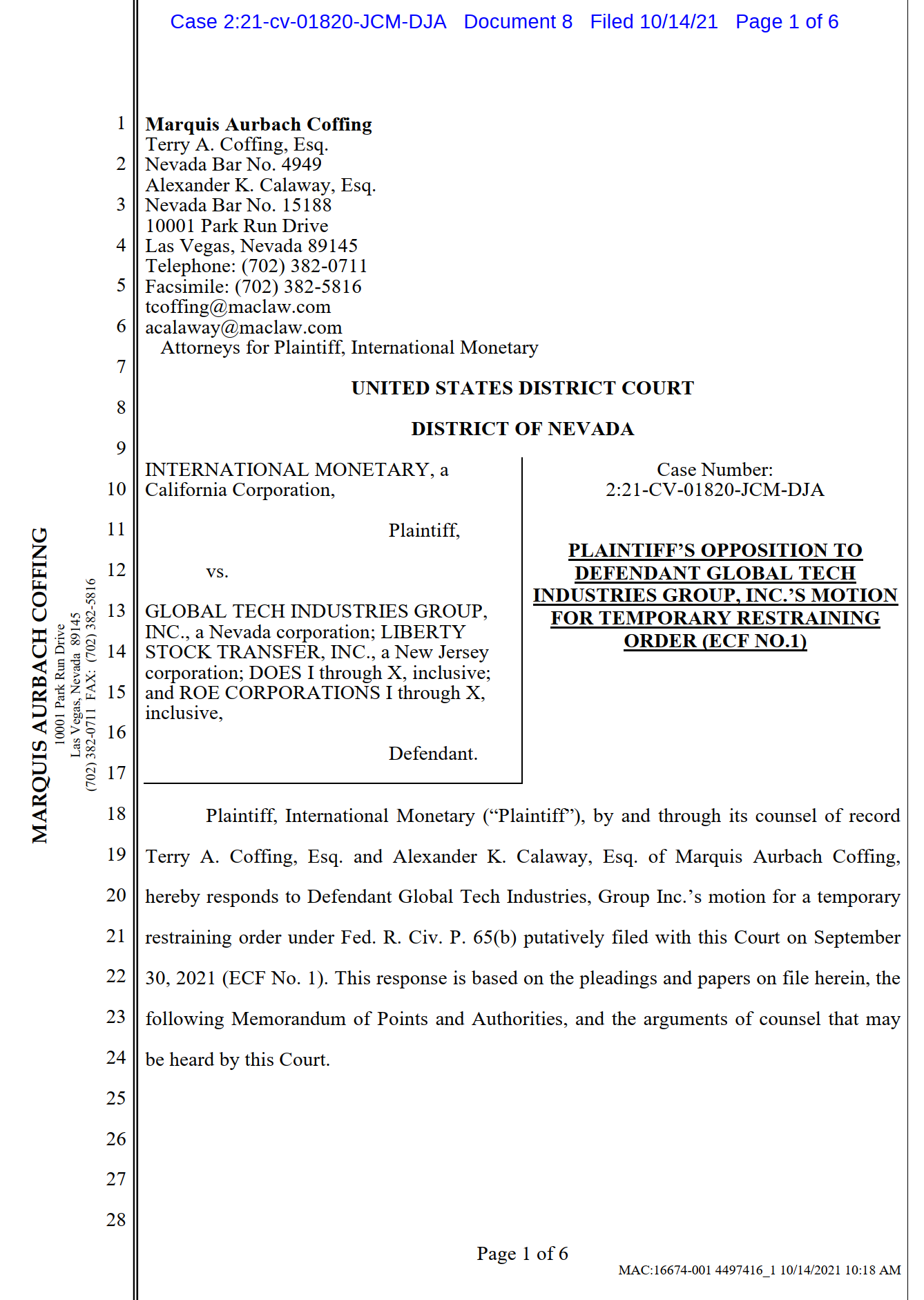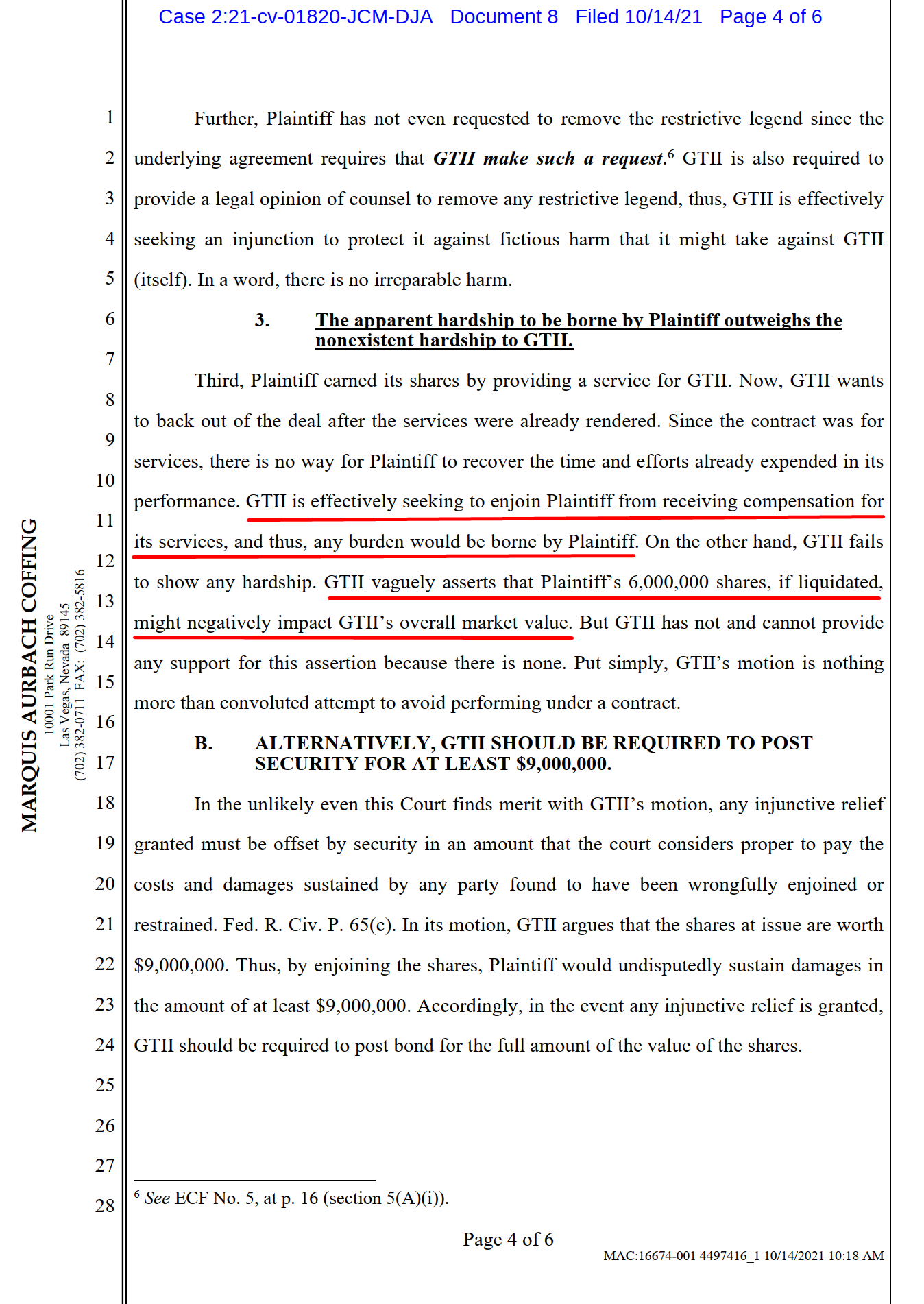 The lawsuit states that International Monetary does have the 6M GTII shares in their possession. However, they aren't able to sell the shares until GTII removes a "restrictive legend". Something that the court hasn't ordered GTII to do yet, but it appears that it will likely happen soon.
Global Tech Industries' Art Token Scheme
GTII had a suspicious deal that happened in April, 2021. GTII signed a contract with Ronald Cavalier and his art galleries in which Cavalier received 200K shares of GTII, which was worth over $400K at the time, simply for buying a print from a famous artist. On 4/23/21, GTII announced that Cavalier "engineered" for GTII to purchase an engraved Picasso called 'Quatre Femmes Nues Et Tete Sculptee' at Phillips Auction House, which anyone could have done easily. Looking at the Phillips Auction House website, it shows that that print was only purchased for $32,760, as shown below: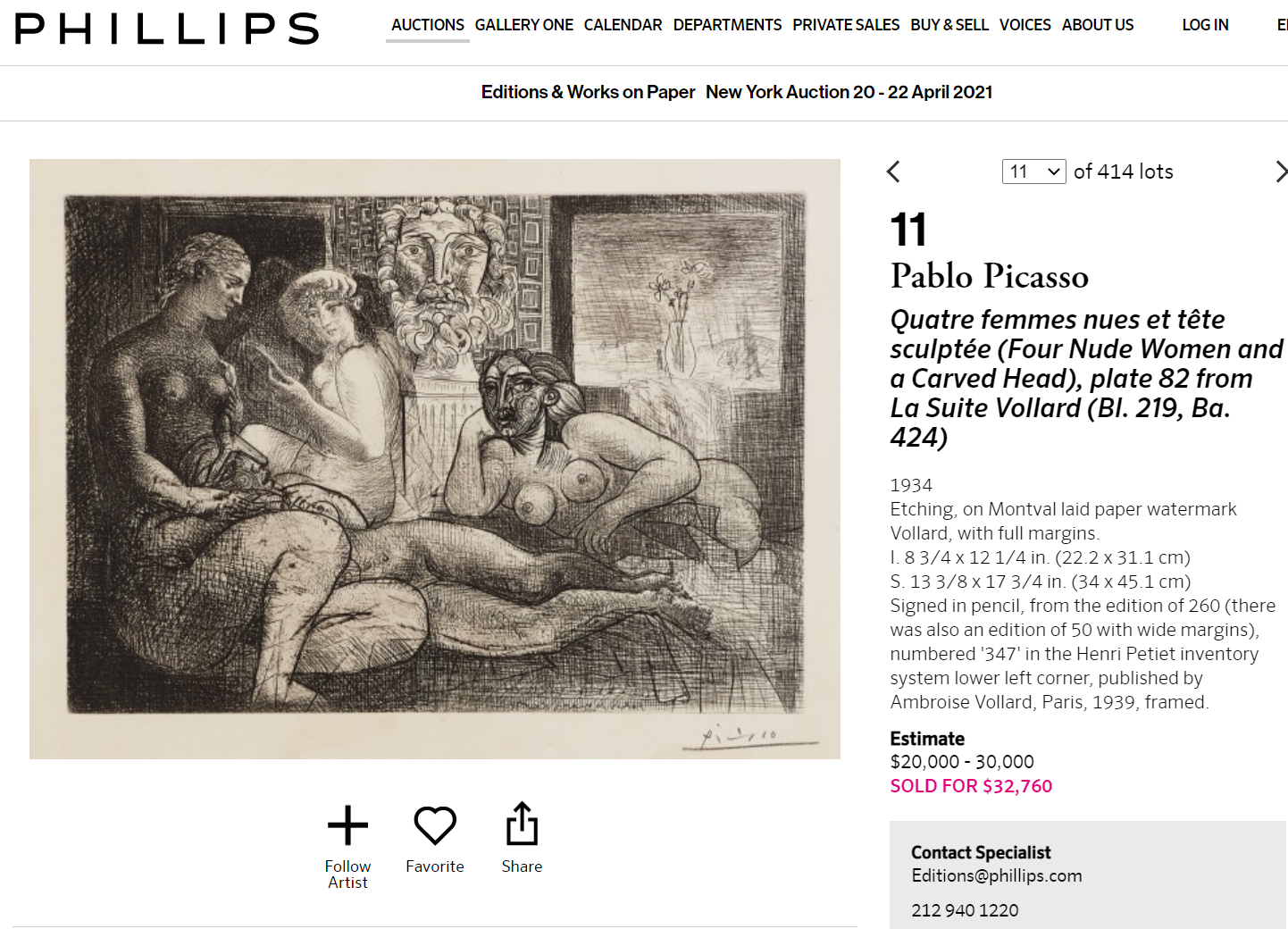 Source: Phillips.com
The company is planning to convert the Picasso print, along with an acquired Andy Warhol silver print, and issue them in the form of digital dividends, or "art tokens", to shareholders.
On 12/9/21, GTII filed an S-1 to try and register 26M tokens. It states in the S-1:
"This prospectus relates to the minting and distribution, as a dividend, of the Global Tech Industries Group Fine Art Token (the "GFT Tokens" or the "Tokens"), which represents a fractional share of the value of the Company's fine art, with all minted Tokens pegged to the total market value of the Company's fine art collection with a market value of approximately $67,845. "
Valuing their art collection so low, a $68K valuation puts the value of each token at: $0.0026 per token.
The S-1 also states:
" In particular, the Company is mindful of the uncertainties associated with the Securities and Exchange Commission's ("SEC") view as to whether or not an Initial Coin Offering ("ICO") would constitute a "security" under applicable federal securities laws…There are various opinions in the public domain that address this topic but to the best of our knowledge the SEC has yet to issue a formal opinion and/or regulation with respect to whether or not digital currency and the distribution thereof to investors constitutes a security under applicable federal securities laws."
Since this S-1 filing, it has been three and a half months, and the SEC hasn't responded. The SEC has never registered an ICO or digital tokens like this, and probably won't register GTII's tokens.
The "Digital Dividend" Short Squeeze Gimmick Has Been Attempted Before And Failed
It appears that a lot of GTII shareholders realize that the company is garbage, that there's nothing there. It's hard to ignore all the acquisitions that the company has promoted over the years that have failed and led to the company's zero revenues today. However, many are still buying the stock because they believe there could be a short squeeze due to the company's upcoming possible art token dividend. The theory is that since short sellers are required to pay the dividend, and they won't be able to pay the art token, that means they will be forced to cover before the ex-dividend date. This theory has been spoken about in chat rooms, and by bulls on twitter. A few tweets alluding to this are: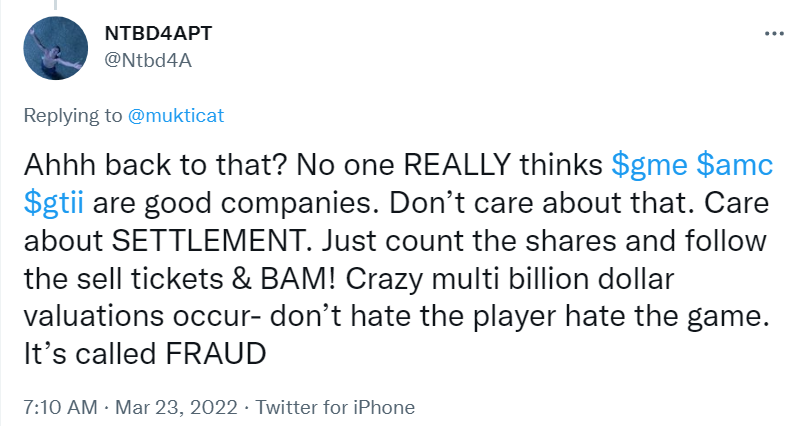 Source: Twitter

This tweet uses the Chris Rock getting slapped meme to explain the art tokens causing a short squeeze against "Kramer Inc", which is an investment group that GTII investors think is a big short seller: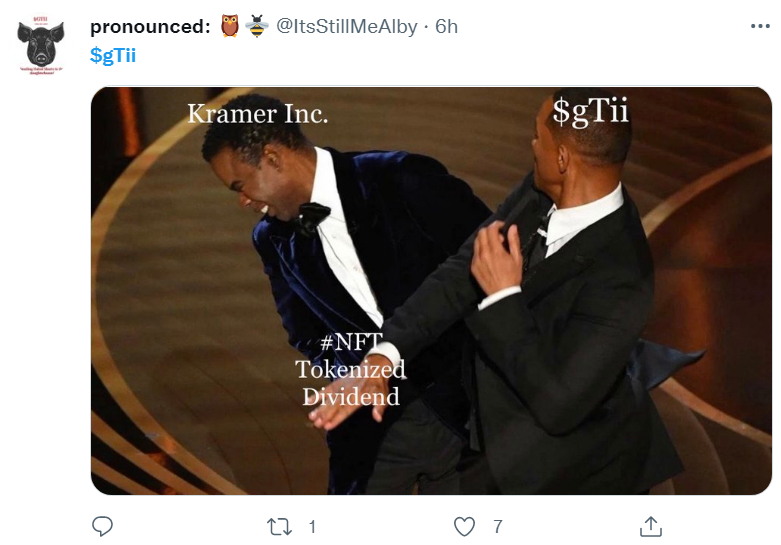 This token dividend gimmick that GTII longs are hoping will cause a short squeeze has been tried and failed with Overstock.com (OSTK). This Tweeter seems to be unaware that OSTK shareholders hoping for that eventual short squeeze got screwed in the end. An article from MarketWatch, published on 9/22/19, explains what happened and the aftermath: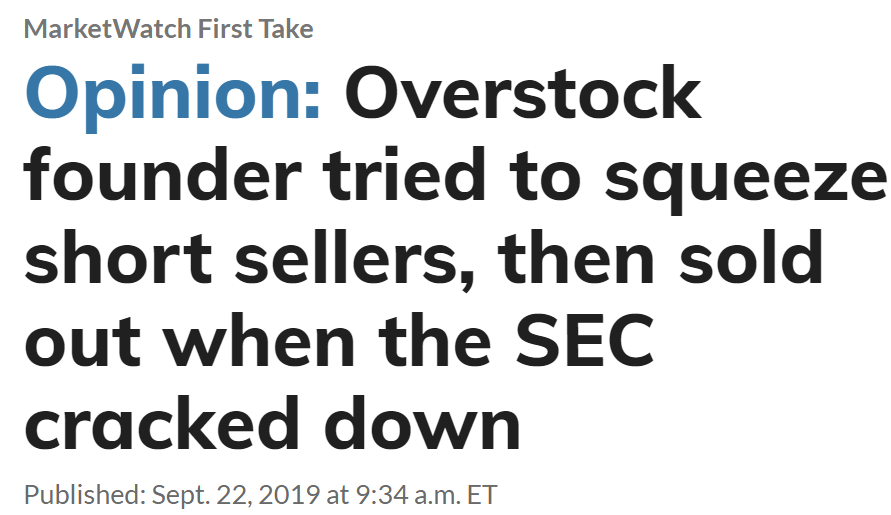 Source: MarketWatch
From the article:
"The entire dividend is a gimmick conceived by the company's board to engineer a short squeeze by designing an operational impossibility by short sellers to deliver the digital dividend," Willem de Vocht, founder of Netherlands hedge fund Mayflower Capital Partners, said in an email earlier this week.
The digital dividend is designed so that it's impossible for the short sellers to pay it. Therefore, the theory is that short sellers will have to cover their shares since they can't deliver the dividend, thus bidding up the share price and causing a short squeeze.
However, before the digital dividend could be approved by the SEC, Patrick Byrne, the CEO of Overstock, sold his entire $90M position over three days. This caught shareholders by surprise. He apparently did so because the SEC didn't approve his digital dividend scheme.
From the article:
"They leaked that they were going to Bazoomba our digital dividend," Byrne wrote in a post directed to his former colleagues at Overstock. "Once that started getting back to me, I realized this: Whenever I have had any question about whether the SEC would or would not do something totally outrageous in order to hurt our company to benefit their clients on Wall Street, they never let me down: they always did the evil thing."
It seems that Byrne may have been the "evil" one. From the article:
"For years, Patrick Byrne has complained about short sellers and has insinuated that they are criminals or nearly so," said one hedge-fund manager who asked not to be named. "Today we learned that he tried to engineer a short squeeze and when it appeared to be failing, he sold every share of stock he owned. And it's the shorts who are criminals? Hogwash."
Recent speculation is on AMC to also try this digital dividend scheme to cause a short squeeze. As discussed in this YouTube video: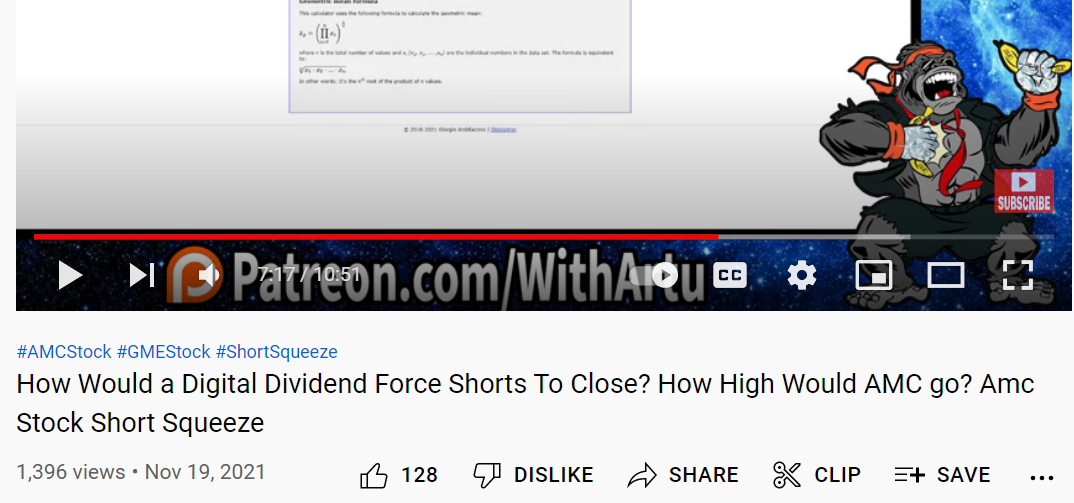 But there's no sign that AMC is going this route.
Some tweets also allude to the belief that a GTII toxic lender has millions of shares short.
There's no evidence suggesting there is a huge short seller out there with millions of shares. In fact, the short interest on GTII appears to be relatively low. The borrow rate is only about 6% on Interactive Brokers. If the short demand was high, the borrow rate would likely be much higher. Shortsqueeze.com shows only 739K shares is short, which is less than 1% of the 235M shares outstanding. As shown below: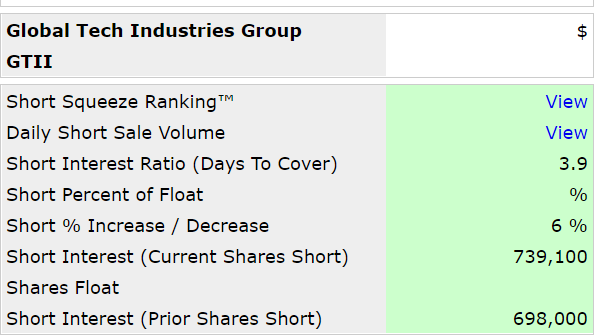 Source: shortsqueeze.com
Global Tech Industries' History of Fake and Failed Acquisitions
GTII had no operations from 2002 to 2007. Starting from 2007 and all the way to 2022. GTII kept on making deals with companies that failed to generate anything.
In 2007 Ludicrous, Inc. a developer of technology for the communication industry, reverse merged into GTII for which the company issued 68,000,000 new minted shares to Ludicrous shareholders. As of year-end of 2008 finally some revenue was booked, very small at $2,967, but better than nothing.
At the time of the Ludicrous acquisition, David Reichman was the Chairman of the board, CEO, and a president of Ludicrous, Inc. since 2003, so basically he controlled the company.  Ludicrous' main asset was a content delivery platform called NetThruster that was developed for eleven years before Ludicrous, Inc. was incorporated and at the time of acquisition was in the process of designing a website that would be used to distribute video, music and games downloaded through the internet. No revenue followed in 2009 with the development of NetThruster halted by the end of the year and so was the business of newly acquired Ludicrous, Inc.
GTII entered into another acquisition contract in 2009, this time substantially deviating from internet related deals. The new deal was with BioEnergy Applied Technologies, Inc., a holder of intellectual properties of "environmentally friendly technologies" in areas of hazard waste destruction, energetic materials, chemical recycling processing, and coal gasification.  The deal had the same signature as the last: share issuances for their assets. Come 2009 and 2010 and no revenue in sight.
In the begining of 2011, the announcement came that NetThruster, Inc., will be disposed of and bundled into a spin-off with its shares equally distributed to the current shareholders on a pro-rata basis, only by the end of 2011 the spin-off was postponed indefinitely.
Now in September, 2021 GTII is attempting another spin-off of its subsidiary Global Tech Health, Inc. and will hold its 2021 acquisition of Bronx Family Eyecare, Inc., and My RetinaDocs, LLC and has the same deal arrangement as the spin-off of NetThruster: all shares of the new spin-off will be distributed on a pro-rata basis equally to shareholders of GTII.
During 2011 two acquisition proposals were made. First: Sky Music Corporation, Sky Solutions, and Adriatic Region Distribution were part of the same deal, which did not go through. The second target was Adesso Biosciences Limited. This one did not go well either.
Next in line for 2012 was Stemcom, LLC  d/b/a Pipeline Nutrition which failed to go through as well.
By the end of 2012 GTII and its new subsidiary TTII oil and Gas, Inc., entered into an acquisition agreement with American Resource Technologies, Inc paying with shares for it again.
Subsequently the acquisition did close only to become useless since all of the assets of American Resource Technologies, Inc ended up having no value with equity value of ownership impaired by the first quarter of 2013 in the amount of $513,538. GTII was also in litigation to recover the shares that were issued for this worthless asset all the way until 2020, at which point they were able to recover 4,668,530 shares.
In 2016 GTII acquired several restaurants in Hong Kong just to get entangled in a lawsuit by 2017. The 8-K states:
"GTII's suit specifically addresses the issues of contract breach, specific performance, indemnification and fraud."
The lawsuit which was settled in 2019.
"As of this writing the case has not yet been decided. . . On October 2, 2019, the Company was able to secure, via preliminary settlement, the return of 43,649,491 shares of the Company's stock, that was issued in good faith to GoFun in anticipation of a final stock exchange. The stock has since been returned to the Company's treasury and cancelled. As of this writing, motions are pending that may require remaining negotiations to continue in arbitration."
On December 30, 2019, a dispute between the Company and its counsel regarding the GoFun matter, above, resulted in a filing, and subsequent settlement, of an action in the Supreme Court of the State of New York for the County of New York (Index No. 656396/2019). Pursuant to the settlement, counsel for the company accepted previously-issued shares as full payment for all legal work, expenses, costs, and other fees."
In 2019 GTII entered into an binding letter of intent to acquire ownership of First Capital Master Advisor, LLC and GCA Equity Partners, an owner of residential master-plan development real estate properties. This agreement was supposed to change GTII's direction altogether as is stated in their then issued press release,
"Essentially GTII's new business model will be to acquire, develop, build, manage, and sell these types of real estate projects."
With David Reichman commenting:
"We are very pleased to be working with First Capital Master Advisor and GCA Equity Partners, both with extensive real estate investment experience, as we transform GTII into a publicly traded real estate development and construction company."
The plan was to change the board of directors and install a new management team, except for David Reichman, he would stay CEO at the new company. As part of the agreement the new management was supposed to apply to be uplisted to a national exchange. It looks like an attempt to do another reverse merger and erase all those loser companies that have been acquired in prior years and start fresh in the real estate business but by the end of 2019 the agreement was terminated.
In 2020 GTII entered into an intention for a business combination agreement with Fifth Generation Media, LLC just to terminate it by the end of the year.
It also appears the company got delisted from OTC and listed again on the OTCQB in January 2021.
"Mr. David Reichman, stated, "By restoring the company back onto the OTCQB, securing financial backing and partnering with an investor relations firm with International Monetary's reputation, our team was able to move swiftly to negotiate from strength and sign this Letter of Intent."
Since its uplisting back on the OTC, the company went on a new acquisition spree mostly related to what was a "hot market" at the moment.
In February of 2021 GTII signed a stock purchase agreement with Gold Transactions International, Inc. that is in the business of buying and selling gold globally and specifically has licensing for private networks of affiliates based in Dubai that buy raw gold from private miners around the world and process and store it in Dubai for resale. And, as usual, issued their shares for the transaction.
In March of 2021 GTII attempted to acquire Jabber Telecom, Inc. a developer of business applications, supporting telecommunication collaborations, audio and video conferencing, and cloud phone systems and issued a PR announcing it. Then issued an 8K that the deal fell through but didn't announce the deal failure with a PR.
In March of 2021, GTII acquired Bronx Family Eye Care, Inc., an optometry practice with four locations, again issuing shares.
In April 2021 GTII signed a binding agreement to combine with My RetinalDocs, LLC. It was mentioned as being part of a spin-off in a September press release but no closing on this deal information have been released.
Announced on 6/24/21, with promises of digitizing newly acquired art, GTII signed a license agreement with Alt 5 Digital Assets Platform which should help the company with tokenization plans and trading of digital art on their platform. On 6/21/21, GTII launched a cryptocurrency platform "Beyond Blockchain". On 8/16/21, GTII announced that the Beyond Blockchain app had launched and was available on the Apple App Store.
By August of 2021 GTII signed another binding merger agreement with We SuperGreen Energy Corp. This agreement is another attempt by GTII to shed the past and start in a different direction, again promising to up-list to the NASDAQ or NYSE if the deal goes through.  So current shareholders need to dismiss all the acquired companies over the previous years if this deal is going to be closed, since GTII will have to spin out all the assets that it currently holds and in particular announced in September 2021 that it created a new subsidiary, Global Tech Health, Inc., in order to separate their " various healthcare and eyecare subsidiaries and/or acquisition targets into their own operating group".
With the CEO David Reichman stating:
"We decided to move quickly to form this first of what may turn out to be several subsidiaries in order to pursue the more industry specific strategy that we've spoken of before. We chose the health services portfolio of businesses to start with as those businesses have been operating for several years and have reached a maturity that should allow them to operate more independently from us as the parent company"
Never mind the fact that the eyecare business, for example, was just acquired in March of 2021 and has never been a major contributor to GTII's bottom line along with all the other acquisitions and attempted acquisitions in 2021.
From the We SuperGreen Energy merger filing:
"The Parties agree to negotiate, in good faith, a plan to spin out all non-SuperGreen assets at, or within a mutually-agreed upon time after Closing. As used herein, non-SuperGreen assets means all assets owned by GTII immediately prior to the Closing. The spin-out agreement described herein shall be considered a material term of this Agreement."
Yet another attempt to erase the past and go into a new business venture appears to not go through. In a January 2022 shareholder's letter, there is no mention of the We SuperGreen deal which was due to be closed by the end of December 2021, nor are there any PRs or explanations on what happened to it.
On 1/24/22, GTII filed that since We SuperGreen wasn't able to provide audited financial statements, the merger was cancelled. Furthermore, we found that We SuperGreen really doesn't exist. Its website has no phone number, and the address shown on the website, 600 Anton Blvd, 11th Fl, Costa Mesa, CA, 92626, is a virtual address with other companies listed, SuperGreen Energy isn't listed as being part of that building.
Since the We SuperGreen clean energy deal failed, a new venture came along by the end of 2021 in rare earth minerals.
In November of 2021 GTII signed a stock purchase agreement with Trento Resources and Energy Corp., a rare earth mineral miner in Chile. Not closed yet either, nor will it ever be. It requires one guy with no real history or background to raise a $350M bond deal. A google search reveals that "Trento Resources" doesn't even exist.
Going into 2022 GTII quickly picked up on the new trend in the metaverse and executed a memorandum of understanding with a Hong Kong listed corporation DTXS Axtions Ltd., with plans to bring Chinese art and antiques into GTII's developing metaverse space.
This PR was followed by another metaverse deal through a partnership with Netherlands company TCG World to lease virtual land in their metaverse project so they can exhibit their art collection there so the prospective buyers can visit metaverse space before making an actual purchasing decision.
As of January 18th, it has closed its previously announced acquisition of Salon Holding LLC that offers algorithms software for teachers to assess students and manage their workflow. Again, issuing their GTII shares, 10M, for the deal.
GTII's recent acquisition deal was on 3/11/22 to acquire Wildfire Media which owns 1-800-LAW-FIRM.
GTII's latest acquisition deal was regarding acquiring a Chilean mine called Trento Resources. We believe both of GTII's recent deals in March 2022 will follow the same pattern as their acquisitions have had over the past 15 years.
A History of Failure And Value Destruction
GTII is run by the same individuals CEO David Reichman and President Kathy Griffin as well as same board members: Michael Valle, Frank Benintendo, and Don Gilbert since at least the early 2000s, meanwhile none of the acquired companies add any value except allows them to issue press releases to hype the stock price and issue new shares for those deals diluting shareholders along the way.
From 2007 to 2021 total revenue generated from all those acquisitions was at $115 thousand dollars and total accumulated deficit is $170 million.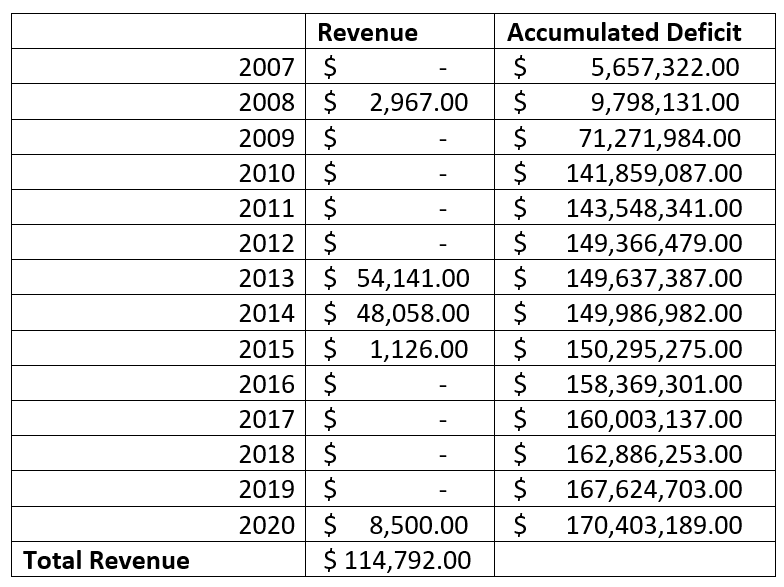 Looking no further than GTII's current Q321 and one can see that there is absolutely no value that has been created for shareholders despite endless acquisitions and promises by the executive team.
Revenue at the end of Q321 was as usual zero; cash at $295,083; net loss at $4,546,463, mostly driven by a $3,860,868 compensation and professional fees, and to top it all off, a default on notes payables of $871,081 and a negative net working capital at $2,740,896.
While losing money since its existence, GTII executives are not shy to generously compensate themselves as is clear from the most recent Q321.  David Reichman base salary is at $500K since 2009. Both executives decided to forgo their salary starting from 2009 and until 2019, while supposedly GTII was attempting to raise cash but would still receive bonuses until 2012 and shares to make up for such a generous gesture. They also put on a scheme to convert their accrued salary for 2017, 2018, and 2019 into notes, charge GTII interest for it, and then convert it back into another generous shares and options issuance while accumulated deficit is going above $232m.
"Mr. Reichman, our CEO, has rendered services to the Company and his wages have been accrued in accrued expenses during 2017, 2018 and 2019. At December 30, 2019, Mr. Reichman agreed to consolidate accrued wages, auto allowance and cash advances in the amount of $2,016,672, into a long-term Note Payable bearing interest at 5% with a term date of July 15, 2021. At December 31, 2019, the Notes Payable to Mr. Reichman totaled $2,437,717. On December 19, 2020, Mr. Reichman's Notes, accrued interest and 2020 accrued wages, totaling $3,192,385 were converted to 3,192,385 shares of common stock and 3,080,781 stock options. At December 31, 2020, Mr. Reichman's Note payable was $0. Accrued interest on Mr. Reichman's Notes are $0 and $163,254 at December 31, 2020 and 2019, respectively.
Mrs. Griffin, our President, has rendered services to the Company and her wages have been accrued in accrued expenses during 2017, 2018 and 2019. At December 30, 2019, Mrs. Griffin agreed to consolidate accrued wages and expenses into a long-term Note Payable of $563,000, bearing 5% interest, with a term date of July 15, 2021. At December 31, 2019, the Notes Payable to Mrs. Griffin totaled $769,670. On December 19, 2020, Mrs. Griffin's Notes, accrued interest and 2020 accrued wages, totaling $1,045,700 were converted to 1,045,700 shares of common stock and 1,009,143 stock options. At December 31, 2020, Mrs. Griffin's Note payable was $0. Accrued interest on Mrs. Griffin's Notes are $0 and $67,168 at December 31, 2020 and 2019, respectively."
To stay afloat GTII consistently received cash from David Reichman over the years, who cleverly holds the company in debt to him for cash and stock. Kathy Griffin also had a substantial amount owed as well for her salary.
For example, for prior years of 2010 and 2011, David Reichman was owed $5,023,027 and Katy Griffin was owed $572,225 while no revenue was generated in both of those years and accumulated deficit ballooned over $140 million.
From the 10-K 2011:
"The aggregate amount of the loans outstanding and due to Mr. Reichman and Mrs. Griffin, is $3,186,130 and $2,409,012 as of December 31, 2011 and 2010 respectively.  They are non-interest bearing, due on demand loans. At December 31, 2011 and 2010, the balances due each officer are as follows: Mr. Reichman: $2,817,373 and $2,205,654, respectively, and Mrs. Griffin: $368,757 and $203,358, respectively."
Conclusion
In our opinion GTII is worth close to zero, or at least sub 10c like it was trading as recent as January, 2021. GTII's historical and present acquisitions ambition seem to be leading nowhere but continued dilution of shareholders, no revenue, zero profit, a huge and increasing accumulated deficit, which was standing at $233m as of Q321, run by two executives: whose combined annual compensation is higher than the company's total assets with a perfect opportunity to cash out sometime this year, possibly in millions.
It has been almost four months since GTII filed to register its digital tokens. The SEC still hasn't replied. If the short squeeze theory turns out to be false, which it has for other companies like OSTK, then GTII will likely lose a lot of shareholders who only bought shares for that reason. Also, shareholders are at the risk of the CEO dumping his 38M shares right before the digital token scheme fails. This is similar to how the CEO of OSTK dumped his $90M position in three days without warning, into a bloated share price on speculation of a digital dividend short squeeze that didn't pan out.