Part 2: New Red Flags Emerge From Veru's Phase 3 Covid Trial, Suggesting An FDA Rejection Is Likely
Sabizabulin's mechanism of action doesn't make sense to treat Covid.
Veru already had a relationship with the centers doing the Phase 3 Covid Trial, suggesting the potential to negatively affect the data.
Veru provides little detail regarding its trial randomization.
Beyond Spring, a bio with a rejected cancer drug, has similarities to Veru's trial.
Other Covid drugs that got issued an EUA have different characteristics from sabizabulin.
Most companies don't publish a peer reviewed article until after the FDA Review is finished.
Sabizabulin's Mechanism of Action Doesn't Make Sense to Treat Covid
Sabizabulin was originally meant to treat cancer. Its mechanism of action makes sense for that through preclinical studies. However, there hasn't been any studies to explain that it makes sense to treat Covid.
The assumption that Sabizabulin may have anti-COVID activity is a stretch. It has been justified in VERU's Phase 2 protocol in rather general terms and without convincing evidence. The major argument is based on another molecule, Colchicine, which has an ability to bind to alpha and beta tubulin. Colchicine, according to Veru, has anti-inflammatory and anti-viral activities.
The protocol states:
"Colchicine-like agents may be useful to treat the "cytokine storm" seen with SARS-CoV 2"
However, after this protocol, colchicine failed its extensive trial of 1200 Covid patients.
It is obvious that sabizabulin can't work through an anti-viral mechanism at this late inflammatory stage of Covid; the anti-virals clearly only work if you use them early.  But this is at odds with some of the company statements and presentations where they still talk about a possible anti-viral mechanism and they have included some incorrect / irrelevant biology on some of their slides.. eg. making analogies to the influenza virus. See this twitter thread for more details.
Even Veru's Chief Science Officer, Dr. Gary Barnette, admits that not much research went into discovering the mechanism of action. From the article, Barnette stated:
"It took me just a short period of time to see how the virus actually infects and moves about the cell. It took me just a little bit of time to figure out that this drug I had for cancer could be effective in the treatment of COVID-19.
After a whirlwind of a weekend, Barnette passed on his discovery, and the rest is history.
"I did some more research that Saturday and Sunday, and then Monday I called my CEO and said, 'I think this is going to work for COVID.' And I sent him some papers that afternoon. We were firing off and talking to the FDA, and it literally went that fast," Barnette said.
Veru Already Had A Relationship With the Centers Doing The Phase 3 Covid Trial
As shown in Culper Research's second bearish report on Veru, the principal investigators have worked for past COVID-19 biotech stock promotions that blew up.
What isn't mentioned in the Culper report, is Inspira Medical Center's history with working with Veru. They have a long standing relationship, and that could affect the quality of the data. The Principal Investigator for Veru's trials at Inspira Medical is Dr. Samaresh Dasgupta. He runs a Ketomine and IV Vitamin Therapy Clinic, which shows he is money motivated.
The use of ketamine for depression, while not illegal at the moment, is  controversial, because the IV infused drug is costly, not covered by insurance and only short-term effective, requiring on-going "maintenance" injections.
In 2017, a jury awarded $45M in a medical malpractice suit against some doctor's working at Inspira. The article states:
"The jury found the defendant doctors deviated from the proper standard of care. It also found Inspira Medical Center at Vineland had an apparent agency relationship with both doctors, permitting the plaintiff to collect a portion of the verdict from it."
Inspira already is doing Veru's cancer trials, and also did Veru's Phase 2 study for sabizabulin. So Inspira has an ongoing relationship with Veru with the other trials. You can see when doing a search for "sabizabulin" on clinicaltrials.gov, in addition to Veru's Phase 3 trial, Inspira is an investigator in these 3 trials:



Source: clinicaltrials.gov
We believe that a lot of the patient data is unblinded already in these trials, even though it says they are blinded. And they are done in centers where Veru's management already knows the investigators.
Veru Has Not Revealed Trial Randomization Details
As we showed in our Part 1 report, very different patietns in terms of Covid severity were enrolled, the more severe patients stacked in the Placebo group. In some trials, which may be the case here, the patients aren't truly, 100% randomized between the treatment group and the control group.
It's very peculiar, that sub-population comparative analysis wasn't presented by Veru. Did sabizabulin work better for WHO 6 patients any better than WHO 4 patients? There was no analysis for geographies either. Veru also didn't explain its randomization protocol either, to the degree that other similar clinical studies did.
For example, checkout this peer-reviewed article on Tixagevimab-cilgavimab. There's a "randomization and masking" section. Veru's peer-reviewed article didn't have a section with this title. It just has a "procedures" section that barely mentions randomization.
See this article and this article on remdesivir, they both also have a "randomization and masking" section.
Beyond Spring, Its Cancer Drug FDA Rejected, Has Similarities to Veru's Trial
Beyond Spring (BYSI) had a Phase 3 trial for lung cancer. Like Veru, its market cap was about $1.2B right before the FDA rejected its drug. Today, its market cap is only about $60M, trading below cash.
BYSI shareholders were confident that its drug plinabulin would be approved to treat cancer patients who had chemo-induced neutropenia. Its stock rose 200% after publishing favorable phase III data on 8/4/21. Similar to Veru's rise after announcing its Phase III results.
BYSI announced that its phase III trial met primary and secondary endpoints showing statistically significant improvement in overall survival versus the standard of care. The plinabulin in combination with docetaxel arm showed twice the overall survival rate as patients being treated with docetaxel alone.
As BYSI short sellers predicted, on 12/1/21, BYSI announced that it received a CRL from the FDA for plinabulin. The PR stated:
"The FDA's CRL indicated that the results of the single registrational trial (106 Phase 3) was not sufficiently robust to demonstrate benefit and that a second well controlled trial would be required to satisfy the substantial evidence requirement to support the CIN indication."
There are some similarities between BYSI's drug, plinabulin, and Veru's drug, sabizabulin. They are both tubular disruptors. There are many tubular disruptors to treat cancer, and they all have cardiovascular issues, and the FDA knows this. That's one risk that sabizabulin poses.
BYSI also started the trial in the US, then moved to China where they had relationships.
The survival benefit (that they reported as mean, vs the usual median) probably came from the limited number of patients who likely received checkpoint inhibitors or other drugs after plinabulin.
An Analysis of Recent Covid Drugs (Excluding Vaccines) That Got Issued An EUA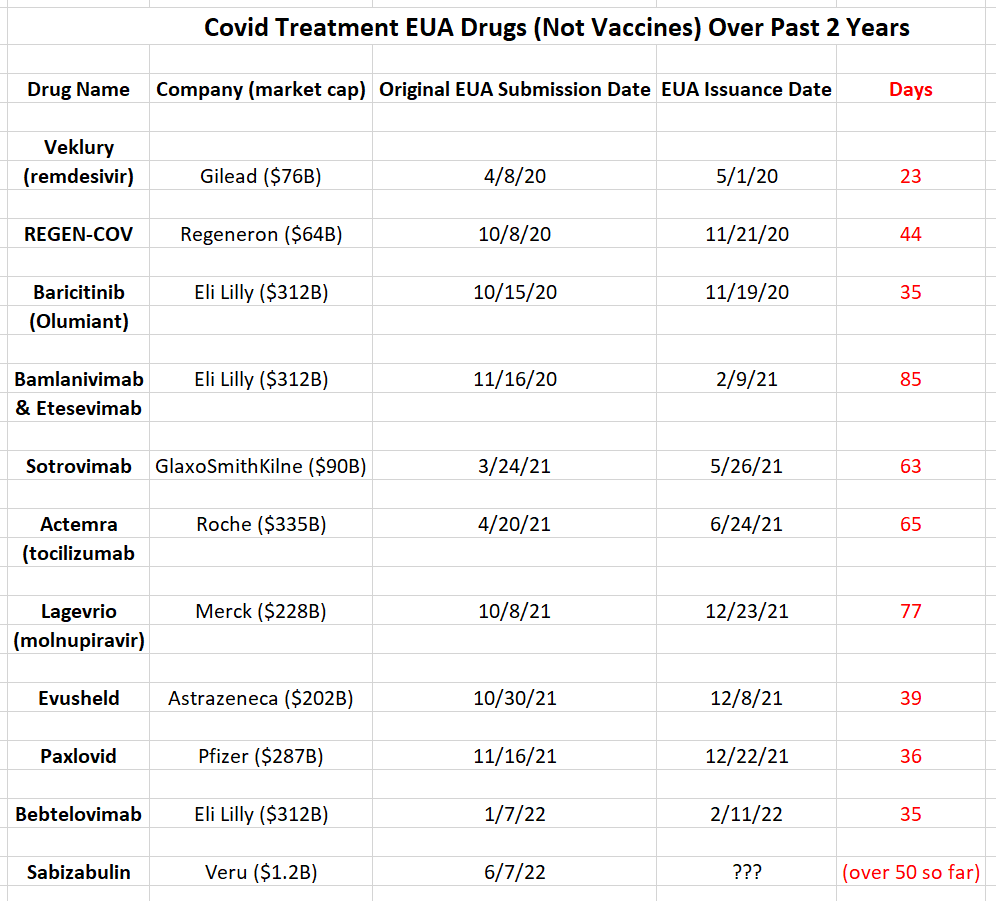 The drugs above got issued an EUA to treat Covid over the past two years. The first interesting data point, is all the drug companies that got a a drug issued an EUA are gigantic, with a market cap of over $60B. Veru has only a $1.2B market cap, making it seem like it doesn't belong.
Most of the drugs got an EUA issued in around 40 days. EUA stands for "Emergency Use Authorization", hence it is an "emergency". Therefore, an EUA should be issued quickly, if merited. For the ones that took longer, there was usually a problem with the drug, or the trials were complicated.
Looking at each one that took longer:
Bamlanivimab & Etesevimab, REGEN-COV – The FDA revoked EUA on 1/27/22 for REGEN-COV and bamlanivimab and etesevimab (administered together) because they have reduced effectiveness against the Omicron variant of Covid.
Sotrovimab – The FDA revoked EUA on 4/5/22 for Sotrovimab due to increases in the proportion of COVID-19 cases caused by the Omicron variant.
Actemra – From FDA.gov website:
The data supporting this EUA are from four clinical trials. These included one randomized, controlled, open-label, platform trial [Randomised Evaluation of COVID-19 Therapy (RECOVERY)] and three randomized, double-blind, placebo-controlled trials (EMPACTA, COVACTA, and REMDACTA). The largest trial, RECOVERY, showed a benefit in mortality and EMPACTA also showed a benefit for treatment with Actemra. While COVACTA and REMDACTA did not show a benefit of treatment with Actemra, these trials contributed to the assessment of safety.
There were about 5,500 patients through these 4 trials. Therefore, it makes sense that it would take this long because there is so much data to sift through.
Lagevrio (molnupiravir) –
On 7/7/22, the FDA let pharmacists prescribe Paxlovid but not Lagevrio. From the report:
"The regulator had a ready answer.
"The FDA has determined that Lagevrio should only be prescribed by traditional prescribers," the FDA wrote to Fierce Pharma in an email. "This determination is based on several factors, including the drug's side effect profiles and the need for provider-patient consultation."
As shown above, all of the drugs that the FDA took awhile to grant an EUA, have experienced some problem or complexity post-EUA issuance. That tells us that since Veru has been taking longer than average to get a positive EUA issuance, then the FDA has some concerns, and, at best, is unsure. At worst, a rejection is already decided. Veru only had 200 subjects in the trial, so it wasn't a complicated one.
Most Companies Don't Publish A Peer Reviewed Article Until the FDA Review Is Finished
Veru is the only company on the above EUA issuance list that published a peer reviewed article between the submission date and authorization date.  The reason why companies don't usually publish a peer-reviewed article during an FDA review, is because they don't want to take a chance of muddying the waters for the review. It's much better to just give the FDA reviewers what they ask for and not make things any more complicated. An article invites scrutiny, that could influence an FDA decision. And, sure enough, Veru's article did invite scrutiny from bearish reports and Twitter threads.
After FDA approval or EUA is granted, that's the time to publish in a peer reviewed journal, in order to educate doctors and market the drug.
However, if the purpose is to pump the stock, or perhaps the company knows it will get rejected, then that would be a reason to publish a peer reviewed article before the FDA makes its decision.
What Should Happen Next
Given that the trial was small and has many inconsistencies which lead to bad data, the right thing to do is have another trial, this one bigger with no inconsistencies, to prove without a doubt that sabizabulin works as a Covid treatment.
If there are enough believers in the drug, and there appears to be, then Veru shouldn't have a problem raising the funds for another Phase 3 trial.