NextPlay – Executives Using The Same Playbook As They Used With Axion Ventures – $0.30 Price Target
NextPlay (NXTP) is a former OTC stock that got uplisted to the Nasdaq on 7/8/21 and immediately changed the company name and stock ticker.
NXTP's actual revenues for its latest quarter ended 5/31/21 was less than one thousand dollars. For the year ended 2/28/21, its actual revenues were only $5.1K.
NXTP is paying $10M+ for strange companies in different countries that have no revenues and no customers.
NXTP's new subsidiary, NextBank, appears to have just one employee, and no business. NXTP acquired it for $11.2M earlier this year.
Elite International Bank is across the hall from NextBank, it's the same type of financial institution, but established, and makes only about $5M-$10M in revenues per year.
Axion Ventures (AXNVF), now trading at $0.001, was run by the same executives of NXTP, and is a hotbed of lawsuits, self-dealing and related party transactions.
Regarding Axion, the court ruled against the Co-CEO of NXTP, Ms. Boonyawattanapisut (aka "Jess"), and her husband Todd Bonner, the co-chairman of NXTP, stating: "There are many other innocent people who have fallen as victims" to these defendants.
Axion is suing NXTP for allegedly stealing its HotPlay IP. The case is ongoing, and HotPlay may get taken away from NXTP if the court rules in Axion's favor.
NextPlay Technologies (NXTP) has very little functional businesses. It used to be an OTC stock called Monaker Group with the symbol MKGI. It got uplisted to the Nasdaq on 7/8/21 and changed its name to NextPlay Technologies and changed its ticker to NXTP.
With the exception of its HotPlay subsidiary, its businesses make almost zero revenues. I's financials are very bad with low revenues and sizeable losses every quarter. The share price has recently doubled from a sudden increase in attention on Twitter.
Recent attention has been focused on NextBank, one of NXTP's subsidiaries. As White Diamond Research is located in Puerto Rico, near NextBank's HQ, we visited the HQ to check it out, and video recorded our findings. See the video here. We also interviewed NextBank's outsourced attorney, Teresa Jimenez-Melendez, and its Chief Administrative Officer, Carla Mendez. We quote parts of those interviews in this report, but aren't including them in the video, because it's illegal to record a conversation in Puerto Rico without all parties' consent.
NextPlay's Stock Pump
The following is a three-month chart of NXTP: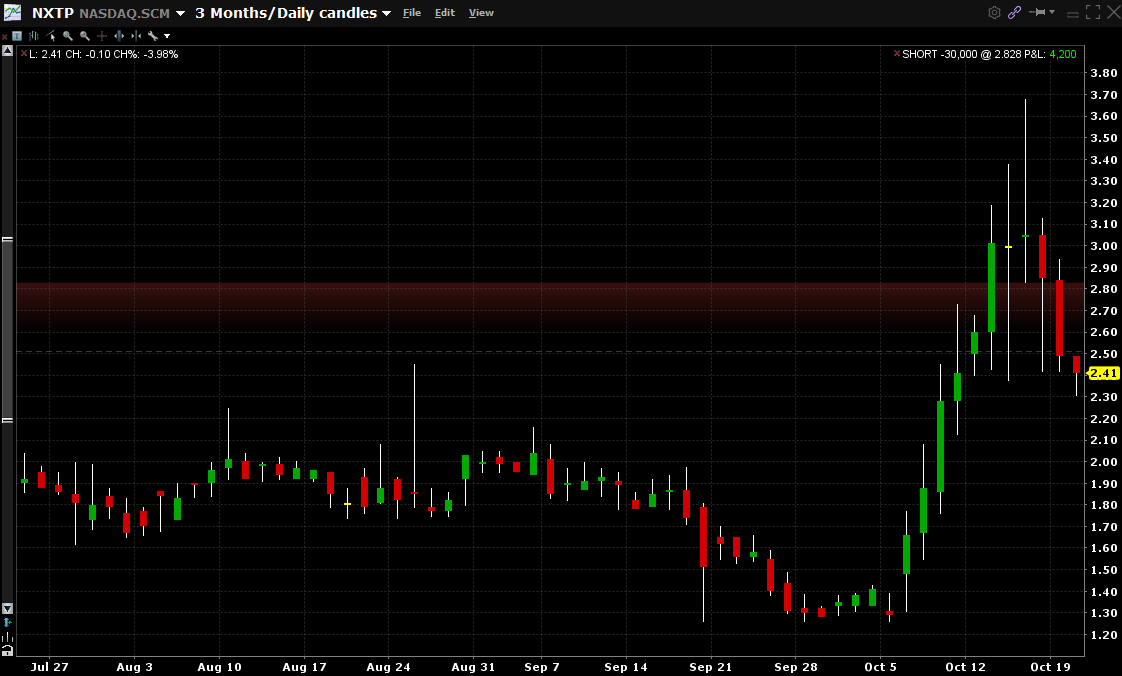 Source: 3-Month price chart NXTP
As shown in the chart above, NXTP had previously been falling over the past month. It closed at a previous high of $2.04 on 9/3/21, and then reached a 52-week low of $1.26 on 10/5/21. Then, over the past couple of weeks, it has been pumped up with interest on fintwit to above $3 per share on no news. It has since been falling as the pump has seemed to have subsided.
NextPlay's Hazardous Financials
NXTP has generated very little revenue and, at the same time, has big losses. That's a hazardous combination for shareholders, because while its businesses are still on the ground, the company is burning a lot of cash. This high cash burn will require more stock dilution. All of the acquisitions that NXTP has made over the past year each cost a lot to run.
NextPlay's Dilution
NXTP reported in its 10-Q for quarter ended 5/31/21 $7.5M in cash and $9M in debt. So the company is running low on cash. The company filed an S-3/A filing on 9/24/21 for a $100M shelf, which suggests they plan on doing an equity raise soon. The use of proceeds are stated to be for "working capital and general corporate purposes."
On 10/18/21, the Co-CEO, Ms. Boonyawattanapisut, filed the exercising of 1.99M warrants at $2 per share. The exercising of these warrants will give the company about $4M in needed cash. But it also dilutes the outstanding shares. We believe it's likely that she will sell these shares in the open market, pushing the share price down below $2.
NextPlay's Revenue
NXTP's business revenue has been insignificant. In its latest 10-Q for quarter ended 5/31/21, NXTP's $10.7K in revenues were all from what it labeled "Travel revenues". NXTP didn't report any other revenues from its other businesses. As shown below from the 10-Q: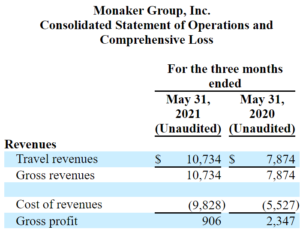 However, $10.7K is not really the company's revenues. That's what the customer pays the company for the travel package. The cost of revenues is what NXTP pays for those travel packages. This is evident from the following statement in the 10-Q:
"Revenue for customer travel packages purchased directly from the Company are recorded gross (the amount paid to the Company by the customer is shown as revenue and the cost of providing the respective travel package is recorded to cost of revenues)."
It's like if I sold a Hawaii package on my website for $1K, and I record $1K in revenue but I'm only selling the certificate and the travel company gives me a commission of $100. That means my ACTUAL revenue was only $100. So, in reality, the revenue to NXTP for the entire quarter ended 5/31/21 was actually a piddly $906. Not even one thousand dollars!
Looking at the company's 10-K for the year ended 2/28/21, again it shows that the only revenues were Travel revenues, as shown below: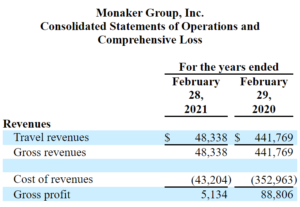 Like the quarter ended 5/31/21, the actual revenues that NXTP made for the year ended 2/28/21 was much less than the Travel revenues, only $5.1K for the year.
On 10/18/21, NXTP filed an NT 10-Q. This states that NXTP wasn't able to file its 10-Q for the quarter ended 8/31/21 on time. However, this filing did state that NXTP will expect to report total revenue of $2.6M for the six months ended 8/31/21. It states that the increase in revenue is a result of the reverse acquisition of HotPlay.
And NXTP expects to report a net loss of $9.7M for that period. As the company reported a loss of $7.5M for quarter ended 2/28/21, that means it reported a loss of $9.7M-$7.5M = $2.1M for quarter ended 8/31/21. It's not as big of a loss as Q121, but it is still substantial for a company with miniscule revenues.
NextPlay Has Been Acquiring Strange Businesses That Have Zero Revenues For Over $10M Each –Who Is Pocketing That Money?
NXTP has been acquiring businesses over the past year for large sums considering that they have little to no revenues. Looking at each one:
HotPlay
On 7/7/21, NXTP announced it has closed on the acquisition of 100% of the outstanding shares of HotPlay. HotPlay is a provider of in-game, AI-powered advertising technology.
It was acquired for 52M shares of NXTP common stock. Which, at $2.50 per share, comes out to a total of $130M. Quite a hefty sum for this subsidiary that only produced about $2.6M in revenue for NXTP, as the company expects to report for Q221, the quarter where NXTP recognizes HotPlay's revenue.
HotPlay's CEO was Ms. Boonyawattanapisut, who is the third wife of NXTP's chairman, Todd Bonner.
Penny stock Axion Ventures (OTC: AXNVF) filed a claim against NXTP (formerly Monaker Group) on 1/14/21. The Claim states, among other things, that Mr. Bonner and his wife effected the unlawful transfer (the "HotPlay Theft") of Axion's digital marketing and in-game advertising software and intellectual property from Axion eventually to HotPlay (Thailand).
The case is ongoing. So it's possible that NXTP may not be able to keep HotPlay.
NextBank
NXTP describes NextBank:
"Acquired by NextPlay in July, NextBank is an International Financial Entity (IFE) operating under the laws of the Commonwealth of Puerto Rico. NextBank is licensed under Act 273 by the Office of the Commissioner of Financial Institutions (OCIF), and currently offers concierge banking services and lending products to successful entrepreneurs and companies. For more information visit https://next.bank/."
NextBank was formerly called "International Financial Enterprise Bank" (IFEB).
NXTP stated in this PR from 7/27/21:
"Consideration for the IFEB purchase included a $6.4 million cash payment made in April 2021, for a 57.1% ownership of IFEB and a further payment of $4.8 million to acquire the remaining 42.9% of IFEB."
As stated above, NXTP paid a total of $11.2M for NextBank. Why would NXTP pay this much for a bank with no business? It's just starting from scratch with no revenues and apparently only one employee right now, Carla Mendez, the Chief Administrative Officer.
We also interviewed the attorney, Ms. Jimenez-Melendez. We asked her:
They paid $11M for NextBank, is it really worth that much? They don't have any business. Why would they pay that?
She hesitatingly answered:
Well because, it's under a special tax incentive law, that has value, it takes time to establish that. It's a process that for NextBank has been going on for years. It takes time.  
Therefore, essentially NXTP paid over $10M for simply a license to do business in Puerto Rico.
Who received that $11.2M? One has to wonder if there's any self-dealing going on. We show more details on NextBank from our due diligence later in this report.
Reinhart TV
NXTP describes its Reinhart TV division as a "Monaker-funded strategic partnership" and a "special purpose vehicle sponsored by Reinhart Capital to consolidate technology providers in the digital TV space.
NXTP's SEC filing from 4/6/21 states:
"The Investment Agreement contemplated the Company acquiring 51% of the ownership of Reinhart, in consideration for 10,000,000 Swiss Francs (approximately $10.8 million US),"
Just like how they purchased NextBank for about $11M, they acquired an ownership in Reinhart for about $11M. Why make this acquisition? The company hasn't reported any revenues from Reinhart. Who actually received this $11M?
This PR from 4/6/21 states that the new venture made an acquisition, but doesn't say what it paid for it, or what exactly the acquisition was. Only that they acquired "a leading and award winning Interactive TV supplier, founded in 2001 by former employees of Philips Media."
Reinhart TV AG address is a residential address. Jan Reinhart likely runs the business out of his house. As shown on Google Maps. The residential address photos are below: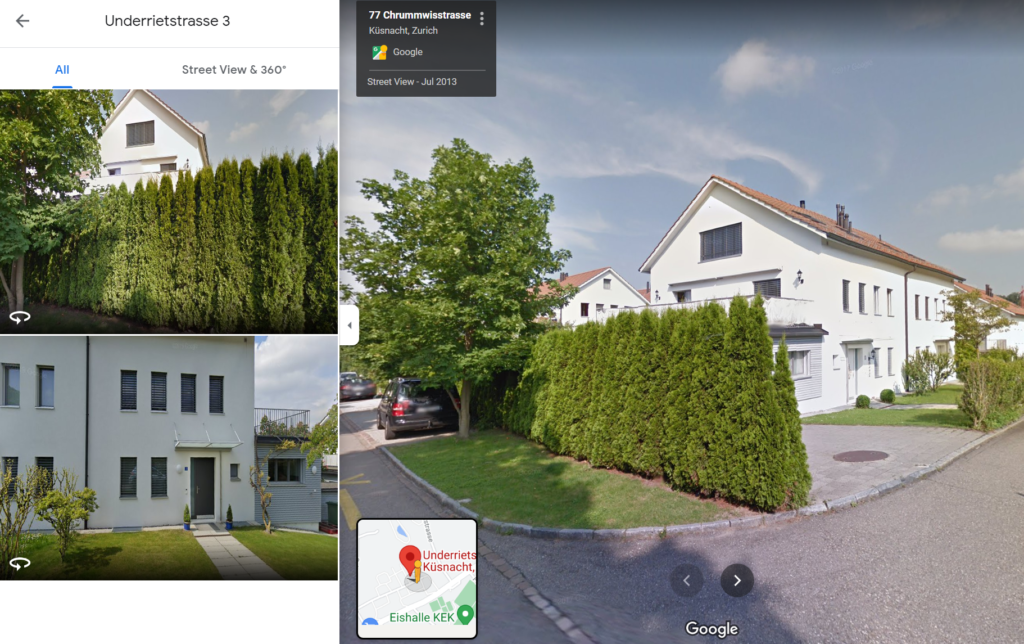 Make It Games
On 8/23/21, NXTP filed that its acquiring the IP for "Make it Games" for $5M in stock. No info was given regarding revenue.
Axion Ventures – NextPlay Executives' Previous Vehicle for Related Party Transactions And Shareholder Value Destruction
John Todd Bonner and his wife, Nithinan Boonyawattanapisut (aka "Jess") are currently the Co-Chairman and Co-CEO of NXTP, respectively. Bonner was the CEO of Axion Ventures (AXNVF) and Jess helped to manage some of AXNVF's subsidiaries. AXNVF focused on online video gaming, NXTP also has video gaming subsidiaries.
The following is a 3-year chart that shows the swift fall of the AXNVF share price: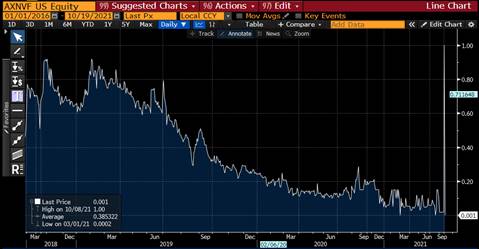 As shown above, AXNVF traded close to $1 in 2018, and now trades at $0.001.
Bonner and Jess' received a lot of money in 2019 for related party transactions and managing AXNVF subsidiaries.
Earlier this month, the court ruled for Axion and against Bonner. This PR from 10/4/21 states:
"The judgement specifically acknowledged the Company's position, "there are some issues that are so serious they require the employer to "walk the employee to the elevator", and this was such a situation as "The company had to be protected from the employee."
The above statement is regarding Bonner. It suggests he was a danger to Axion, as he had to be walked to the elevator and Axion "had to be protected" from him. He's not a good guy, certainly not to be trusted by NXTP shareholders.
A creditor of AXNVF was awarded relief in a lawsuit against Bonner and Jess, as stated in this PR from 4/15/21. It states:
"Mr. Hirakawa commented, "This crucial award by the British Columbia Supreme Court sheds further light onto the conduct of Todd Bonner and his third wife, often known as Jess amongst many other aliases. As an Axion shareholder, I am confident that the voting at the upcoming Annual and Special Shareholders Meeting of Axion shall reflect the desire of Axion's other shareholders to rebuke this conduct. There are many other innocent people who have fallen as victims to Todd Bonner and Jess, and I understand that the BC Supreme Court made another similar award for 5 other claimants from Japan for 3,470,626 shares of Axion."
Right now, the "innocent people who have fallen as victims to Todd Bonner and Jess", are likely going to be NXTP shareholders.
NextPlay Is Now Promoting NextBank Which Is Fueling The Recent Stock Pump
On 10/15/21, NXTP tweeted from their twitter account: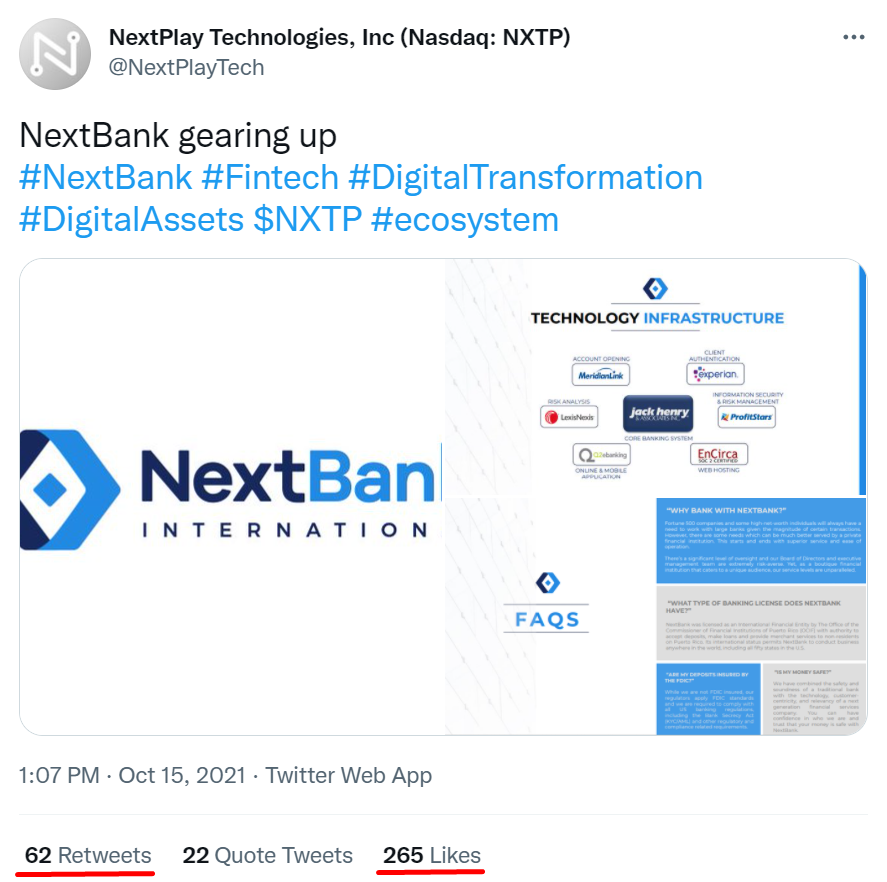 Notice above we underlined the amount of retweets and likes which was 62 and 265, respectively. What's interesting about this, is NXTP has so little Fintwit interest in previous tweets. The amount of likes and retweets have previously been below 10. For example, here is a tweet they did from 10/7/21 that only received 1 retweet and 6 likes. Looking at this tweet from 9/30/21, and this tweet from 9/29/21, there were less than 10 retweets and likes for each.
That tells us that there is at least a 20x rise in interest in this stock recently from Fintwit due to promotion. This increased interest has shown up in a rapid rise in share price.
It likely went up just based on hype regarding their subsidiary, NextBank. Looking at what NXTP put in their tweet on NextBank, there are some interesting points. One point, which is a red flag, is their bank isn't FDIC insured. From the tweet:

What does it mean for a bank to not have FDIC insurance? As stated on Investopedia here, when a bank is FDIC insured, the FDIC will protect the bank's customers in case the bank fails. So since NextBank isn't FDIC insured, that means if it fails, its customers have no guarantee that they will recover all of their funds.
Another interesting part of the tweet asks the question "WHY BANK WITH NEXTBANK?" But they don't give a good reason in the answer. It shows:

Above it states that NextBank gives "superior service and ease of operations". How does NextBank have "superior service and ease of operations" compared to Puerto Rico's most popular bank, Banco Popular, for example?
Also, we underlined above the statement regarding NextBank "a private financial institution". But NextBank isn't private, it's part of a publicly traded company, NXTP. What do they mean by "private"?
NextBank Will Likely Never Generate Much Revenue, Like Its Neighbor, Elite Internaional Bank
As we show in our boots on the ground video checking out the NextBank HQ, the Elite International Bank office is right across the hall from NextBank. These are shown in the video screen shots below: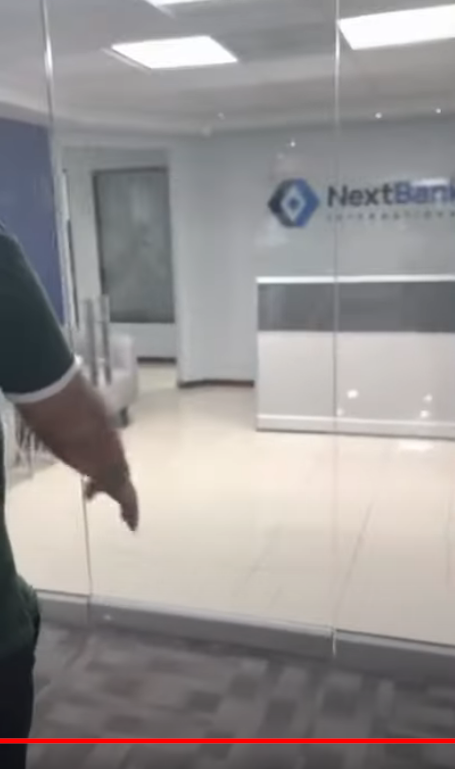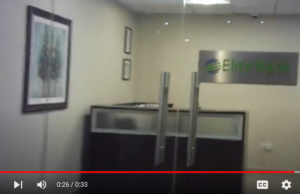 Both of the above screen shots are from this 30 second YouTube video.
We spoke to Carla Mendez, the Chief Administrative Officer of NextBank. We asked her:
Is NextBank similar to Elite Bank here?
She replied:
Yeah, and you'll find most of the international banks throughout the building and throughout the financial district. We typically work the same. Others are focused on different regions, South America. But we are more focused on Asia, Europe, and South America.
None of the international banking charters accept Puerto Rican residents. Elite Bank is the same charter but they offer different products.
As they are the same type of business, we can expect NextBank to do about the same business as Elite Bank – at best. Elite Bank has been around much longer. This site shows info on Elite International Bank shown below: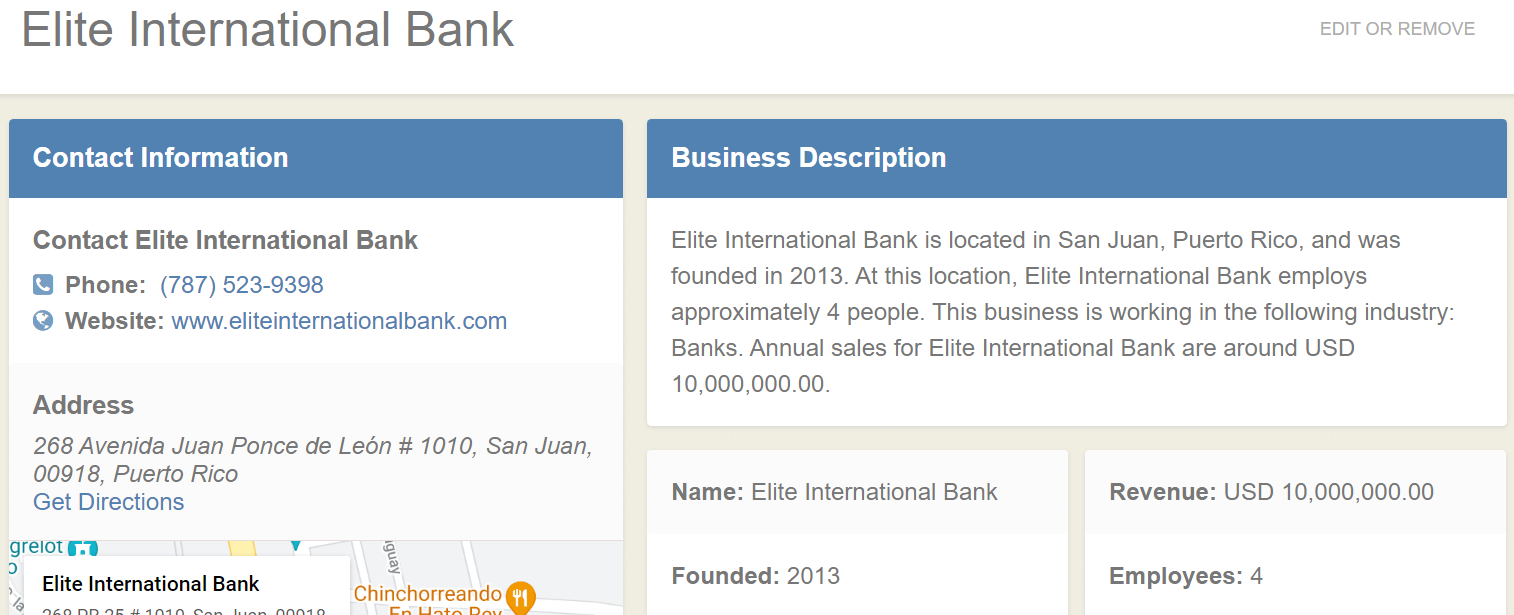 As shown above, Elite International Bank was founded in 2013. It has 4 employees and only makes $10M in revenues per year. So after 8 years in business, Elite Bank only makes $10M in revenues. This site estimates that Elite International Bank makes less than $5M per year. NextBank is likely on that same path. Therefore, by around 2029, we can expect NextBank to make $5M-$10M at best – if it remains in business that long.
Here is a review of Elite International Bank on Glassdoor.com back in 2015: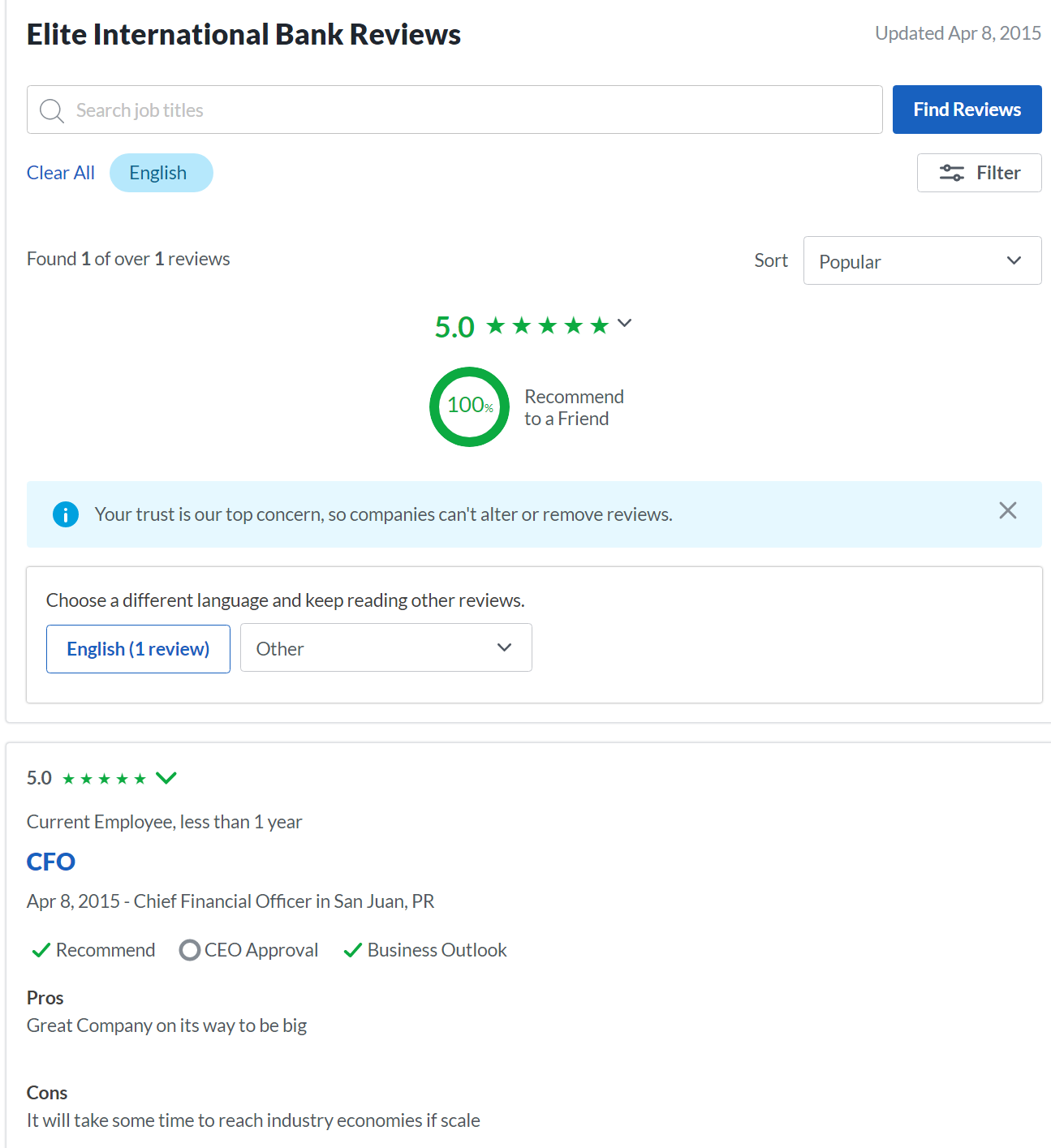 How many customers does NextBank have right now? Evidence suggests very little, perhaps none. The following is info on their app from Google Play. It's titled by its former name, International Finance Enterprise Bank: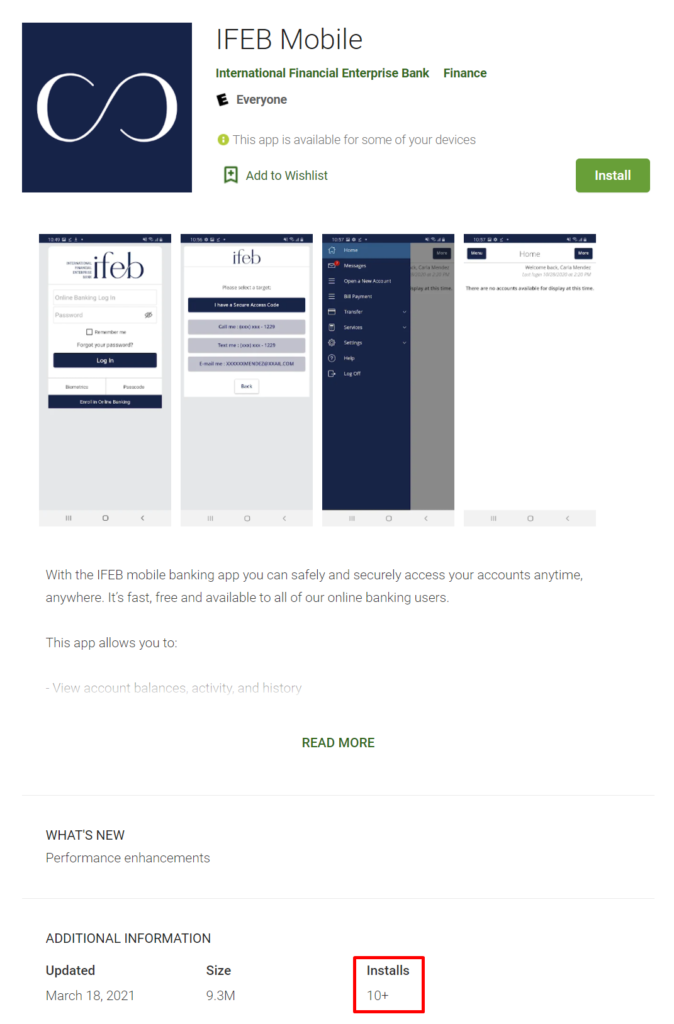 As shown above, their app has only received 10-50 installs.
Conclusion
None of NXTP's businesses appear to have much potential to generate significant revenues. Its subsidiary that it acquired for over $100M, HotPlay, is allegedly theft and may not end up with NXTP. Or NXTP will have to pay more for it, depending on how the courts decide on the lawsuit.
Mr. Bonner and Jess ran AXNVF into the ground at shareholders expense while enriching themselves along the way with insider dealing and related party transactions. With NXTP also making questionable acquisitions, NXTP appears to be going down the same route.