Reliq Health Technologies – Masquerading As a Healthcare Technology Company But Is Really Based On Stock Promotion and Lies
Reliq Health Technologies (RHT.V or OTC:RQHTF) founders, Eugene Beukman and Aman Thindal, have a history of stock promotion of worthless Canadian penny stocks. Reliq is just one of the many companies they've promoted and we think it will suffer the same fate as the others, with almost 100% downside.
We contacted several of Reliq's so-called partners, who said they aren't partners and never were. Such as Cognizant, which revealed to us that Reliq is only a customer, not a partner as some shareholders believe.
Reliq's CEO Lisa Crossley has a history of misleading investors about clients, partnerships, and revenue projections, to the point that a petition on change.org is asking for her resignation.
Reliq's revenues are miniscule, despite huge projections over the years from customers that our research shows most likely do not even exist.
Reliq's Q421 earnings report had an abnormally high increase in accounts receivable, suggesting that it's low-quality revenue. We've seen this with Reliq's financial misstatements in the past.
Reliq tumbled 90% in 2018 due to the company's admittance of fraud and needing to restate its financials. The share price has partially recovered and we see a deju vu happening.
Reliq Health Technologies is a health information services company based in Ontario, Canada. Its only product is its iUGO Care platform, which is supposed to be a software program that allows complex patients to receive care at home. Much of this company's characteristics are that of a pump and dump more than a real company.
Reliq was started by a group of penny stock financiers with a shady past. We researched most of the companies these two individuals have been involved in, and the results are alarming. Reliq's current CEO, Dr. Lisa Crossley, was hired in 2016 and has clearly been in on their scheme from the beginning. Right after they hired Crossley, they acquired a company she helped create only three months earlier, CareKit, in a related party transaction, and she gave herself a huge payday in shares. It's questionable whether this is even legal.
Despite the company's forecasts of $10s of millions of revenues for some of its many claimed customers, the company has never generated anything significant over the past five years. Its miniscule revenues have been accompanied by large losses of usually over $10M per year, including for the current fiscal year.
Reliq Health Has A Dishonest CEO Enriching Herself At Shareholder Expense
There is a petition on change.org to fire Crossley due to all of the misinformation she has spread about the company, such as sales and partner announcements.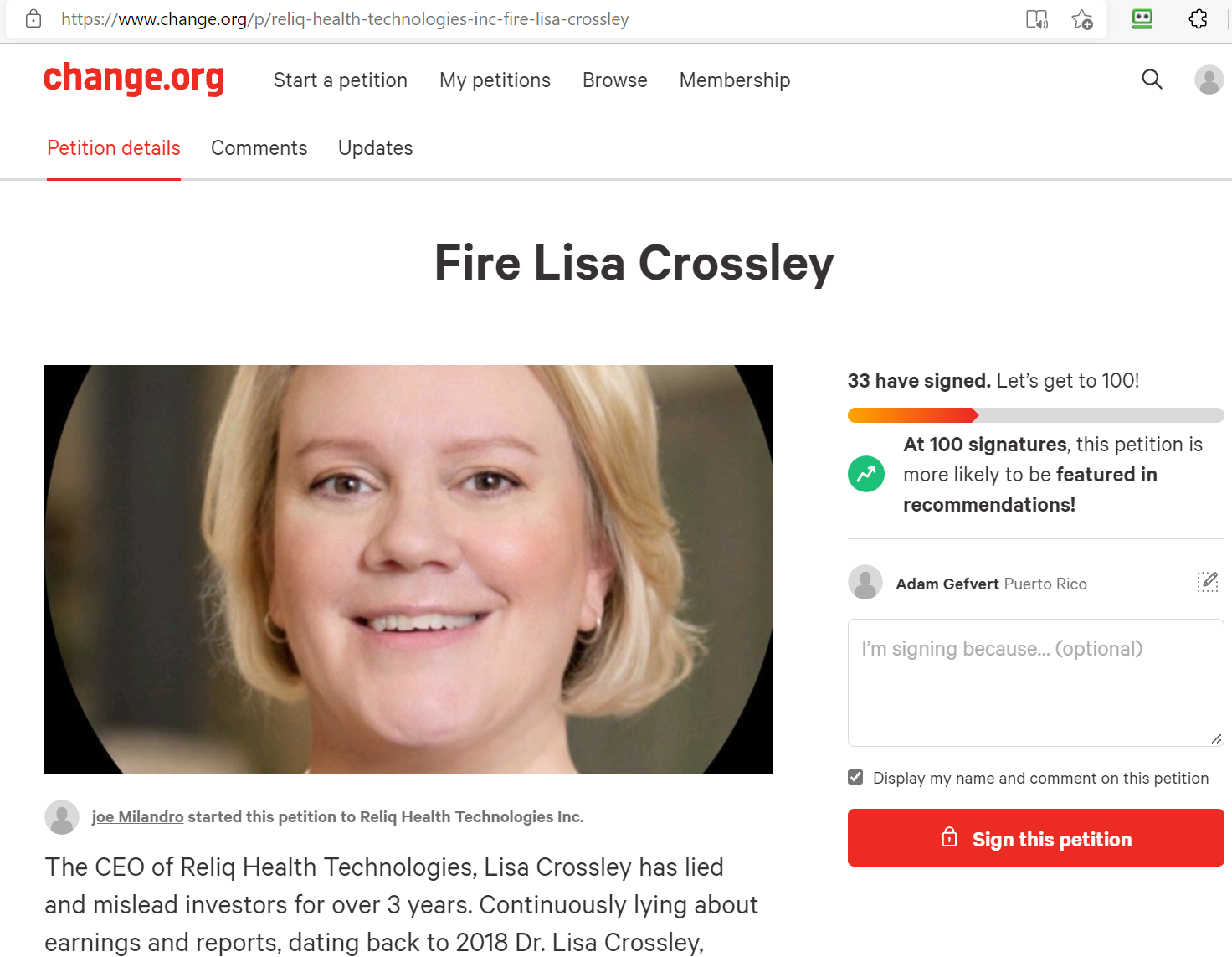 Source: Change.org
Evidence suggests Crossley is currently misrepresenting the company's revenues, partners, and customer wins, and will continue doing so. We've spoken and emailed with supposed Reliq customers and partners, and they responded that they are either in reality unaffiliated with Reliq or have a different type of relationship than what Reliq tells investors. Crossley has also enriched herself with cheap Reliq stock and options at shareholder expense.
Reliq Health Appears to be Going Through A Pump & Dump Déjà Vu
In 2017, Reliq put out a flurry of PRs claiming to have many new customers and partners, and forecasting outrageous revenue projections which we list later in this report. But these have turned out to be mostly fiction, as Reliq has struggled to generate any significant revenue and continues reporting huge losses.
In January, 2019, Reliq ended up suing its employees for fraud claims that resulted in the restatement of the company's financial statements on 10/16/18. The lawsuit was settled out of court.  As a result, Amin Thindal resigned from both the Board of Directors and his CFO position, leaving the company.
Due to this fraud and financials restatement, the stock price tumbled from CA$1.95 in July 2018 to below CA$0.30 in December 2018. See the RHT chart below: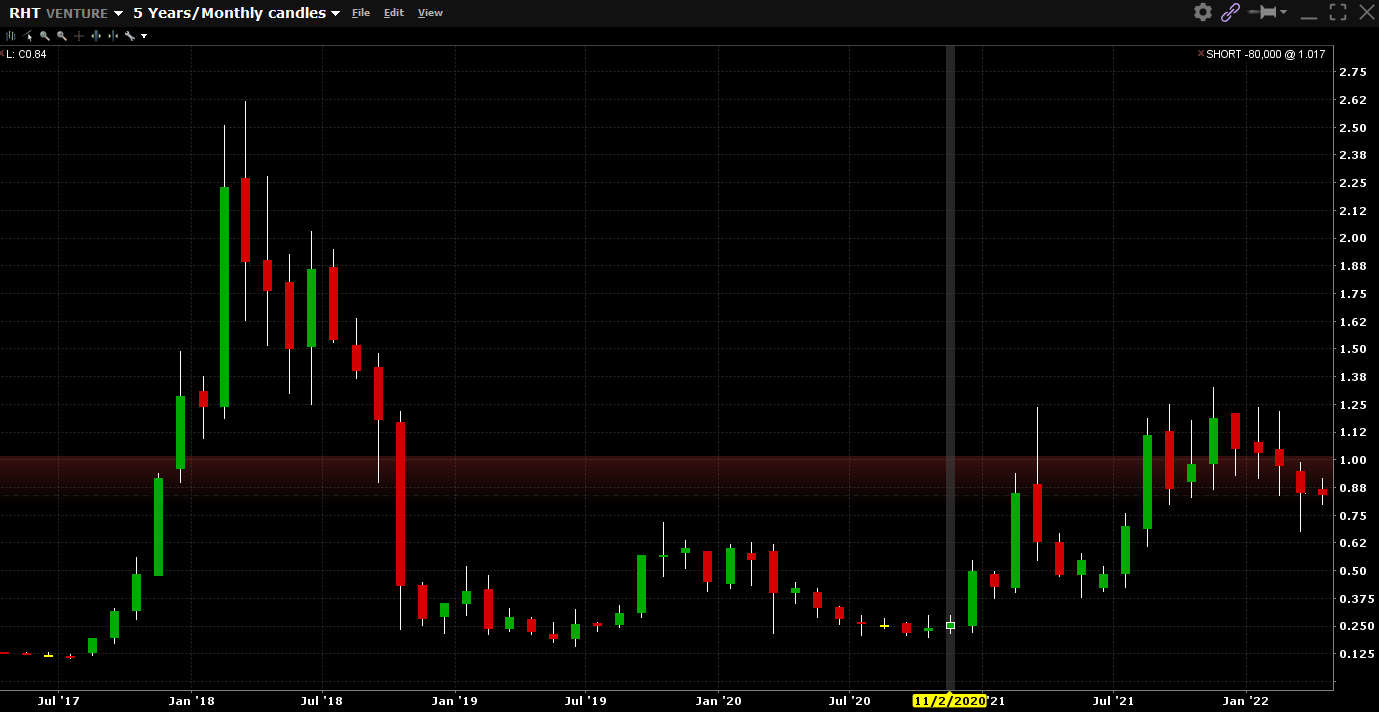 However, the primary person behind the fraudulent statements was, logically, the company's CEO Lisa Crossley. But the company didn't get rid of Crossley for some reason. Now she's back to making misstatements about the company's revenues, customers, and partnerships. And the stock has come back up with a new crop of investors who likely didn't know about the company's fraud in 2018. We foresee history repeating itself, with possibly another admittance of fraud by Reliq, and the stock crashing again to pennies.
Reliq Health's History
Reliq Health was started in 2015 by penny stock promoters Eugene Beukman and Aman Thindal.  They both are notorious Canadian stock promoters. Their backgrounds are founding and investing in a mountain of failed Canadian companies across the board. Thindal has invested primarily through his investor relations firm and financing company, Hamza Thindal Capital. Beukman's resume is so long, we detail his background at the end of this report in the Appendix.
The following is a timeline of key parts of the company's origin and history:
On 4/22/15, the company started as a reverse take-over as it changed its name from Mobsafety to Moseda Technologies.
On 7/31/15, Aman Thindal joined the company as the new CFO, and Eugene Beukman joined as a Director.
On 8/18/15, Moseda retained Hamza Thindal Capital for corporate development. This was Aman Thindal's company, so it's a related party transaction which wasn't stated in the PR.
On 1/18/16, Moseda hired Dr. Lisa Crossley as the new CEO.
Moseda Acquired CareKit Health (where the current company really started)
On 2/9/16, Moseda's PR for the CareKit acquisition describes it as:
"a commercial stage healthcare technology company that has built a comprehensive hardware and software platform that allows complex patients to receive high quality care in the home, improving health outcomes, enhancing quality of life for patients and families and reducing the cost of care delivery."
The PR also states:
"Moseda has acquired CareKit Health by way of purchasing all of the shares of CareKit and has issued to the CareKit shareholders a total of 600,000 Moseda shares and 9,400,000 Moseda performance warrants at a deemed exercise price of $0.20 per share with an exercise term of 3 years."
The above PR shows CareKit was acquired for only $2M in a stock-only transaction with stocks and warrants.
As shown in companiesofcanada.com, CareKit Health was started on 11/4/15, as shown in the screen shot below:

Therefore, CareKit was only in business for three months before getting acquired by Moseda. It likely was created by Moseda executives just for this specific transaction.
Furthermore, it doesn't state in the PR that this is a RELATED PARTY TRANSACTION! This is illegal. Publicly traded companies are required to disclose related party transactions. Lisa Crossley and Eugene Beukman were officers at CareKit:
Source: Companies of Canada
Essentially, Crossley gave herself a bunch of free shares.
Continuing Reliq's history:
On 5/4/16, company changed its name from "Moseda Technologies" to "Reliq Health Technologies."
On 5/10/16, Reliq changed the name of its only subsidiary and product, CareKit Health, to
"iUGO Health."
On 1/19/17, Reliq develops a mobile app for patients who are prescribed medical marijuana. Likely this PR was solely to be a part of the cannabis sector that was hot at the time. The company likes to post PRs related to hot industries. There hasn't been any mention of the cannabis sector since this PR.
See below only some of Reliq's broken promises made over the years since 2017:
The above contracts total over $100M in revenue per year. However, the company has historically made less than $2M per year in revenue. Compare the above projections to Reliq's actual tiny revenue and operating losses:

The following are some of Crossley's statements regarding their crazy contract projections that never panned out (from their website news page):
4/5/18 Paz Home Health Contract
Crossley: "As a result of becoming an Approved Provider, Paz has increased their registered Medicare/Medicaid homecare clients to over 15,000 patients across Southern Texas. Paz Home Health has successfully demonstrated the benefits of using Reliq's iUGO Care remote patient monitoring system to improve health outcomes and reduce hospital admissions and ER visits in their patients."
12/16/20 Texas/Puerto Rico Contract
"We are very pleased to have added fifteen new clients to our customer base in Central and North Texas and Puerto Rico," said Dr. Lisa Crossley, CEO of Reliq Health Technologies, Inc.  "These clients have over 12,000 eligible patients who will be using Reliq's iUGO Care Software and Care Management services, at an average revenue of $65 USD per patient per month…The Company remains on track to achieve cashflow positive in Calendar Q1 2021."
6/15/21 Regional Clinic in Nigeria Contract
"Nigeria has a population of over 210 Million people," said Dr. Lisa Crossley, CEO of Reliq Health Technologies. "Over 4 Million Nigerians have diabetes and over 8 Million have hypertension…We expect to start onboarding in July."
9/14/21 Dallas Practices Contract
"We are excited to continue our expansion in the Dallas, TX area," said Dr. Lisa Crossley, CEO of Reliq Health Technologies, Inc… Through these contracts Reliq will be providing our iUGO Care software platform to over 1,800 Medicare patients.  Onboarding with these clients will start this month. Reliq expects to receive an average of $40 USD per patient per month for these deployments."
Reliq Health Claims To Be Working With Cognizant – But It's Not In Their Partner Network
On 1/5/22, RHT issued a PR claiming to announce an agreement with Cognizant to:
"leverage Cognizant's Care Management resources for future deployments of Reliq's iUGO Care software to large scale clients."
In Reliq's PR, Crossley was quoted stating:
""We are excited to be expanding our Care Management capabilities by leveraging Cognizant's extensive resources, network, and experience in healthcare".
However, notice that there's no quote from a Cognizant executive in the PR, or anywhere else. Isn't Cognizant also "excited" about the agreement?
Reliq shareholders stated that they believed Reliq is a partner of Cognizant. As alluded to by the following statements from ceo.ca/rht:
"With this Cognizant Partnership I see Reliq made an attempt to make available again some of those opportunities with big clients they said they had before"
"Cognizant first partnered with Reliq and started learning about platform for RPM and other virtual care services."
"Reliq is THE remote patient monitoring PROVIDER for Cognizant including Microsoft"
"Dr. Crossley's continues to insist the Cognizant partnership will mark an "inflection point" for Reliq's business."
"I/we reached out to Cognizant Investor Relations to see how the Reliq deal might impact Cognizant's business model and indirectly, perhaps, gain some insight into how the other party to the deal might perceive RHT to benefit. Unsurprisingly, we received the equivalent of a no comment, and the suggestion to reach out to Reliq's IR team instead."
However, Reliq isn't listed in Cognizant's extended network, as shown below: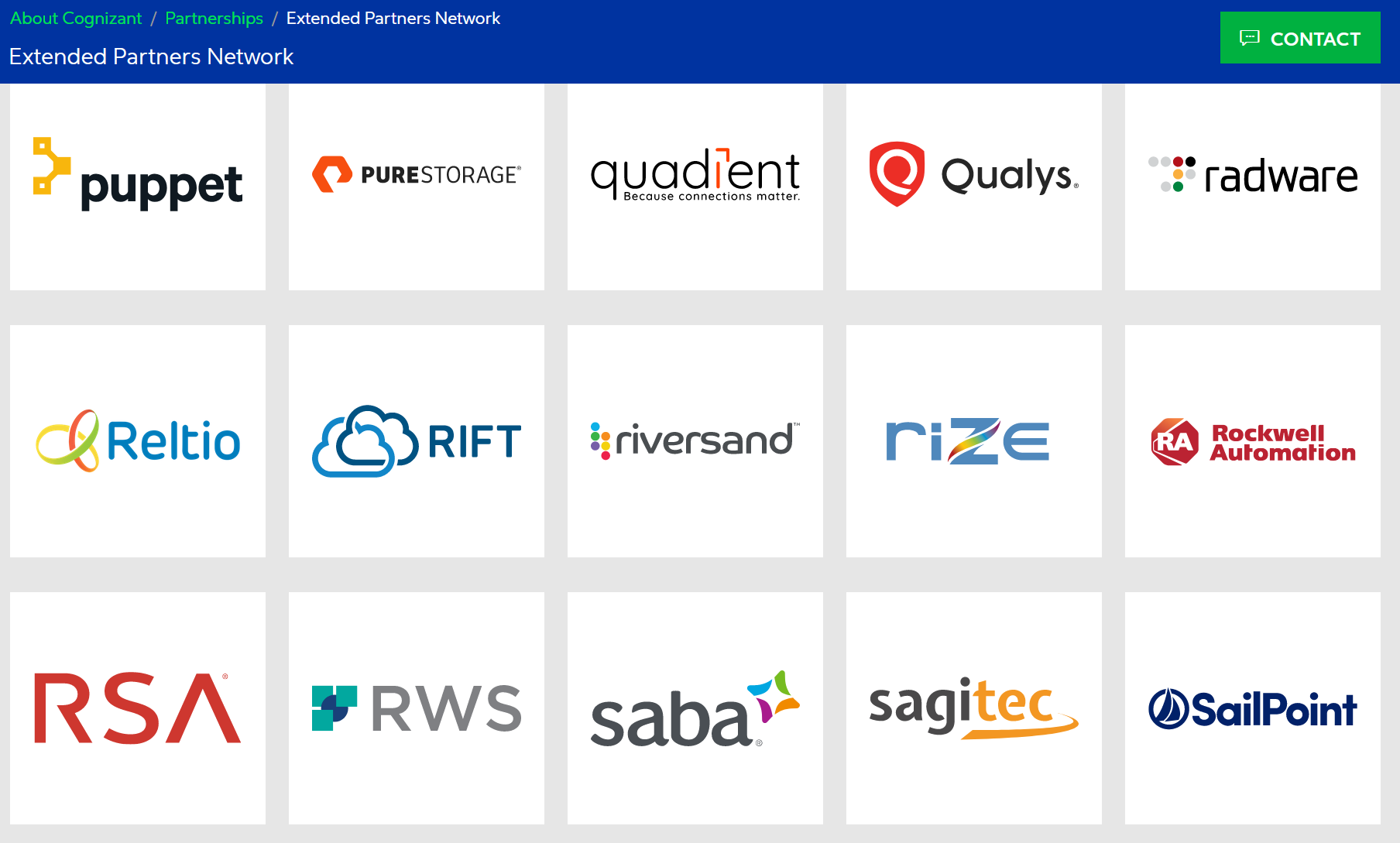 Source: cognizant.com
Out of over 100 companies shown on Cognizant's extended network, where is Reliq?
We contacted Cognizant to figure out why Reliq isn't on the above list. Cognizant responded by email: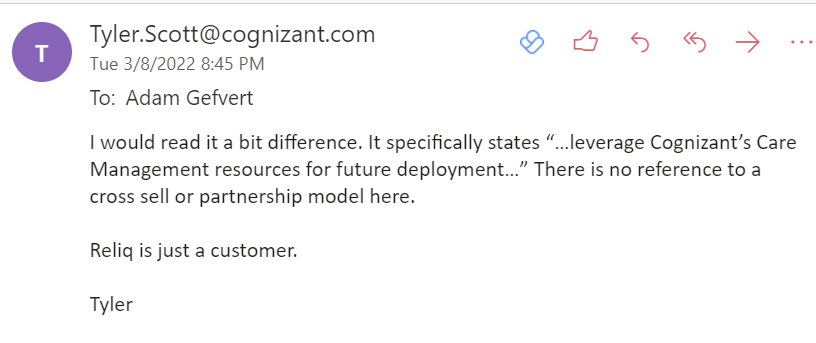 From that information, we understand that Reliq is a customer of Cognizant, and is paying for its services. Crossley never mentioned that Reliq was a customer, but made it seem like they are more like partners.
Crossley stated in an interview on Wall Street Reporter on 1/11/22, that Cognizant will be a subcontractor for Reliq. That means Reliq is paying Cognizant. She stated:
"Cognizant has a whole care management unit, so they can supply, instead of us paying internal resources, we'll allocate the same amount of money to basically subcontract that to cognizant…"
Speaking To So-Called Partners and Customers Shows That They Are Not Really Working With Reliq
The following are more companies we contacted that Reliq claims it's working with:
MaxMD
On 3/7/22, we contacted MaxMD. On 2/26/20, Reliq published a PR regarding a partnership with MaxMD that stated:
"We are thrilled to partner with MaxMD to leverage the rich data their technology platforms can provide for clinicians, healthcare systems and payors," said Dr. Lisa Crossley, CEO of Reliq Health Technologies, Inc.  "MaxMD has customers in all 50 States and Puerto Rico, and we are excited to introduce their client base to our Remote Patient Monitoring (RPM) and Chronic Care Management (CCM) solutions."
However, when we inquired about the relationship, here's how MaxMD responded by email: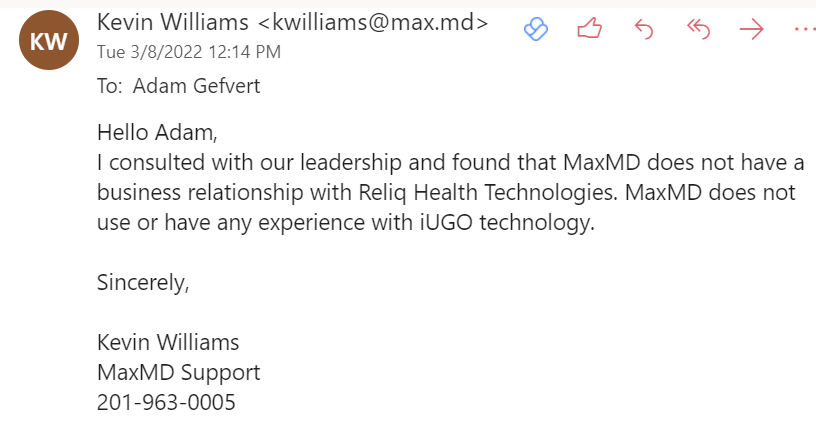 Blum Telehealth
Also on 3/7/22, we called up Blum Telehealth and spoke with its COO, Brian Yoffe, and we heard a different story than what Reliq told. The following was our conversation:
Brian Yoffe (COO Blum Telehealth): Hi, this is Brian.
Adam: Hi I'm Adam Gefvert, I'm a technology analyst, and I'm checking to see if you are still using the iUGO telehealth software?
Brian: I am not at this point.
Adam: OK. Did you guys try it out at all?
Brian: Um, well, yes and no.
Brian was unable to give more details at the time. However, it's clear from our brief conversation that Blum Telehealth's relationship with Reliq didn't go well, if it went at all.
Reliq has published two PRs about its partnership with Blum Telehealth.
On 2/21/20, Reliq published this PR which quoted Blum Telehealth:
"We selected Reliq as our RPM/CCM partner after a comprehensive international search for the best in class RPM/CCM platform," said Steve Clark, CEO of Blum Telehealth.  "Blum provides telehealth solutions to thousands of healthcare stakeholders and we are pleased to be able to offer Reliq's iUGO Care solutions to our clients.  At Blum we are committed to reducing health care costs and improving health care for patients and communities."
On 3/2/20, Reliq published this PR with a quote by Crossley:
"We are very pleased to be working with Blum Telehealth to bring our iUGO Care Chronic Care Management (CCM) and Behavioral Health Integration (BHI) solutions to more than 50,000 patients throughout Louisiana," said Dr. Lisa Crossley, CEO of Reliq Health Technologies, Inc… Each patient on the platform will generate between $30 and $100 USD per month in revenue, depending on the modules and services required for the given patient.  We expect to complete onboarding of all patients within the next 12 months."
Reliq's Q421 Financial Report Results Are Worse Than They Seem
On 3/2/22 Reliq reported its financials for quarter ended 12/31/21. Revenue increased to $3.75M during the period 6/30/21-12/31/21 from $0.84M during the period 1/1/21-6/30/21.
The company's accounts receivable (A/R) increased substantially. That suggests that the revenue that Reliq claims to have made is low quality revenue.
Looking at Reliq's increased A/R over the past two years:

On 4/7/22, Reliq reported that it received its A/R of over a year old. But didn't provide any details. They didn't say how much they received, and didn't mention anything about recent A/R. Recent A/R is a bigger issue for Reliq, as they claim sales are growing but it's low quality, A/R sales.
The Vast Number of Pump and Dump Penny Stocks of Eugene Beukman
As mentioned earlier in this report, former Reliq executives and founders Eugene Beukman and Aman Thindal have a history of running penny stock pump and dumps and failures. The following are more details on Beukman's extensive penny stock history.
Beukman's career has only been associated with failed penny stocks and every company he is a part of either has either dropped significantly and/or got delisted. See Beukman's Bloomberg Profile. His main occupation is a corporate consultant of public companies through Pender Street Corporate Consulting, where he is the President.
The following is a handful of some of the penny stock scams he has been a part of: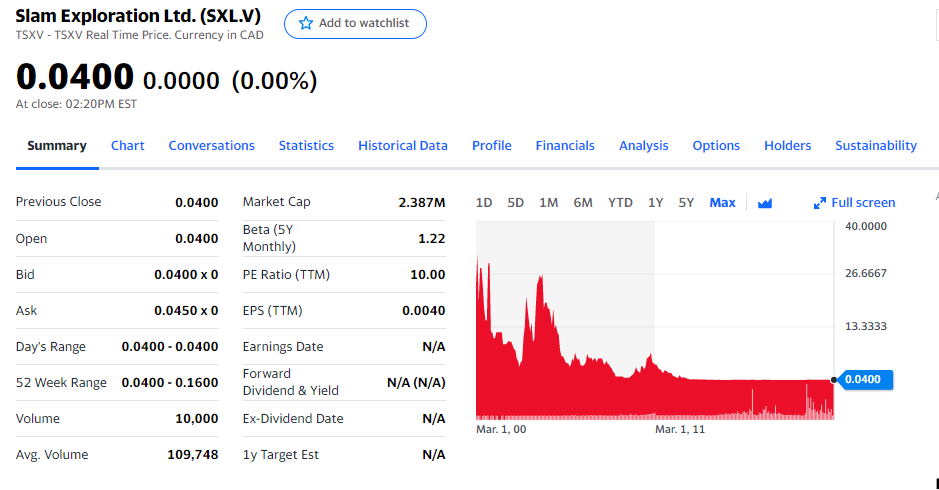 See our entire list of Beukman's penny stock pumps and his position/role in each one in the Appendix below.
Conclusion
Reliq's revenues have continued to be insignificant, even with the jump in Q421. The significantly increased accounts receivables in Q421 should leave investors even more concerned. Reliq consistently publishes PRs claiming it has new clients, with very little detail.
With Crossley's history of dishonesty, as well as continually low revenues, we believe it's likely that most of these new customers are fictitious. Further evidence of the company's misrepresentations came from us contacting some of its "partners". Two said they don't work with Reliq, and one said Reliq is simply a customer. It seems like "Déjà vu" is happening with the company committing fraud just as it did in 2018 and after admitting it, the stock fell 90%+.
Reliq is now very low on cash, reporting only $668K in Q421. It is doing its best to publish many new PRs, likely to attempt to boost the stock price in order to do an equity raise. Investor beware.
Appendix
Reliq Health is just another one of co-founder Eugene Beukman's worthless penny stock scams. See the huge list of most of them below. See the same list with some associated ugly charts here.
On the board of

Black Isle Resources Corp 05/2018–PRESENT

Also CEO and Secretary
market capitalization is CA$647,273 as of today

International Cobalt Corp 03/2017–PRESENT

Also interim CFO
Stock Is currently halted pending fundamental change
Market cap of less than $5million

Reliq Health Technologies Inc 05/2016–PRESENT
Slam Exploration Ltd (SXL.V) 07/2013–PRESENT

Also CFO
current focus is the flagship Menneval gold project in 2020
Has a market cap of $2.4 million
LCTI Low Carbon Technologies (LWCTF) 02/2012–PRESENT

uses the technologies to develop low carbon energy projects and low carbon energy complexes
market cap of $562,888

Burnstone Ventures Inc 08/2009–PRESENT

Also VP:Administration/Secretary
exploration stage company, engages in the acquisition, exploration, and development of mineral resource properties located in the United States and Canada
current market cap of £473k
Even Technologies Inc 06/2004–PRESENT

specializes in the research of advanced digital image and video coding techniques

Beukman & Assoc Enterprises 01/1994–PRESENT

Also President/Owner
firm who pride ourselves in providing personalised service in all aspects of law, debt collections and evictions, both residential and commercial
registered in south Africa

Pender Street Corp Consulting 2006 -PRESENT

Also President/CEO/Owner
Was counsel from 1994
privately held management company in business since 1990 dedicated in providing exceptional accounting, corporate / management and administration services to public and private companies delivering personalized and cost-effective services tailor made to your company's needs

Spotlite360 Iot Solutions Inc 07/2019–10/2021

Also Chief Executive Officer
To provide high-value, rapid ROI based SaaS solutions, leveraging IOT technologies to help customers in healthcare, pharmaceutical and agriculture meet their digital supply chain objectives; gain increased visibility, reduce shrink, loss and theft; improve supply chain velocity; drive labor efficiency; improve asset utilization; and support commitments towards enterprise sustainability
Current market cap of $11.5 million and has been down since it went public

Bard Ventures Ltd 03/1996–09/2020

Also President/CEO
The company conducted exploratory drilling to assess mineral rights within the Lone Pine Molybdenum Property outside of Houston, British Columbia, specifically focusing on molybdenum

Mag One Products Inc 05/2015–12/2019

Also chairman.
a technology, processing & production company.
Had a market cap of $2.2 million in October 2020, now the stock no longer trades.

Oriental Non-Ferrous Resources Development Inc 07/2015–07/2019

Also CEO
focuses on the acquisition, exploration, and development of mineral properties
stock was delisted
Kaneh Bosm Biotechnology Inc 04/2018–09/2018

specializes in the acquisition of marijuana projects and cannabis-related companies
change its name to ICC International Cannabis in 2018

Gar Ltd 10/2017–08/2018

Also CFO
junior exploration company

Netcoins Hldgs Inc 09/2017–11/2017

Also Chief Financial Officer

Vanc Pharmaceuticals Inc 08/2014–05/2017

Also secretary and CFO
Change Its Name to Avricore Health Inc in 2018

Brakpan Ventures Corp UNKNOWN–03/2017

Also President/CEO
name change to International Cobalt Corp

company was mentioned already

Moseda Technologies Inc 07/2015–05/2016

Reliq before name change in 2016

EXMceuticals Inc 02/2013–05/2016

Also President
focused on cannabinoid extraction, purification and formulation for medical purpose
stock down significantly during his time there

Emerge Resources Corp 09/2013–03/2016

Also President/CEO
Now called Vaxil Bio ltd stock down a little slightly during his time there

Acana Capital Corp 09/2011–05/2015

Also Chairman/President/CEO
part of the Residential Building Construction Industry
last traded in September 2017 and is currently delisted

Anergy Capital Inc 10/2008–02/2015

Acquired by Kraken Robotics

Beatrix Ventures Inc 10/2009–09/2013

Also President/CEO
line of business includes the smelting and refining of nonferrous metals

Alda Pharmaceuticals Corp 11/2012–07/2013

Also Secretary
Now Vanc Pharmaceuticals Inc

Encap Investments Inc 08/2008–02/2012

EnCap Investments is an American private equity firm, specializing in the energy industry, particularly oil & gas
In 2013, EnCap was ranked at #16 Private Equity International's PEI 300 list, with some $11.8 billion under management

Desert Gold Ventures Inc UNKNOWN–11/2011

Also President/CEO
gold discovery and development company actively engaged in commercial exploration and gold resource development on the African continent

stock has been going down since 2004

Pure Diamonds Exploration Inc 12/2006–08/2009

Also VP:Administration/Secretary
Pure Diamonds is a diamonds exploration company based in Canada

Maxtech Ventures Inc UNKNOWN–05/2007
Pure Gold Minerals Inc 11/1997–12/2006

Also VP:Administration/Secretary

Vertigo Software Inc 03/1999–06/2004
Serengeti Minerals Ltd 06/2000–03/2001
Consolidated Bard Silver & Gld 05/1999–05/2000
Bard Silver & Gold Ltd 03/1996–05/1999
Icc International Cannabis Corp 09/2018–UNKNOWN

Voluntary Delisting from Canadian Securities Exchange in 2019

Kraken Sonar Inc 02/2015–UNKNOWN
Aan Ventures Inc 04/2013–UNKNOWN

Also Chief Executive Officer

Innovative Properties Inc 01/2012–UNKNOWN
Grand Peak Capital Corp 01/2012–UNKNOWN
Intl Green Ice Inc FORMER
Castillian Resources Corp (CST.XA) FORMER

Global Care Capital Inc (HLTH) – Secretary 04/2020–PRESENT
Golden Band Resources Inc (GBRIF) – Chief Financial Officer 04/2015–PRESENT
Market cap of $57,000, pretty much down 100%

Supreme Court of South Africa – Advocate PRESENT
Tml Ventures Inc – Consultant PRESENT
Range Energy Resources Inc – CFO/Secretary 11/2011–07/2021

Acquired and changed name to EnviroGold

Lincoln Mining Corp/Canada (LMG.V) – Chief Financial Officer 03/2014–06/2020

Canadian precious metals exploration and development company headquartered in Vancouver, British Columbia