A2Z Smart Technologies: Used To Be Called Inrob Tech (A Pump And Dump Scam), Management Has A Shady Past, and Related Party Transactions – 50c Price Target
A2Z Smart Technologies (AZ) is a technology company that's only sellable product is its Smart Cart shopping cart, the Cust2Mate.
AZ is a renamed version of pump and dump scam Inrob Tech (IRBL), with the same failed tech products.
AZ's CEO, Joseph Bentsur, sneakily omits from his biography that he was CEO of Inrob Tech.
Inrob Tech was backed by hedge funds that were charged by the SEC with securities fraud, and its general counsel was sentenced to 34 months in prison for securities fraud.
AZ acquired 77.51% of Cust2Mate for only $1.56M in November 2020 from the CEO, Joseph Bentsur, which was a related party transaction.
AZ pays Bentsur about $1M per year, despite only generating $2.7M in revenues in 2021.
AZ doesn't have any patents on its Cust2Mate, leaving it vulnerable to bigger, better, and more capitalized competition.
A2Z Smart Technologies (AZ) is a  small company that provides maintenance services for the Israeli government. It has some of its own tech products which we have found most to be impractical and worthless. Their only tech product that has gotten any sales is their smart cart, from their 79.94% owned subsidiary, Cust2Mate. They have gotten a few grocery stores to do a pilot test of their Cust2Mate, but it hasn't caught on at all.
AZ doesn't do any earnings calls, and there's a reason for that. In an earnings call, management would have to go into detail about what kind of business the company is doing, which doesn't look good for AZ. 28% of its tiny revenues are from its Cust2Mate, which comes to $752K for 2021. The rest of AZ's 2021 revenue was from maintenance services and equipment leasing, not from selling its own products. The company's revenue breakdown is shown below: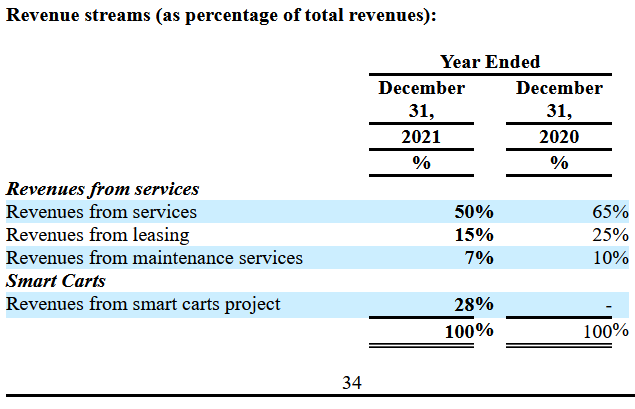 Source: AZ 2021 Annual Report
A2Z Similar To Other Recent Scams That Have Crashed
AZ is similar to some other scams that have recently crashed. AZ hasn't crashed yet, which makes it a good short in this bearish tech stock environment. We find similarities to AuthID (AUID), a scam we reported on a few months ago. They both have a technology that they can trick some investors into thinking it's the future. But the reality is, this specific technology isn't catching on, and there's a lot of competition with similar, and better, tech.
Foresight Autonomous Holdings (FRSX) and Nano Dimension (NNDM) are also Israeli companies that were hot last year but are now trading at or below their cash balance. FRSX has an enterprise value of $9M, and NNDM actually has a negative enterprise value of -$565M. AZ still has an enterprise value of about $100M. We foresee AZ also trading close to their cash balance soon, and its enterprise value will soon approach zero. Since AZ is almost out of cash, this would put the price around 50c per share, which is our price target on the stock.
With two registration statements recently filed, AZ is about to do an offering, which will likely increase the float significantly and put downward pressure on the stock.
A2Z's Upcoming Equity Raise
On 4/26/22, AZ filed an F-10 registration statement to sell CAD$64M of a wide variety of securities, as shown below: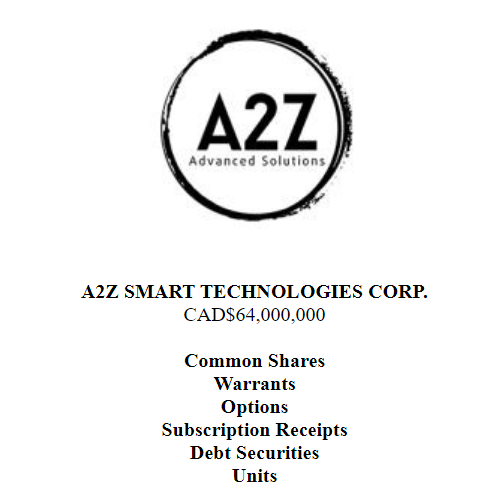 Source: SEC.gov
It's hard to raise capital in today's market environment. They will likely not get a very good financing deal. Also, we expect to see a sell-off after the offering that could push the stock below its offering price.
A2Z Is Its CEO, Joseph Bentsur, Personal Piggy Bank
On 11/16/20, AZ announced that it acquired 77.51% of Cust2Mate from AZ's CEO Joseph Bentsur for US $1.566M. This was a related party transaction. Additionally, the company sold 13.25M units at CAD $0.625 per unit which comprised of one share of stock and one CAD$0.90 warrant. This is of course a fraction of the company's current share price of USD$3.50.
As stated in the 2021 annual report, in addition to his salary, Bentsur receives a $46K per month consulting fee, as well as a $400K performance bonus. This puts his total compensation from AZ at about $1M per year. A large sum considering that the company only generated $2.685M in revenues in 2021.
A2Z's History
AZ is a decades-old Israeli company brought to the US public market via a reverse merger with a Vancouver shell company.
The company claims to develop and commercialize advanced products such as autonomous robots, vehicle fire prevention devices, energy storage packs and smart shopping carts. In reality, with the exception of the smart shopping carts, the other business lines are non-existent and serve to hide from investors the company's real business – providing low-value maintenance services to Israeli government agencies at a loss (financed by shareholders).
Most of A2Z's Products Are Not On the Market
The following are AZ's products, the only one on the market is the Cust2Mate. The rest aren't practical in the real world.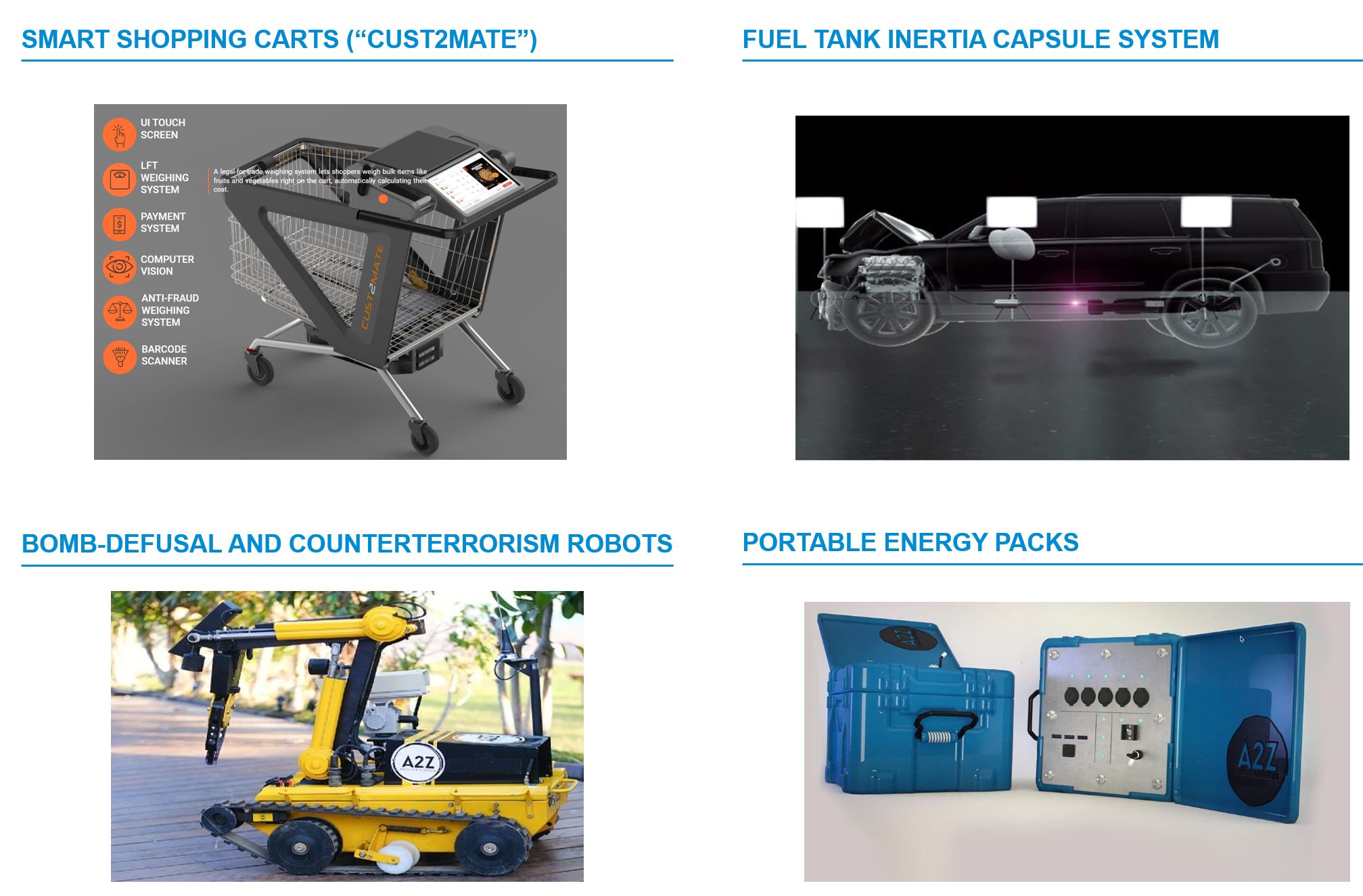 Source: Company Website
Bentsur Has Run This Scam Before
AZ isn't the first time its CEO, Joseph Bentsur, has defrauded investors. But Bentsur is sneaky. He omits from his biography his only previous experience as an officer and director of a US public company. Bentsur was previously the CEO of Inrob Tech Ltd (OTC: IRBL) from a reverse merger in 2005 to a delisting in 2009. IRBL wiped out shareholders and went to effectively zero. And Bentsur just shifted the failed, worthless products from IRBL into AZ. AZ has the very same non-functional products as IRBL did.
AZ's "military-grade" autonomous robots give off the appearance of a middle-school science project. Worse still, internet archives reveal that Bentsur has simply wheeled out the same stale toy robots from the disastrous IRBL stock promotion, from the product images down to the specifications. AZ's robotic technology – never to be taken seriously – has not advanced in over a decade and a half.
IRBL was backed by four hedge funds that have been charged with securities fraud after an SEC investigation. These funds were:
Joseph Bentsur – Was the CEO of Inrob and Now A2Z
There's no mention of Bentsur's history as the CEO of Inrob Tech on AZ's website or Bentsur's LinkedIn profile.
From AZ's company biography, April 2022:
A serial entrepreneur, Joseph Bentsur has vast experience in establishing successful companies and expanding them into new markets and industries. Among other roles, he has served as Chairman of the international Elad Hotels chain, Director of MARLAZ Holdings, with a portfolio of publicly-traded industrial, real estate, communications and hi-tech companies, and CEO of DIG Ltd., which produces and markets electric components sold throughout Israel.
With several patents to his name and a proven track-record, Mr. Bentsur is the driving force leading A2Z into the future.
From Bentsur's LinkedIn page: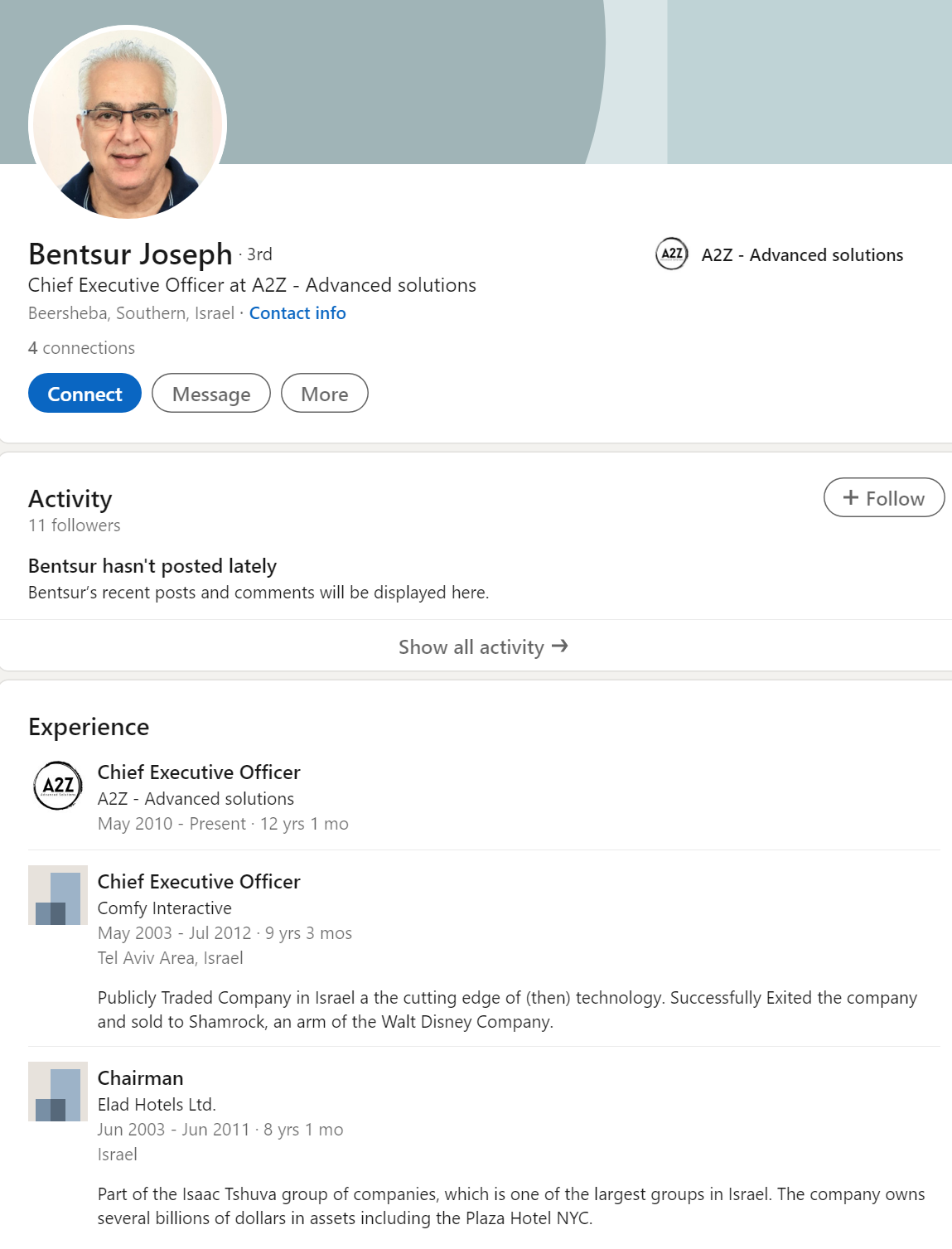 Source: LinkedIn
Why is there no mention of Inrob Tech? Likely because it was a total failure and fraudulent operation and Bentsur wants to hide it from AZ investors.
From a GlobeNewswire PR in November, 2005, IRBL CEO Joseph Bentsur stated:
"The Company is working in one of the most exciting and explosive high tech industries: Unmanned Ground Vehicle robots (UGVs) …. InRob plans to capitalize on this growth by using our collaborative 17+ years of experience, stellar reputation, and deep industry ties to significantly increase revenue growth…"
However, as shown below, IRBL was dumped in 2007, and quickly went to zero.

Source: Bloomberg
Late into the dump phase (April 2007) IRBL announced that it's in the final stages of negotiations for a contract to manufacture military-grade versions of Caterpillar's D-9 digger.
A2Z Smart Solutions Is The Same, Renamed, Company As Inrob Tech
Both AZ and IRBL originated from the company Eligal Laboratories. Eligal, established in 1988, provides maintenance services for mechanical equipment owned by the Israeli government.
From AZ's 2021 Annual Report:
A2ZAS is the parent company of Advanced Military Solutions Ltd. ("A2ZMS"). A2ZMS was incorporated under the laws of the State of Israel in November 1998 under name Eligal Laboratories Ltd., as an engineering firm providing a cost-efficient solution for organizations to outsource maintenance of critical and sophisticated equipment.
From IRBL's Q3 2008 10-Q:
Inrob Israel was organized as an Israeli corporation in 1988, under the name of Eligal Laboratories Ltd.
IRBL did ordinary maintenance services for standard equipment including cameras, monitors and speakers.
This is explained in IRBL's 2007 Annual Report:
Most of the equipment used for providing such maintenance services is standard equipment purchased in the local market. Some of the equipment is especially designated equipment that is purchased from the original manufacturers of the equipment to which we supply maintenance services.
What About A2Z's and Inrob Tech's Military Grade Autonomous Robots?
IRBL in 2006 vs AZ in 2022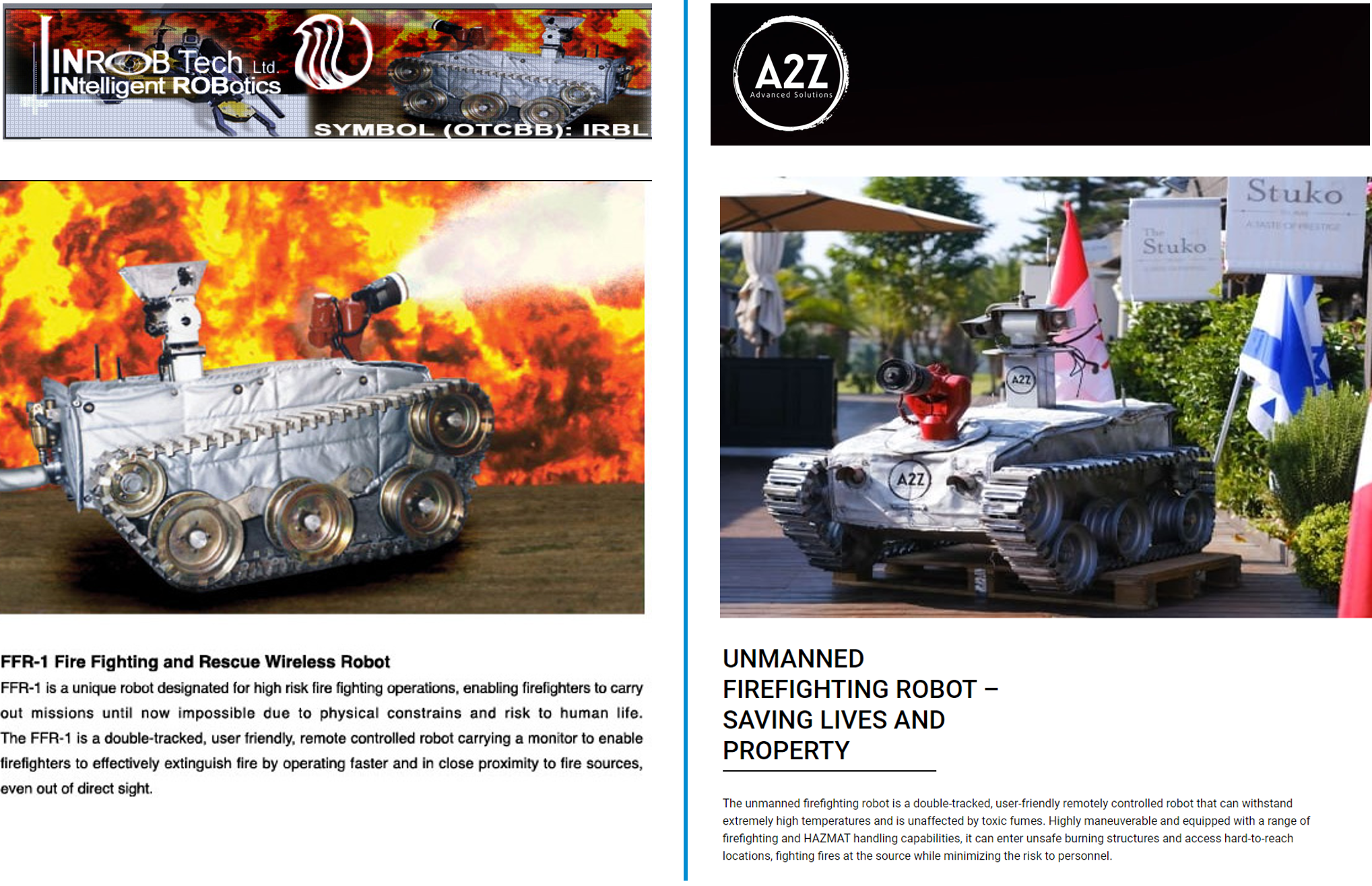 Source: Company Website 2006 (wayback machine)          Source: Company website 2022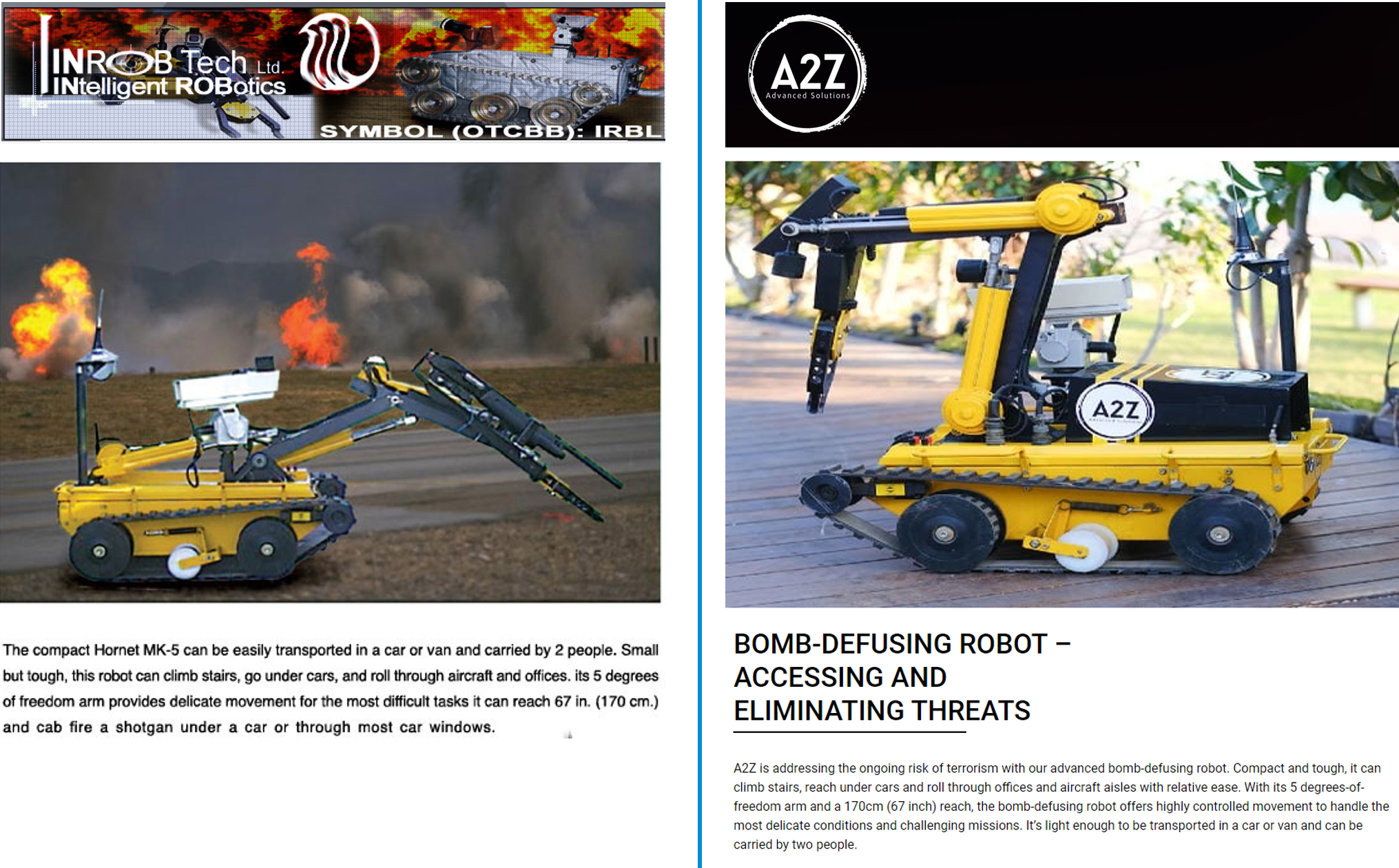 Source: Company Website 2006 (wayback machine)          Source: Company website 2022
As illustrated in the photos above, these robots are AZ's "new tech" that hasn't improved or shown any practicality for over 20 years. And they are hardly mentioned by AZ anymore.
A2Z's Lack of Intellectual Property Suggests Its Technology Is Worth Very Little
IRBL had no intellectual property.
15 years later, AZ has no IP other than one patent and one patent application for its concept-stage Fuel Tank Inertia Capture System (FTICS), which came with its 2019 acquisition of AAI Advanced Automotive Innovations Inc. for less than $2M in stock.
AZ has no IP related to its flagship smart cart product, Cust2Mate.
Stated in IRBL's 2007 Annual Report:
We do not have any patents, trademarks, or any other protection over our intellectual property.
Stated in AZ's 2021 Annual Report:
To date, the Company has been granted a total of one patent (GB1500007.8 in Great Britain "Vehicle cover device") and have one pending national phase applications (International Patent Application PCT/IL2020/051000 "Engine's anti-combustion method").
Inrob Tech's General Counsel Was Sentenced To 34 Months In Prison Over Stock Fraud
Michael Krome was IRBL's General Counsel. He was a convicted criminal and did a lengthy sentence from securities fraud. As shown in one of IRBL's correspondence filings:

Source: Inrob Tech SEC filings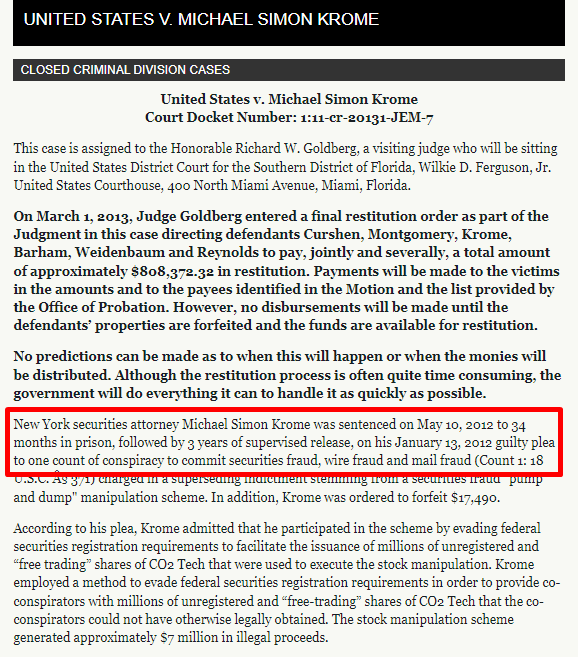 Source: justice.gov
See also:
SEC Charges Seven in Global Warming Pump-and-Dump Scheme
and
Five Others Indicted for Conspiracy, Wire Fraud and Mail Fraud in Stock Manipulation Scheme
A2Z's Financials
AZ spends a lot of money, which leads to big losses for this small company. The following are AZ's operating financial results for 2021 and 2020: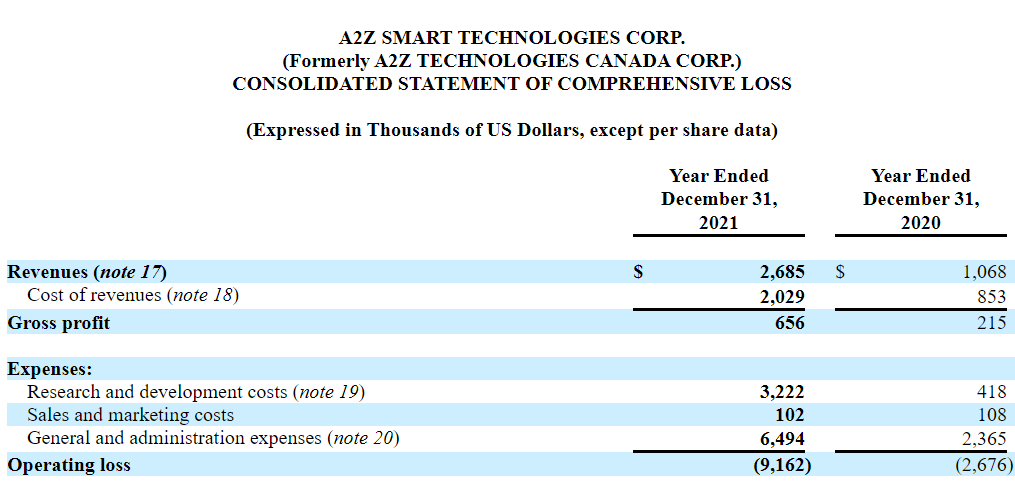 Source: AZ's 2021 Annual Report
AZ only generated $487K in revenues for Q421, and had an operating loss of $3.85M.  This shows that its revenues and losses haven't been improving over time.
Out of the company's G&A expenses, the majority, $4.4M, went to payroll and related and professional fees. That is a lot for a company that only made $656K in gross profit, and has a gross margin of only 24.4%.
G&A expense also increased by 40% in Q421 over Q321, from $1.15M to $1.68M. Which suggests that it will continue being that high for 2022.
Cust2Mate Promotion
AZ's only viable product is the Cust2Mate. Cust2Mate sells automated shopping carts ("Smart Cart") where shoppers can swipe all their items with the cart and don't need to go to the cashier in a supermarket. AZ just started selling Smart Carts in 2021.
On 3/1/21, AZ announced it received a purchase order of $6M for the Cust2Mate Smart Cart. However, it's interesting that AZ only received a fraction of that order in revenue so far.
Cust2Mate announced on 3/11/21 that it hired a whopping 22 additional employees. The PR states:
"The newly expanded team is tasked with aggressively advancing our expansion plans in order to fulfil the great demand from worldwide retailers at the highest profession level of product, delivery and service."
However, hiring more employees significantly increases expenses, and hurts AZ's bottom line. This will require AZ to do a larger equity raise and sooner. So far, hiring more employees hasn't resulted in the selling of more Cust2Mates.
On 7/27/21, AZ announced it launched a pilot program for its smart carts with one of Mexico's leading grocery store chains. From the PR:
"'Seeing is believing' and we look forward to the successful completion of this pilot and the launch of our state-of-the-art Cust2Mate smart cart, into over 20 additional locations."
However, due to AZ's small smart cart revenues for 2021, we doubt that this pilot program had, or is having, much success.
On 12/7/21, AZ launched a pilot program with Evergreen Kosher Market. This is a supermarket catered towards Jewish people. It makes sense to do a pilot with AZ since it is also an Israeli company.  So there could be an Israeli "friends and family" connection there, and it might not be a legitimate sale. Evergreen management likely already knows AZ insiders and is giving them the go ahead to put out PRs on the pilot program.
Downsides To Smart Shopping Carts
As stated in this article from August 2020:
Getting past the pilot phase, however, is no guarantee considering the high costs, theft risks and other pitfalls that come with smart carts, experts note. Consumers also may not fully appreciate a souped-up version of the shopping companion they've become so familiar with.
The article also states:
A typical smart cart typically costs upwards of $5,000 and can be expensive to maintain, especially considering the low margins of 1.5% to 2% in the grocery space…
Let's say the price is $5K-$10K for a Cust2Mate. That means AZ would have to sell over 2K new Cust2Mates per year to become profitable.
But reaching that kind of scale is not realistic anytime soon. Smart carts haven't caught on yet, and may not for some time. From the article:
"There's some early piloting going on, but we don't have anything at scale where we know for sure that that can be done in a way that consumers are going to accept it or that it's viable for consumers," Walton said.
Conclusion
Upon our analysis, it's clear that AZ is massively overvalued. With its CEO, Joseph Bentsur's, shady history, and affiliated bad actors, we believe the company is uninvestable and likely a long term zero. It is currently going down the same path as it did by its previous name, Inrob Tech. We foresee a similar failure as most of its products aren't practical and aren't even available commercially.
AZ is losing a lot of money, and they would have to sell a significant amount of Smart Carts, over 2K per year, to reach profitability. However, Cust2Mate was only sold to AZ from Bentsur for $1.56M which suggests that there isn't much value there, if any.
Even if the world does adopt smart carts in a few years time, it's unlikely that AZ would come out as the top brand. There are many more companies that also sell and are developing smart carts that AZ will have to compete with.