Evidence Reveals Pulse Biosciences Is A Joke – It's Years Late To The Pulsed Field Ablation Market And Its "Nanosecond" Technology Is Impractical And Not Novel – $1 Price Target
Pulse Biosciences (PLSE) is a medical device company with one product, called the CellFX system, which delivers nanosecond duration pulses of electrical energy to stimulate and hopefully to destroy (ablate) targeted cells.
PLSE's management team had promised success in the dermatology and cancer market with their CellFX System, which is based on Nano Pulse Stimulation (NPS) technology. However, after five years and burning through hundreds of millions of investor dollars, these endeavors ended up being a complete failure with zero sales.
Now, PLSE is pivoting into an adjacent technology, called PFA (Pulsed Field Ablation), developing a surgery clamp and catheter concept products. Our analysis indicates that their efforts are too late in the game for any chance to be competitive.
Specifically, PLSE:
Has only one patent in cardiac ablation, granted in February 2023, which does not even describe the cardiac catheter used in their animal studies.

Has a weak management team with a bad track record (all prior efforts to treat cancer and dermatologic conditions have failed and were abandoned by the company).
Is too late to the game – by now large companies like Boston Scientific (BSX), Medtronic (MDT) and Abbott (ABT) already have established PFA technology and the clinical data supporting it.

The nsPFA (nanosecond PFA) technology that PLSE is preaching about is inferior to standard PFA, which uses microsecond pulses, primarily because:

its potency for killing cells is inadequate at a lower voltage setting.
the needed higher voltage setting is impractical for a competitive ablation catheter due to insulation requirements.

Other companies, such as Boston Scientific's PFA subsidiary Farapulse, have claimed nanosecond Pulsed Field Ablation (nsPFA) technology for cardiac applications, so PLSE's approach is not unique and likely infringes existing patents. Farapulse, however, decided not to use nanosecond pulses in their products due to its inferiority to microsecond pulses.
Farapulse is the market leader in PFA, and was acquired for about $500M in 2021. Farapulse has 30 patents and numerous successful clinical studies in PFA. PLSE has only one irrelevant patent and no clinical studies in PFA, and it's absurdly almost at that same valuation. We believe PLSE's true value is less than $50M.
Even if PLSE manages to build an nsPFA catheter, suitable for cardiac ablation, there will be no safety advantage over PFA. A recently published meta-analysis suggests that General Anesthesia or Deep Sedation are preferred by physicians to Conscious Sedation due to objectively better clinical outcomes of the ablation procedure.
PLSE's generic 510K activities for its clamp for open heart surgery are a waste of time and money. This type of product is destined to have no revenue in cardiac ablation without robust clinical data and a supporting portfolio of thoracic surgery products.
Pulse Biosciences History
Pulse Biosciences (PLSE) took many years to get its CellFX system, using PLSE's Nano Pulse Stimulation (NPS) technology, through FDA clearance for dermatologic applications. When that milestone was finally reached, after an accumulated deficit of over $200M, the product was a total commercial failure.
Instead of shutting down the company like they should've, PLSE got lucky and jumped on the band wagon of a new technology emerging, called Pulsed Field Ablation (PFA), that in the last five years has gotten a lot of attention in cardiac ablation procedures to treat Atrial Fibrillation. Investors need to understand that NPS is not the same technology as PFA. As the abbreviation suggests, the former is a low power "stimulation", while the latter one is a high power "ablation". Nano-pulses might be an attractive option for stimulating cells and causing slowly developing inflammatory and apoptotic responses for dermatologic applications. However, the same nano pulses seem to us as a bad idea for cardiac ablation, which requires immediate cell killing.  PLSE is trying to claim that its Nanosecond PFA (nsPFA) is better than the current standard Microsecond PFA, but we found multiple pieces of evidence that nsPFA is inferior to microsecond  PFA for cardiac catheter ablation.
In addition to the fundamental issues with PLSE's NPS turned to be nsPFA, PLSE is years late to the PFA market. Big medical device companies such as Boston Scientific (BSX), Medtronic (MDT), and Abbott Laboratories (ABT) already have developed their PFA devices for this market. PLSE doesn't stand a chance to catch up with these medtech behemoths. PLSE management realizes the daunting task in cardiac ablation, which explains their erratic adventures in the other applications, such as benign thyroid tumors, as revealed on the 2023 Q2 Call.
Pulse Biosciences Chairman, Billionaire Robert Duggan, Investment Has Drawn In Retail Investors
PLSE has zero interest from professional investors. There is no institutional ownership except for passive mutual funds that track stock indexes and have to hold PLSE as part of the index. No smart-money healthcare-focused funds hold the stock. Given that PLSE's investor base is largely retail, one could wonder what retail investors see in this company that professional investors don't.
One of the apparent reasons behind elevated interest from retail investors is the involvement of Robert Duggan in PLSE (he is PLSE's largest shareholder, owning 69% of the company's stock). Duggan is a billionaire who made a significant chunk of his money in 2015 when AbbVie acquired Pharmacyclics for $21 billion (Duggan was one of Pharmacyclics' investors). Duggan got involved in PLSE together with Maky Zanganeh (one of Duggan's lieutenants; she was the former COO of Pharmacyclics Inc. and also worked for Duggan at Robert W. Duggan & Associates) in early 2017, acquiring 17.1% of PLSE stock. Over the next few years, Duggan increased his stake to 69% by participating in several PLSE stock offerings. Apparently retail investors have a lot of incorrectly-placed faith in Duggan.
In Q3 2022 PLSE was facing another cash crunch. As of June 30, 2022, PLSE had $15M in cash, while its quarterly burn rate was about $15M. Failing to generate any sales from its NPS, PLSE was teetering on the brink of bankruptcy. But Duggan saved PLSE once again – on September 20, 2022 he provided a $65M loan to PLSE (the loan was carrying a 5% interest rate and was due on March 20, 2024).
With no real prospects that PLSE would be able to generate any revenue and repay the loan by March 2024, Duggan had to convert the loan into PLSE shares on 5/1/23 (10m shares were issued to Duggan; $6.51 per share). Even though it was an ordinary loan-to-stock conversion (i.e. no new money was invested in the company), PLSE presented it as a new investment from Duggan.
The 5/1/23 PR was titled:
Pulse Biosciences Announces $65 Million Private Placement
It's clear that from Duggan's past and recent statements that he has a very poor understanding of PLSE's nano pulse technology and its application in the real world. We aren't discounting Duggan's past success, he definitely hit the jackpot with Pharmacyclics. But he made a bad bet with PLSE, and we believe he knows it, but he doesn't want to take the loss and he's doubled down in an attempt to dump off his shares to bamboozled retail investors.
And it now appears that Duggan is getting ready to sell his shares. On 8/11/23, PLSE filed that 10.02M PLSE shares of Duggan's will be registered to be able to be sold. These are the same shares that Duggan received from the debt conversion.
Management Has Proven To Be Incompetent
The following are management quotes in regarding their NPS device's predicted success. All of their optimistic predictions couldn't have been more wrong. Including quotes from Duggan, who stated in PLSE earnings calls:
"This is a pivotal time for Pulse Biosciences. I've been a shareholder in Pulse Biosciences for over a year and with the knowledge gained during that time, I've grown increasingly optimistic about Nano-Pulse Stimulation technology."
"Well over 2,000 lesions treated. So we certainly harbor no concerns, considerations, doubts or reservations that our product is effective, it's needed, it's wanted, the KOLs are saying the same thing."
Darrin Uecker was the former CEO of PLSE. He was demoted to Chief Technology Officer (CTO) on 9/20/22. The following were his comments on the future success of the NPS technology when he was the CEO:
"And over the last two years, we have executed several clinical studies that have enabled us to demonstrate the safety, efficacy and unique mechanism of action of our NPS platform.
We have been working very closely with the group of the top dermatologic surgeons and skin cancer specialists in the United States over the last two and a half years"
"This major commercial opportunity begins with our first two clinical applications and is expected to grow as we continue to demonstrate that the NPS nonthermal cell-centric mechanism of action is a significant differentiator from all other energy- based devices."
Ed Ebbers is PLSE's General Manager. He was also dead wrong in predicting the NPS platform's success. He has stated:
"Our success with a small group of KOL physicians, along with continued favorable clinical data published on new applications sets the stage for the first wave of early adopters that we expect to purchase our CellFX platform in the future."
"When combining the number of patients presenting conditions suited for CellFX each week, and the expected patient treatment rate suggested by our market research, the CellFX becomes a highly valued treatment franchise within the clinic, and in turn, a powerful value driver for Pulse Biosciences."
"We're beginning to notice and appreciate that Pulse is setting the stage for a game-changing technology that has global importance to the field of dermatology and to their patients."
After trying for 4 years, which was a much longer time than management expected, the company managed to get FDA 510(k) clearance for its CellFX System for dermatologic procedures requiring ablation and resurfacing of the skin in February 2021. The following is PLSE's FDA 510(k) timeline: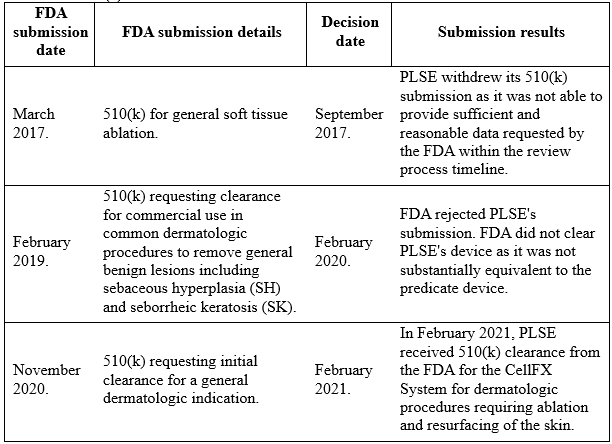 In addition to 510(k) clearance, in January 2021, PLSE received CE mark approval for the CellFX System, which allows for marketing of the system in the European Union for the treatment of general dermatologic conditions, including sebaceous hyperplasia, seborrheic keratosis, and cutaneous non-genital warts. Additionally, in June 2021 PLSE received Health Canada approval for the CellFX System, which allows for marketing of the system in Canada.
At that point, PLSE was able to sell its CellFX System in the major markets – the US, Canada, and Europe.
After receiving these clearances, PLSE finally tried to commercialize its technology and device in dermatology applications, the key vertical that the company has been targeting since its formation. After launching its CellFX System in the US, EU and Canada, PLSE generated about $2M in revenue over one year (between Q3 2021 and Q3 2022). And even that reported revenue was not real revenue – PLSE gave its devices for free to clinicians and recognized it as revenue. Now, after failing to commercialize the product in its key vertical, in September 2022 PLSE announced a "strategic change of focus", meaning that PLSE abandoned dermatology (its key vertical). On top of that, PLSE announced that it decided to focus on cardiac diseases (such as atrial fibrillation). Up to date, PLSE hasn't started any PFA clinical studies; PLSE does not have any expertise or traction in the cardiac vertical.
Since 2017, PLSE started eight clinical trials, all of them focused on the dermatology vertical and nothing else. Partial screenshot below: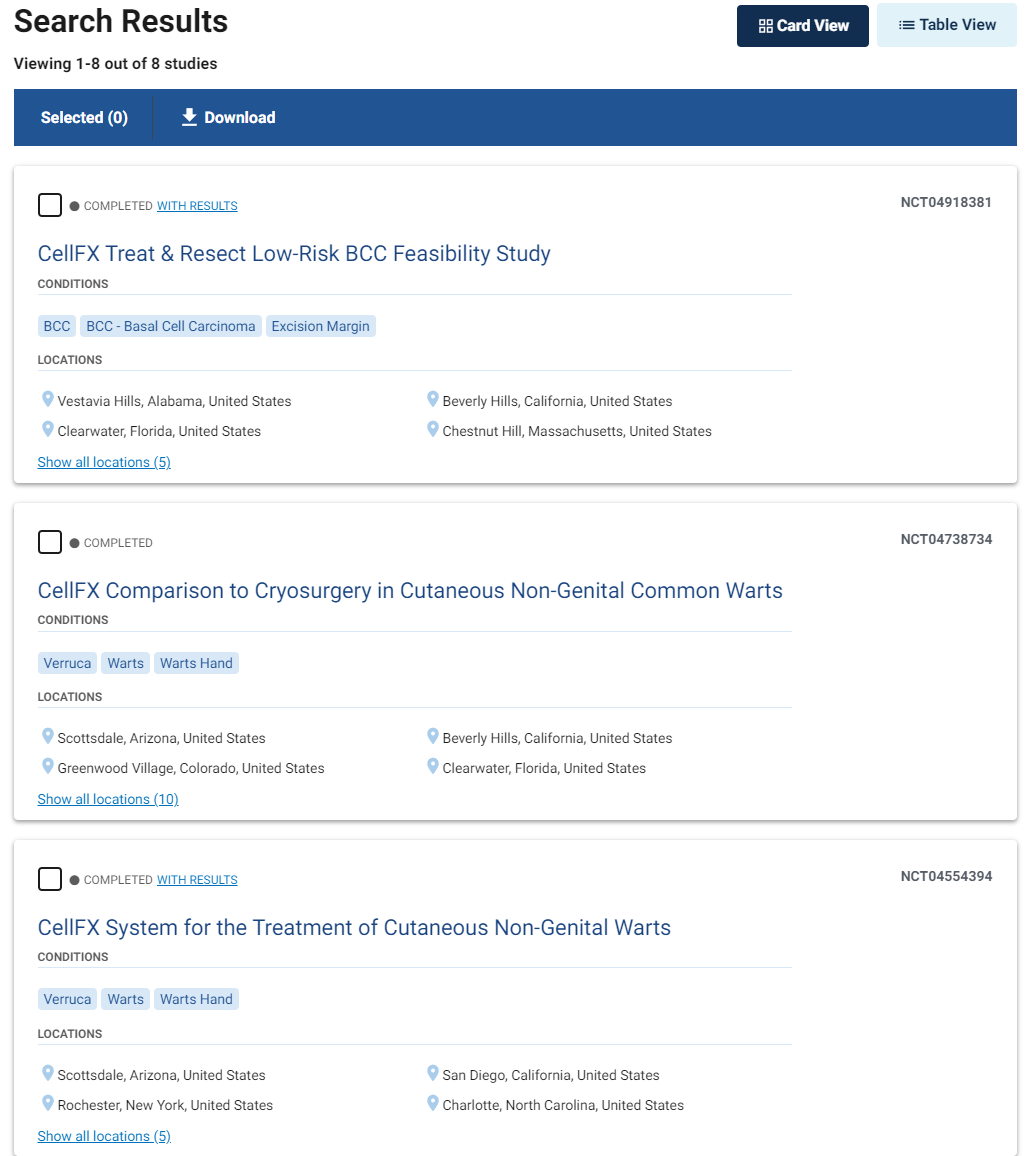 Source: clinicaltrials.gov/search
On its Q42022 earnings call (held on 3/30/23) management said that the company started working on its cardiac ablation clamp and cardiac ablation catheter. PLSE's new CEO, Kevin Danahy, stated:
Once the feasibility of the mechanism of action was proven in animal cardiac tissue, we initiated our own R&D projects. These included the development and preclinical testing of cardiac ablation clamps for the use in cardiac surgery and a cardiac ablation catheter for the use in electrophysiology.
Pulse's "Nanosecond" Pulsed Field Ablation Is Impractical And Not Novel
Starting in 2020, there has been a healthy deal of excitement about the use of Pulsed Field Ablation (PFA) in cardiac ablation. This report titled Pulsed Field Ablation – Emerging Tech for Atrial Fibrillation – describes the procedure and is from the 2020 Atrial Fibrillation symposium.
PLSE is years late to the cardiac ablation game. Even if PFA is able to win market share versus traditional cryo and RF ablation (thermal technologies), PLSE's Nanosecond PFA (nsPFA) will be a latecomer with no proven advantage over standard PFA. We also found evidence suggesting that nsPFA is impractical compared to PFA. We believe nsPFA will fail to get any traction.
Farapulse, the leader in PFA and now part of Boston Scientific, claimed nano pulse technology in its patent portfolio. Yet Farapulse did not pursue the actual use of nsPFA in its product, likely due to the inferior nature of nano pulse electroporation.
Contrary to the spirit of its disclosures, PLSE does not own nsPFA. On the contrary, PLSE may infringe earlier patents by pursuing nano pulse electroporation in their products. For example, in Farapulse's patent, which was granted in 2020 and will expire in 2036, Fig 5 of the patent describes how individual electrical pulses are packaged in the pulse sequences, and the cycles of sequences. It mentions nanosecond and even sub-nanosecond duration of pulses. It states:
"The pulse width/pulse time duration can be in the range from nanoseconds or even sub-nanoseconds to tens of microseconds."
Why hasn't Farapulse developed the technology to use nano pulses even though it placed an IP stake in it?  From a 2022 review of PFA, typical PFA settings include 10–90 pulses, with a pulse length of usually 100 ms, at a frequency of 1–10 Hz, and with an electric field between 500 and 3000 V/cm. Obviously, it was Farapulse's choice which pulses to use and they selected longer micro pulses. We believe the reason is because delivering nano pulses in the non-thermal ablation range requires too high of voltage, which makes the catheter more expensive and trickier to build. We discuss our analysis in more depth later in this report.
For PLSE to claim that its nsPFA is novel is laughable. It has been around a long time, and other companies are still experimenting with it.
Here is a study from 2015 of nanosecond pulsed field ablation being done with rabbits. That was 8 years ago, clearly far from new.
Here is another study of nanosecond PFA done on swine in early 2022. This was before PLSE did its swine study.
Here is the list of all USPTO granted patents and patent applications, assigned to Pulse Biosciences.  Out of this list, only one items relates to vascular catheter design.
PLSE only has one patent in regards to cardiac ablation, granted in February 2023, which is not even referring to the appearance/design of the CellFX cardiac catheter.
In the list of all the USPTO granted patents and patent applications assigned to Pulse Biosciences, only one item relates to catheter design, which is the following:
US 11571569. HIGH-VOLTAGE CATHETERS FOR SUB-MICROSECOND PULSING (filed Feb 12, 2020, granted February 7, 2023)
In contrast, Farapulse, the leader in PFA, has more than 30 issued patents and patent applications in the field of PFA.
Medtronic and Abbott haven't done many studies with nanosecond PFA and don't seem to have any interest in it. They are going full throttle with microsecond PFA.
The PFA Handpiece (Clamp) Is Destined To Have Immaterial Revenue in Cardiac Ablation
While the regulatory approval path can be easier for a nsPFA handpiece/clamp, its revenue would be immaterial, especially with the generic claim of soft tissue ablation based on a 510K with no clinical data. Per PLSE's chief technology officer on the Q1 2023 earnings call:
The discussion will include agreeing on the requirements for a preclinical study known as a Good Laboratory Practices or GLP preclinical study in support of a 510(k) clearance. Once this is agreed upon with the FDA, we would expect to be able to quickly execute the GLP study and any other testing required and submit a 510(k) to FDA during Q1 2024. We continue to be encouraged by the preclinical testing we are doing."
If a generic, not specific to cardiac ablation, 510K is received for PLSE's clamp, then it won't sell. The leading brands of the cardiac ablation clamp (Atricure Inc and Medtronic) use robust and time-proven RF ablation, which works very well. nsPFA with generic 510K approval will not be able to compete with the Atricure Synergy Ablation Clamp, because the Synergy Clamp got PMA approval and robust clinical evidence prior to being broadly adopted by thoracic surgeons.
PLSE's claim of a generic 510K approved cardiac ablation clamp as a revenue driver is misleading investors, because few cardiac surgeons would use it off-label without a specific cardiac ablation clinical claim approved by the FDA in a PMA study. PLSE is pushing forward with the clamp product likely because they are terribly late in the PFA catheter game and they need something to show investors right away. None of the PFA ablation leaders such as Farapulse/BSX or  Affera/MDT offer PFA clamps. A catheter expert who we interviewed said regarding this:
"It is not because these companies are dumb or they lack resources, but because they realize the foolishness of the PFA clamp idea."
There are not many open-heart thoracic surgeries done and the market is very competitive and small in comparison with the transcatheter procedures. MDT and BSX understand that the expense of going through PMA approval (the only serious entry into this market) will not be recuperated due to the small and competitive market in which existing products perform very well. Look at how many Cardiac Ablation products BSX has and none of them is a clamp: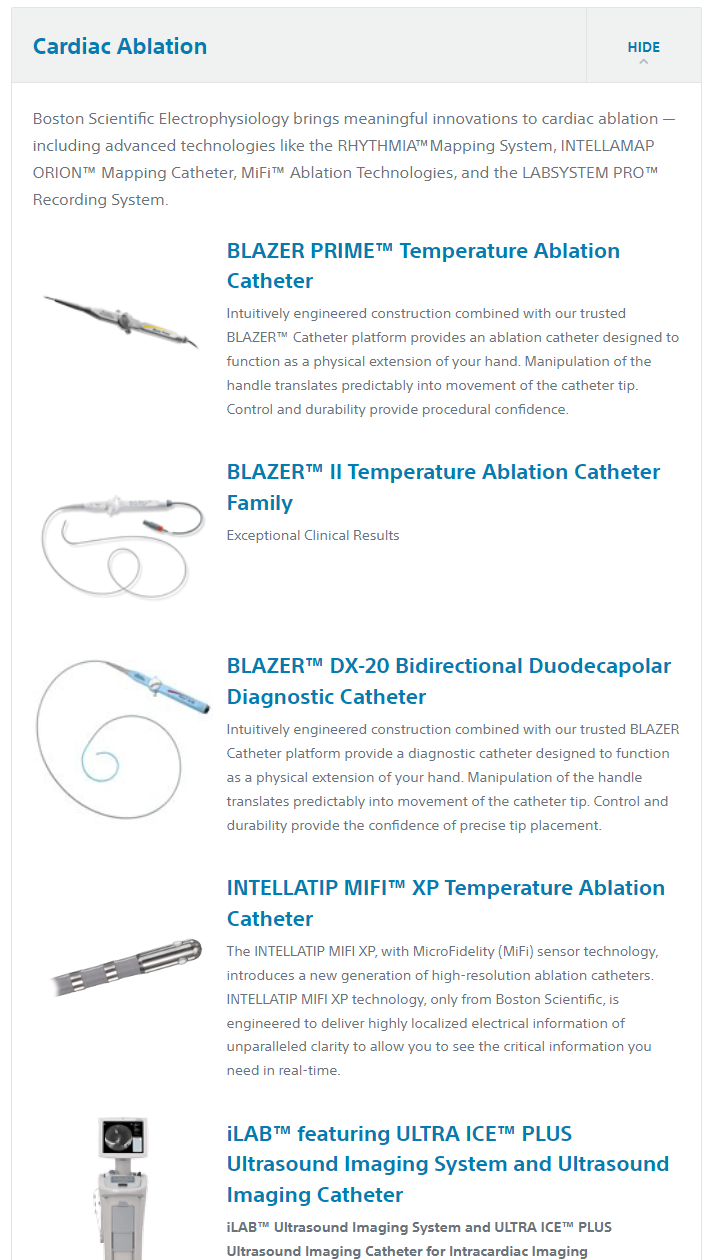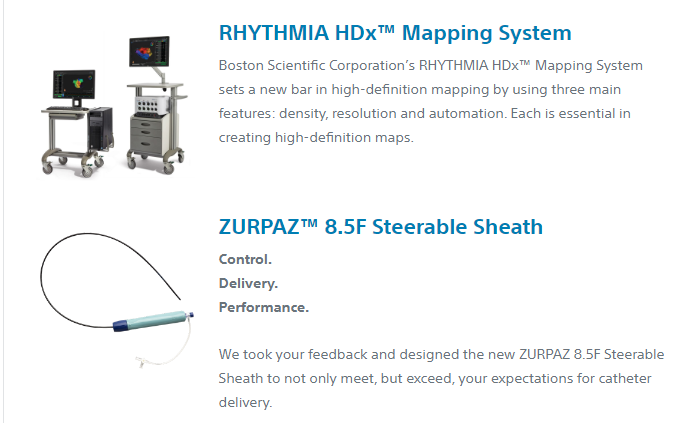 Source: bostonscientific.com
PLSE Will Not Be a Competitive Player in Cardiac Ablation
PLSE is simply too late in the cardiac ablation market. All large players in cardiac ablation, like BSX, MDT and ABT, already have the technology and strong clinical data supporting it, as described in this 2022 overview of PFA technologies for AF. In March of 2023, MDT published results of its PULSED AF study, in which they showed excellent ablation outcomes on 300 patients with 12 months follow-up. Doing a similar study would take PLSE at least 3 years, maybe longer, given the poor execution history of this company. In three years the field of PFA ablation will be well established. There will be the next generation of PFA products on the market and for PLSE to grab any share will be close to impossible.
A question was asked in the Q2 2023 earnings call:
"You feel like you can compete in these spaces?"
This was a good question, and management didn't answer this call well in our opinion. It was a kneejerk response. Danahy and Uecker responded:
Kevin Danahy
The next question that came in is with regards to the clamp and catheter. You feel like you can compete these spaces?
I will take this one and kick it off. Thank you for the question. And absolutely, we think we can compete in these spaces. As we stated, our command of nsPFA is rooted in 15 years of research, academic and science centers and our engineers have designed and understood nsPFA since 2015 and have been investigating nsPFA and cardiac application since 2016. We first understood the basic electropology level, like we said. And then we created the console to really generate and harness that energy of nsPFA and then took that knowledge and designed electro end of factors that we purposely built to have the appropriate tissue response. These results that we've talked in Darrin's section today shows our command of this energy and how we believe we can lead in the nsPFA space. Anything to add to that, Darrin?
Darrin Uecker
Yes. I would just say, I mean, certainly, what Kevin said is accurate. And I think I talked about a lot of different numbers in terms of the speed and the other attributes of Nanosecond our devices. But I think the real proof of how competitive and how differentiated our devices are will come from physicians and their patients. And we spend a lot of time in the development process talking to physicians and getting physician feedback. We did that with Dr. Donnington, who then decided he liked it so much, he wanted to become our CMO for cardiac devices. So I think the proof is really in the end customers and the end stakeholders like physicians and patients. And so far, I think the feedback that we've gotten from them is that we're highly differentiated, and we're going to be very competitive in both of these spaces.
First, Danahy says they have 15 years of experience with nsPFA. We've found this not to be true, as they haven't discussed cardiology at all. Also, they were working on NPS – nanopulse stimulation, not ablation. Stimulation doesn't have the same power to immediately kill cells as ablation does. PLSE also has only one patent regarding PFA but they have a bunch of patents all related to stimulation.
Then Uecker says some fluff about "it matters what the patients and physicians think" which doesn't say much. The company raved about how much physicians loved their NPS for skin treatments, and that didn't work out too well.
Why nsPFA Technology is Inferior to Standard PFA
To understand why nsPFA is inferior to standard PFA, one first needs to understand the basics of electroporation-based technologies for medicine, as illustrated in "Figure a" below. The strength of the electrical field, measured in V/cm, and the duration of the electrical field application to the cells (measured in seconds) are the two critical parameters that matter for treated tissue or cells.
A major competitive advantage of PFA over Radiofrequency (RF) or Cryoablation is the absence of thermal ablation. The red area in "figure a" below is thermal ablation, where the advantage of PFA over RF or Cryo disappears due to excess electrical energy hitting the tissues. Next to the Red area, the light brown area, is the area that's the "sweet spot" of non-thermal electroporation. In this area, the energy is not too high to produce significant heating, but high enough to kill cells by damaging their membranes. Finally, the green and blue areas are where the electrical energy is not high enough to cause immediate cell death. See "figure a" below: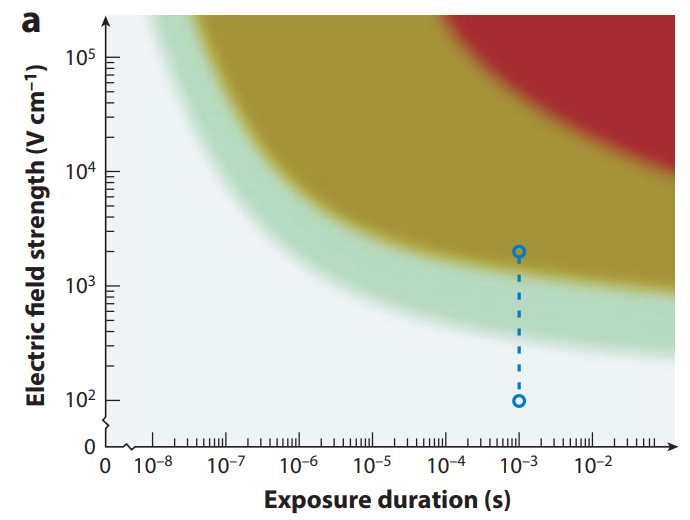 Source: annualreviews.org
Any treatment that operates in the green and blue areas will not be effective for cardiac ablation where immediate cell damage is needed to follow the standard ablation protocol (first map, then ablate, then confirm successful ablation with the mapping electrode).
While claiming the benefits of nano-pulses, PLSE is secretive about the actual conditions of the electrical field utilized in their CellFX ablation catheter. Nowhere in its three recent posters or in its investor presentation do they speak specifically about the actual duration of the pulses in their CellFX system and the corresponding electrical fields. The most valuable information is revealed in its only patent, describing the ablation catheter. This patent claims (in the Summary of the Disclosure) the operational sandbox of PLSE's technology as:
Pulse duration as .01 ns to 1000 ns
Peak electrical field as 1 KV/cm to 100 KV/cm
It states:
Thus, the application of high-voltage, fast (e.g., microsecond, nanosecond, picosecond, etc.) electrical pulses may include applying a train of sub-microsecond electrical pulses having a pulse width, for example, of between 0.1 nanoseconds (ns) and 1000 nanoseconds. Applying high-voltage, fast electrical pulses may include applying a train of sub-microsecond electrical pulses having peak voltages of between, for example, 1 kilovolts per centimeter (kV/cm) and 100 kV/cm.
If the duration of the pulse is very short, say 10 ns (10-8 s in Figure a) to achieve the cell damage, an extremely high electrical field is required, which is so high that it is off the chart in Figure a. Although a 10ns pulse is truly in the nanosecond range, the application of such ultrashort pulse to cardiac ablation at even the highest practical electrical field of 100 KV/cm will not ablate tissues and will not kill cells, at least not immediately. Such pulses may affect cells somehow through reversible electroporation, but these cell effects are too weak to be useful for cardiac ablation. Indeed in the typical PFA cardiac ablation procedure, as for example described in this recent article about PFA, it states:
"Electrical isolation (directly related efficacy of ablation) was assessed by entrance block testing after a protocol-mandated 20-minute wait period with the operator's preferred catheter".
This means that electrical isolation (ablation) has to have an immediate result, not a distant apoptosis related cell damage. Therefore, if PLSE chooses to be in the true nanosecond pulse range, their treatment will not be useful in cardiac ablation procedures.
What is the better option for PLSE? We think it is operating at still very high electrical fields but with a pulse duration of close to microseconds. The pulse duration of 100ns is on a chart in "Figure a" and to achieve irreversible electroporation it would require as high an electrical  field as 100 KV (or 105V)/cm. This field is still too high, therefore, even longer pulse durations may be needed to make it practical. For example, in a recent article on a nanopulse electroporation, trains of 600ns pulses have been used. 600ns is 0.6 microsecond and much closer to microsecond than to nanosecond. To improve the strength of electroporation, multiple and close to each other 600ns pulses ("a train of five pulses(600 ns) or five paired pulses (600 + 600 ns") were employed at 10 KV/cm ,which is still a very high voltage/electrical field strength.
We think, therefore, that a PLSE catheter will attempt to deliver about one microsecond duration pulses in the packages of multiples (say 10 or higher) at the electrical field of about 10KV/cm. Theoretically such treatment may cause irreversible electroporation, but achieving 10KV/cm electrical field using an intravascular catheter is a challenging task.  PLSE realizes this technical challenge and their patent is shedding light on it. In the patent summary it clearly states the challenge:
These catheters and method of using them to treat tissue are configured to reduce or avoid arcing
So, how bad is the problem of arcing for building a competitive cardiac ablation catheter? The patent states:
The risk of delivering high voltage energy, such risk including electrical shock, arcing, burns, internal organ damage and cardiac arrhythmias, are even more acute then the high-voltage device is intended to be inserted in the body
Not just in the body but in the heart of the patient! How does PLSE's patent application suggest reducing this risk? It is actually not very clear from PLSE's patent application if such risk reduction is possible without sacrificing the mechanical performance of the catheter. The patent claims a generic solution:
The apparatus of claim 1, wherein the flexible electrically insulating material has a dielectric strength sufficient to withstand 1 kV or more.
The competitive cardiac ablation catheter has to have some basic functional performance such as a certain size of the lumen to allow tracking along a guidewire, it has to be steerable to be positioned in the right area of the heart, it has to have a small outside diameter to pass through the delivery sheath, etc.
It is easy to understand that the additional requirement of the extra electrical insulation is negatively affecting catheter size, price and its flexibility. Insulating materials have to be thicker to prevent arcing. Thicker insulation adds to catheter stiffness and its size. It is a fundamental issue that cannot be solved easily. One may fantasize about using some advanced insulation, but PLSE's patent does not disclose any of these materials and any new material in catheter design will add to the costs, manufacturing challenges and regulatory scrutiny.
Interestingly, catheter design, disclosed in the patent as shown in Fig 11 and Fig 13 below has nothing to do with the design of the CellFX catheter used by PLSE in its preclinical studies/posters (the image on the left). This may indicate that the CellFX design is not novel and patenting it may be difficult. Because the posters do not disclose pulse duration and voltage, it is possible that CellFX's pulses in animal studies were delivered in the vicinity of the micropulse range (for example 1-5 microseconds) and, therefore, the patent is completely irrelevant to the design and operation of of CellFX.

Source: PLSE preclinical study posters and PLSE patent description
This may indicate that the CellFX design is not novel and patenting it may be difficult. Because the posters do not disclose pulse duration and voltage, it is possible that CellFX's pulses in animal studies were delivered in the vicinity of the micropulse range (for example 1-5 microseconds) and, therefore, the patent is completely irrelevant to the design and operation of of CellFX.
To summarize the conclusions of our analysis, we believe that using nanosecond pulse duration for cardiac ablation is a bad idea, because at true nanoseconds range (1ns to 300 ns) nsPFA is not effective  for cardiac ablation, while at the range closer to microseconds (300 ns to 1,000 ns), insulation requirements for operating at very high electrical voltage makes catheter design, size and performance to be substantially inferior to that of the other cardiac ablation catheters including standard PFA catheters. Next, we analyze if there are any safety advantages in using nano-pulses for cardiac ablation.
Contrary to PLSE's claim – there is no safety advantage of nsPFA vs standard PFA.
PLSE makes it sound as if they are in possession of a unique nanopulse ablation technology that outperforms standard electroporation by being safer than the other competing technologies. In the investor presentation, PLSE claims multiple advantages of nsPFA technology, as shown in Figure X below. We found from our analysis that none of these are real advantages.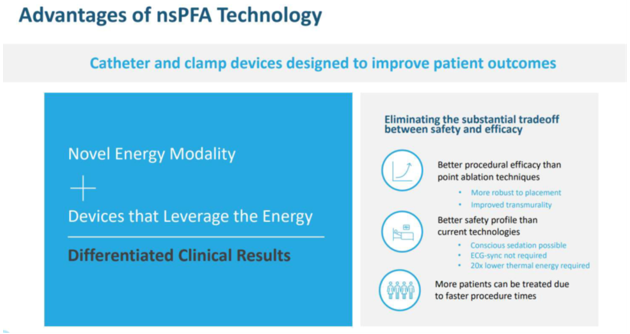 Source: PLSE July 2023 Investor Presentation
It states in the above Figure:
"Better procedural efficacy than point ablation techniques"
The above claim is baseless. There is no reason why a nsPFA catheter is better or preferred to point ablation techniques that currently dominate cardiac ablation for rhythm control. CellFX catheter design, shown above, is rough and primitive in comparison with the much more elegant designs of leading PFA catheters, as shown below: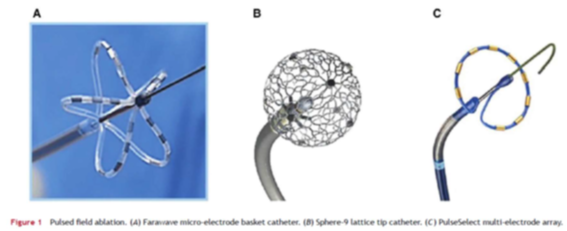 In the pics above, the far left is Farapulse/BSX catheter. Middle is Affera/MDT and the right is MDT's internally developed catheter that they abandoned after acquiring Affera.
In the Q2 2023 Call PLSE talks about the superiority of their catheter design. Uecker stated:
our preclinical studies to date indicate that our novel catheter design is able to deliver nsPFA to circumferentially ablate targeted pulmonary veins in a single shot in approximately 5 seconds.
PLSE's team is inexperienced in cardiac ablation and we believe haven't read clinical literature. Clinical studies have confirmed that circumferential ablation is not superior over segment or point ablation. Circumferential ablation is a 20 years-old idea. This idea is abandoned now and point ablation is an industry standard. Why? Because it is not speed, but precision that matters in cardiac ablation.
PLSE also claims in the Figure from PLSE investor presentation:
ECG-sync not required
This refers to another speculative advantage of the lower neuromuscular stimulation of nsPFA. With regular PFA, the additional safety is provided by ECG-gating to synchronize the PFA with the absolute refractory period. In our analysis, this ECG-gaiting is a no-brainer safety feature, which may not even address a real safety issue. All clinical PFA generators do ECG gaiting, but we did not find any clinical evidence that there is any risk or disadvantage associated with ECG-sync. For example, the recent MDT sponsored PULSED AF study did not even mention the risk of premature cardiac contraction due to non ECG sync PFA application. We believe that for commercially viable nsPFA, ECG-sync will also be required, because adding this feature is not a big deal, but ignoring it may lead to a perceived safety concern resulting in potential litigations.
The next claim in the Figure:
20x times lower thermal energy required
We believe this is blatant investor manipulation. Because PFA already operates in a non-thermal mode, this further reduction in thermal energy is obviously irrelevant. If the PLSE catheter delivers 20 times less energy than the PFA catheter, it may likely create a problem of delivering not enough energy and end up in a Reversible Electroporation, which is inadequate for cardiac ablation.
Finally, the last statement from the Figure:
More patients can be treated due to faster procedure times
This is another example of a manipulation of investor's perception of nsPFA. First, there is no proof that PLSE technology can deliver similarly efficient cardiac ablation in a shorter time when compared to PFA. It is only words from PLSE management so far, they have not presented any real evidence of that. We believe that the PLSE catheter will be operating under lower than needed voltage due to catheter design requirement limitations (per our analysis earlier in this report). To achieve reproducible tissue ablation at this sub-optimal ablation conditions, PLSE's catheter will need to deliver more energy, not less energy. That would require more, not less, time.
Recent Meta analysis of PFA vs standard ablation techniques suggest that PFA ablation is somewhat shorter, than RF and Cryo and, therefore, beating PFA procedural time is very challenging as shown in the Table below:

Next, PLSE makes the claim that the nsPFA reduces neuromuscular stimulation.
This is a speculative and theoretical assumption, even if true, does not provide a tangible advantage over PFA. PLSE implies that the clinical benefit of reduced neuromuscular stimulation is the reduced need for General Anesthesia (GA).  Indeed, the majority of PFA procedures are done under GA or deep sedation. However, PFA procedures are done under GA not just because of neuromuscular stimulation risk, but because physicians in general prefer GA even if they can use conscious sedation. Recent meta-analysis suggests that GA or deep sedation are preferrable options for cardiac ablation, because the use of GA/deep sedation may reduce the risk of mid to long-term recurrence for patients who have undergone AF ablation compared with conscious sedation. When a patient is under GA, neuromuscular stimulation does not matter and, therefore, PLSE's claimed safety advantage of nsPFA is irrelevant.
Interestingly, nsPFA may not even have much reduced neurostimulation. It does create mild stimulation.
According to the Q2 2023 Earnings Call, PLSE's pig study indicated that:
(nsPFA) Delivery was associated with only mild muscle and nerve stimulation.
In terms of words vs facts, there are only three posters published by PLSE, all based on one pig study. PLSE is claiming groundbreaking value of pig study results in a fashion similar to all their previous statements related to NPS in dermatology and cancer. What is the real value of a pig study? First, it is a preclinical study that does not even use the AF animal model. There is no efficacy evidence in this pig study, because reduction of AF was not studied. Safety indications, claimed from these posters, do not matter, because it is not clear if settings of nsPFA were adequate for effective cardiac ablation in humans. So, at best, the pig study, that is not Good Laboratory Practice controlled and is not based on an established pre-clinical AF model (all pigs were healthy prior to ns-PFA application), it is at the level of the initial proof of the concept study type, that may support $10M valuation, but not PLSE's whopping $400M one.
Analysis of The Key Comments From Pulse's Recent Q2 2023 Earnings Call
On 8/10/23 PLSE had their Q2 2023 earnings call. There were so many questionable, and promotional statements in this call, that they are worth going over.
From the call:
Kevin Danahy:
nsPFA is establishing a new standard in efficacy and safety, now being demonstrated in preclinical studies in our first-in-human surgical procedures.
The in-human procedures that Danahy is referring to is for thyroid nodule stimulation. This is a misleading statement because it has nothing to do with cardiac ablation procedures. It's much more like dermatologic and cancer treatment procedures which PLSE has failed at and abandoned.
We view the safety and efficacy and demonstrated tissue response data from the thyroid's nodule study as an important incremental validation of our product engineering thesis and is the first demonstration of our potential of nsPFA to deliver otherwise not available safety and efficacy in human tissue ablation.
Here PLSE admits that their nsPFA technology is so new that the first clinical use of it for ablation was just a few months ago. This admission confirms that 15 years of NPS R&D are irrelevant for PLSE's adventure into the ablation market.
We remain on track to file an FDA submission for the cardiac surgical clamp in the first half of 2024
This confirms that no clinical data will be used for the clamp submission. It will be a worthless, generic 510K submission without any efficacy or safety claims relevant to the cardiac surgery procedure.
We are entertaining and evaluating inbound inquiries through partnerships or licensing agreements that align with our corporate goals.
This is a typical promotional company statement. We remember when a failed biotech company AMPE said it was in conversation with 30 pharmaceutical companies and nothing came of it. Robert Duggan repeats this same partnership BS later in the call.
Darren Uecker:
With our nsPFA cardiac clamp, we are consistently achieving transmural ablations in 1.25 seconds, independent of tissue thickness, even when treating tissue thicknesses up to approximately 25 millimeters. This is compared to RF ablation, which requires approximately 10 to 40 seconds per ablation, depending on the tissue thickness, which is generally limited to 10 millimeters; endocryoablation, which can require several minutes per ablation.
Shifting the focus to our cardiac catheter ablation device, our preclinical studies to date indicate that our novel catheter design is able to deliver nsPFA to circumferentially ablate targeted pulmonary veins in a single shot in approximately 5 seconds.
These are BS statements in our opinion. It's not time but the precision of the ablation that matters. But either way, RF ablation can be seconds, it all depends on power. Cryo is slower than RF, but that doesn't make Cryo inferior to RF in cardiac ablation. PLSE's animal study does not qualify for any meaningful conclusion with respect to clinical outcomes.
In any type of surgery, but especially cardiac surgery, every second counts, while the patient is under general anesthesia and potentially on cardiopulmonary bypass.
This contradicts PLSE's claim that patients don't need general anesthesia with nsPFA.
We are also making progress in determining the U.S. regulatory pathway for our cardiac catheter. We anticipate the catheter product line will require an FDA premarket approval, or PMA."
A PMA is also required for the cardiac clamp. Why do they ignore this?
Mitchell Levison:
Based on these positive initial results, we're preparing an amendment to the thyroid study protocol to expand enrollment and the next phase focused on optimizing treatment parameters and is anticipated to occur in the fourth quarter.
Why are they focusing on thyroid studies right now? Is there a lack of confidence with cardiac ablation? PLSE is late and tiny vs PFA competition, why are they not laser focused on execution of their proclaimed cardiac ablation target? Our answer is that PLSE management deep inside is realizing futility of the cardiac ablation market for their product and they are desperately searching for a better story.
Duggan:
And we certainly don't lack for large companies talking to us and who were showing a real interest, and we'll diligently work our way through that over the next period of time.
Again, the cheap promises of early licensing and acquisitions. The purpose of this statement is to make investors believe that a big jump in stock price is coming soon. Duggan's buddy may license this application to generate motion in the stock price for a day, but no serious player would do it on the basis of 10 patients with 30 days follow-up.
Conclusion
PLSE's history is full of failure and wasted investors' money. With the same team and approach, history is going to repeat itself in cardiac ablation.
PLSE's recent stock rally is driven by a hard pivot from the dermatology vertical to heart diseases, announced in September 2022. Up to date, PLSE has not started any clinical studies to have any validation of their approach in the cardiac vertical.
PLSE spent a decade perfecting its NPS technology, but it is irrelevant to ablation. Its newer sibling, nsPFA is inferior to PFA. At low power/electrical field it is ineffective for cardiac ablation; at a high power/electrical field it makes the catheter design extremely challenging.
While nano pulse PFA was patented by Farapulse, Farapulse did not use nano pulse due to its inferiority to a standard micro-pulsed ablation.
PLSE is years behind Boston Scientific (Farapulse) and Medtronic (Affera and PulseSelect) in the clinical studies/FDA approval process. Farapulse's first clinical study was launched in 2018, almost six years ago.
PLSE desperately trying to deceive investors that they are close to commercial revenue with their ablation clamp by failing to disclose that comparable clamps received PMA approval from the FDA with large clinical studies performed prior to being adopted by cardiac surgeons.